A Greens Party plan to pull all Australians above the poverty line includes $88.7billion more for low-income workers.
The Australian government's biggest indexation rises in 30 years delivered increased payments to 4.7 million welfare recipients on September 20 and the Greens seized this opportunity to push for a wider welfare reform.
The Green's Liveable Income Guarantee would increase income support payments to $88 a day from July 2023 for people who are unemployed, enrolled in full-time education or unable to work due to age, disability or caring responsibilities.
The plan, originally released in March, was the focus of The Liveable Income Guarantee – The Missing Link in Social Security? webinar Sydney University hosted on September 20.
Greens spokesperson for family, ageing and community services, senator Janet Rice said life above the poverty line was a human right. "The income support payment system is broken, and it's really harming people's lives," she said.
She noted that around 20 per cent of the Australian population was receiving payments that weren't enough to survive on, and one in six children were living in poverty.
"If Australia has enough in the budget for $62 billion a year in handouts to billionaires and big corporations, it has enough to ensure its citizens aren't starving," Ms Rice said. "Poverty is a policy choice."
The senator emphasised the importance of welfare reform in the through the stories of people struggling to live on welfare payments, including a student she called Alex. She said Alex had to dumpster dive for food and was forced to live in cramped shared accommodation but still struggled to afford the bus to attend classes.
"The poor standard of living damaged Alex's health," she said. "My heart breaks for people still trapped in poverty while the cost of everything skyrockets around us."
Greens leader Adam Bandt said the policy cost would be recovered by reversing tax cuts that raised the threshold for the top tax bracket from $180,001 to $200,001.
"Liveable Income Guarantee would cost $88.7 billion while stage 3 tax-cuts for billionaires cost $244 billion. It's not about cost. It's about priorities," Mr Bandt said.
"By making billionaires and big corporations pay their fair share of tax, we can lift people out of poverty while also lifting wages and boosting our economy."
Behind the Line: Poverty and Disadvantage in Australia 2022, a Bankwest Curtin Economics Centre report, found that severe poverty could be eliminated by giving JobSeeker clients an extra $20 per day together with higher rent support payments.
Report author Alan Duncan said using a poverty line of 50 per cent of median income, about 3 million people living in Australia lived in poverty, including nearly 750,000 children.
Labor indicated in its National Platform that there should not be poverty in a country like Australia, pledging its commitment to a fair social safety net for all.
"Labor will deliver a future where no one is held back and no one is left behind," Australian Prime Minister Anthony Albanese said.
This month the Albanese government delivered the largest indexation increase to payments in more than 30 years for allowances and 12 years for pensions.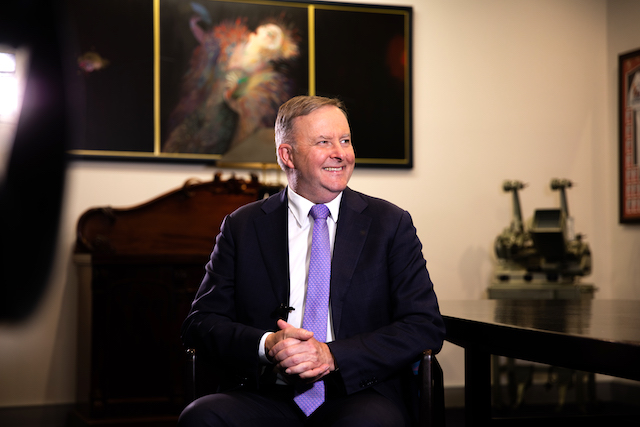 Social Services Minister Amanda Rishworth said this strong social security safety net was designed to protect the disadvantaged.
The rate of JobSeeker Payment for singles without children increased by $25.70 a fortnight to $677.20; the Parenting Payment Single increased by $35.20 per fortnight to $927.40; and the maximum rate of pension increased to $1026.50 a fortnight for singles and $1547.60 for couples.
The Liberal Opposition did not support the changes.  Liberal spokesman for Social Services Michael Sukkar said the government could not take credit for the indexation increase. "Labor trying to claim credit for the automatic indexation of payments is comical," he said. Shadow Treasurer Angus Taylor said the answer to rising inflation was having both fiscal and monetary policy. "Eliminating stage-three tax cuts will not help," he said.
But UQ Economics senior research fellow Professor John Quiggin backs further welfare reform, saying generous benefits were associated with higher workforce participation.
"People that want to find work are able to do it better when they're not constantly at risk of homelessness and thinking about where the next meal is going to come from," he said.
University of Sydney policy and sociology expert Professor Gaby Ramia said the economy benefited most when we give money to those who had less.
"The poorer the person, the more likely they'll spend the extra income that's given to them," Mr Ramia said. "In Keynesian economic terms, lower income earners have what they call a higher marginal propensity to consume."
Prof Ramia said now more than ever, it was necessary to develop policies that can support a minimum standard of living.