A community food forest: Sydney's pocket city farming leads people to rethink their lifestyle
Jackson Lucia and his six-year-old daughter stop at the street verge outside a community garden hidden in Sydney's inner western suburbs, picking edible leaves from the veggie patch for lunch. Each plant has a QR code on it, explaining how to harvest the food, when it's ready to pick and how to cook and eat it.
"People love fresh, organic, cheaper foods," Lucia says. "A lot of people think they have to buy a farm and start a regenerative lifestyle, but actually living in the city and having that similar lifestyle is also important."
Australia is experiencing competition for agricultural land. As the population grows,  demands for housing, neighbourhood centres and from the mining sector have increased, jeopardising prime land for commercial production of food. The Inner West Council and WestConnex are offering $120,000 grants to encourage agricultural local self-sufficiency for people to grow their own vegetables in community gardens.
"I think the corporate groups realise that people are more interested in eating Australian-grown, state-grown and eventually community-grown foods," Lucia says.
Established as part of a community revitalisation project in 2015, Camperdown Commons Pocket City Farm works with local residents, schools and businesses, to create a shared garden that cultivates fair food access and connects and educates communities.
The farm was built on unused bowling greens at Camperdown Bowling Club, and crowd funded to address soil nutrient imbalances and get rid of the old bowling green grass.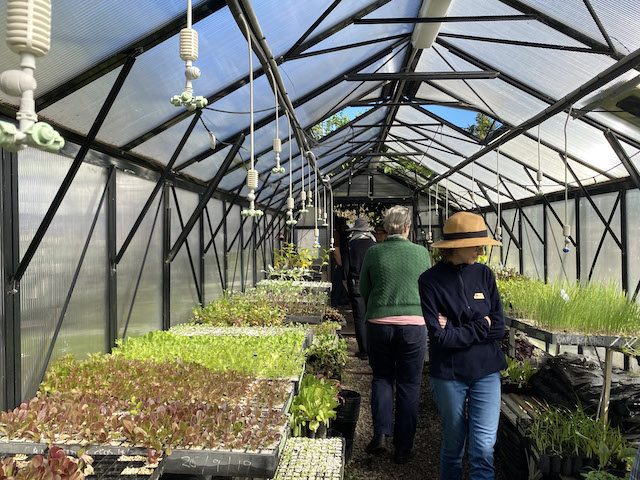 Pocket City Farm chief operating officer Jacqui Besgrove says generous residents and local businesses raised $20,000 at the first on-site fundraiser in December 2021. "People are passionate about being able to access this place and learn here," Besgrove says. "We are here to demonstrate what's possible."
Inspired by permaculture practices, the farm produces about 1 tonne of food and 228 seedlings annually using regenerative and ecological techniques, bringing in about $14,000.
Seedlings are transplanted from a small greenhouse to the 1200 metre2 market garden after the soil has been tested. Irrigation is done early in the morning and late in the evening to ensure plants are well-watered at the best time.
Fertiliser is generated in a 16 m3 compost zone at the corner of the garden from about 1.7 tonnes annual waste from local restaurants, mixing coffee grounds and dead leaves and heated up to 75 degrees to add nutrients to the soil.
A small demo garden holds a double decker hive donated by Sydney Native Bees, ensuring Australian native stingless bees pollinate the farm produce. The produce and honey will be sold to local restaurants and cafes, or directly to customers, on the online store.
"Herbs and leafy greens, such as kale and snow peas, are the most popular now. They are quick to grow. People love to have fresh ones," Besgrove says. "Access to healthy, organic food should be a basic human right for everybody. Our food pantry was doing well during the pandemic because it created a place for people to share and donate food while physical distancing was required."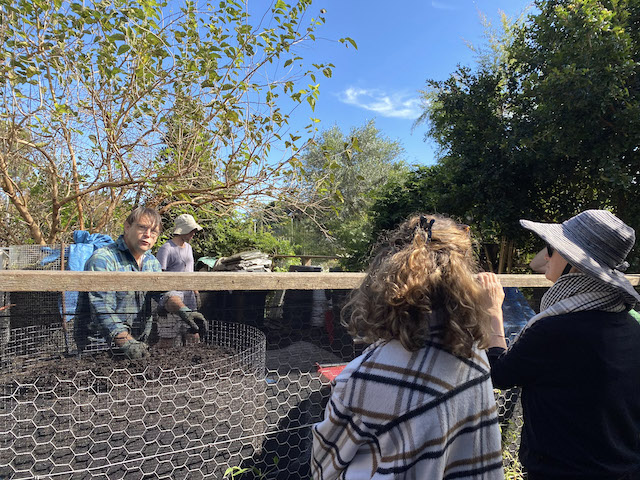 Pocket City Farm also performs an important educational role; it has organised 20 workshops and 10 school excursions since last year. "We are now running a nine-week permaculture design course which focuses on urban design solutions," Besgrove says. "We also run hands-on workshops that teach people small space gardening, natural backyard beekeeping, and weaving with nature."
They also host weekly and monthly volunteering programs, enabling the community to shape the farm in seed-raising, planting, watering and composting. "We have around 1400 lovely volunteers," she says. "Our organic produce also feeds our volunteers."
Shopping for his family Lucia, who has lived in Camperdown for 10 years, finds prices have greatly increased for fresh produce, especially organic foods. "I understand why people can't have the best produce, because it's expensive and living in Sydney is hard enough for most people. Organic farming should be a normalised thing."
Lucia appreciates the opportunity for the community to learn the essential skills. "It also gets people to eat in-season foods and become aware of what fruits and veggies grow well in our area," he says. "This is how me and my family started eating healthy."
During the pandemic, people have been reaching for sugary comfort foods to alleviate stress according to industry research from City Futures Research Centre.
Susan Thompson, program manager at NSW Department of Planning, Industry and Environment, says the community garden is a socially and health supportive environment where people, especially those who live in small spaces, have access to open air and greenery.
"By going into the garden, getting active, meeting people across generations, being in a calming natural environment, blood pressure can be reduced, and anxiety lessens," she says. "It also creates safer environments and social cohesiveness."
Professor Thompson says the community garden also allows people to access culturally appropriate foods. "They might be able to grow vegetables they can't easily buy in the markets but that they really like cooking in traditional dishes."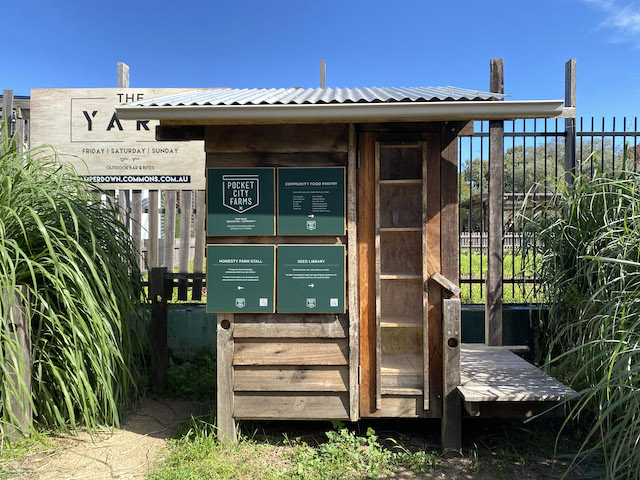 But Thompson, who is also the Head of the City Wellbeing Program in the City Futures Research Centre, says her research shows not everyone can access community gardens. Exclusion of those who lack financial or material resources can accelerate health inequalities.
However, despite the potential downsides, the trend towards creation of community gardens will continue. "Developers are looking for space allocated for food gardens, shows like Gardening Australia are popularised, people are concerned with climate change and food security," she says.
There are approximately 660 other community gardens in Australia, with 83 of them in Sydney.
The Pocket City Farm collective is always looking for how they can expand and use spaces more effectively to provide fair food access for everyone.
"When people are more connected to where their food comes from, they waste less," Besgrove says. "It makes us more responsible producers than dependent consumers."