An increasing number of Australians are wearing their hearts on their sleeves, but they are still being misunderstood
Sporting blonde close-cropped hair and silver teeth grills, tattoo artist Timothy Cooper lifts up his vintage band T-shirt to show me the collection of tattoos emblazoned across his torso: there's Muscle Man, LSD – a type of street drug – and a cross accompanied by the words "God's bitch".
Out of all the tattoos Cooper has, the butterfly that his partner inked on his right cheek remains his favourite. "I'm not a very macho person, so it softens my look," he says.
Having felt like an outsider growing up, Cooper's sanctuary was his flat. It was where he first dabbled in tattooing at age 26, using a $35 eBay tattoo kit to ink symbols of the punk band Dead Kennedys on friends and acquaintances.
Cooper jumpstarted his career as a tattooist when local artists Cult Shotta and Lil Golos came through his doors after discovering his work on Instagram. Influencers and podcasters from the Eastern Suburbs soon followed and the rest is history.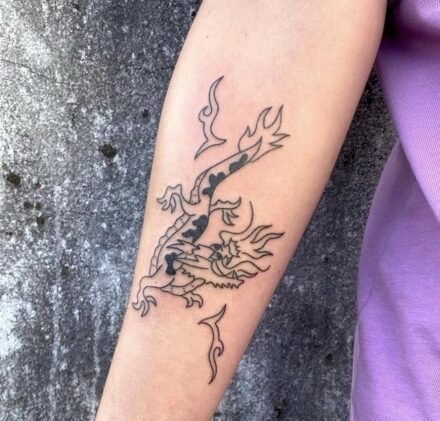 Sixteen years after Cooper's debut in the industry, tattoos are more common.
"I would say that the demographic is still the same, but all of those people are getting tattoos now instead of five out of every 50," he says.
According to McCrindle Research, 48 per cent of Australians had their first tattoo between the ages of 18-25. These tattoos are often inspired by trends on social media, and "anything from Pinterest", Cooper tells me.
While this might chime with the assumption that people are drawn to tattoos because of their aesthetic appeal, the influx of Ukrainians getting tattooed to celebrate their culture in these past few months during the Russia-Ukraine conflict suggests people are using their bodies as canvases for more than decorative purposes.
In 2019, McCrindle Research found that the number of tattooed Australians was at an all-time high: the survey revealed that one in four Australians has tattoos, and 61 per cent of them have more than one. Among the Australian women they surveyed, 31 per cent had tattoos.
Though tattoos are still frowned upon by some, the adorning of bodies in Australia dates back to the 19th century. Author of the book Convict Tattoos, Simon Barnard, found in 2016 that 37 per cent of male and 15 per cent of female convicts in Van Diemen's Land, Tasmania, had tattoos. Though a five-dot tattoo may have represented allegiance to "The Forty Thieves" gang, most convicts had tattoos of letters, names and initials that symbolised their close relationships.
Tattoo artist Riesa Gewargis,18, says she believes tattoos are becoming more popular because they allow self-expression in a world where it is increasingly difficult to stand out.
"You're not going to see 20 people with the exact same tattoos in the exact same spots all over their body," she smiles as she rolls up her left cream-coloured sleeve to reveal a two-headed cow tattooed on her underarm.
It's inspired by Laura Gilpin's Two-Headed Calf, a poem about a two-headed calf who only had one night to indulge in the Earth's beauty before it was taken to the museum in the morning. For Gewargis, who doesn't consider herself spontaneous, it's a visceral reminder to live in the moment.
Sitting in front of an array of watercolour and oil paintings taped to the wall, her eyes widen as she tells me how "nerve-racking" it was to become an apprentice in an industry she has idolised for many years.
The love of tattoos for Gewargis began in 2016 when the image of a black-and-grey floral shoulder piece caught her eye on Pinterest, which was flooded with pictures of brimmed hats, red lipstick and sundresses at the time. "I was too young to [be a tattoo artist] but I was like, that is what I need, that is who I'm going to be."
But being a tattoo apprentice is not easy in a household that disapproves of tattoos. "I had to fight very hard to get an apprenticeship and get people to be okay with that," she says as her voice cracks.
Her family is now supportive of her career, especially her mother whom she tattooed in the first week of getting her licence, but she wishes more people recognised tattooing as an art form. "You could look at it as going to a museum and you're looking at paintings on a wall, except the paintings aren't on a wall, they're on someone," she says.
Gewargis works at a predominantly female studio in the heart of Haymarket, Sydney. It is clear to anyone looking in from the glass window that the space, brightly lit with cream and white décor, is not the typical hole-in-a-wall tattoo studio people expect to see. After all, tattoo artists are striving to distance themselves from the negative stigma that still lingers around body art. Artists are also changing their language, Gewargis  says, referring to the tattoo "machine" instead of "gun" to avoid past associations of tattoos with anti-social behaviour.
The NSW Government passed the Tattoo Parlour Act in 2012 to crack down on criminal gangs, due to outlaw motorcycle groups' previous affiliations with some tattoo parlours. Under this law, tattoo artists are now required to disclose their criminal histories and obtain a licence for their operations.
Tattoos gained a negative reputation in the 1950s when marginalised groups, including outlaw motorcycle groups and punks, used them to express their resistance to conventional society. This contributed to the stereotypes about tattooed people, including how they are angrier and more impulsive.
However, Professor Viren Swami from Anglia Ruskin University found in 2016 that the differences in anger and impulsivity levels between people with tattoos and people without  were statistically insignificant.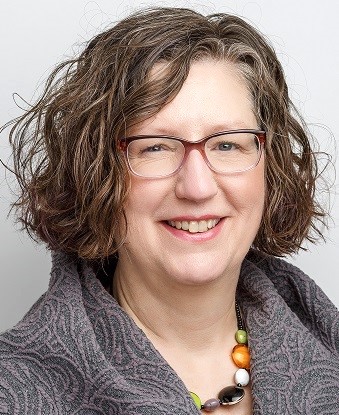 Professor Susan Cadell from the School of Social Work at the University of Waterloo, Canada believes there is more to be learned about tattoos given the lack of research on the topic.
"I think we don't really know much because when I look at the literature, there's so much emphasis on deviance," she says. "Even when we look at the historical incidents of tattoos, we're looking at it with a lens of 'this is negative'."
Professor Cadell gained a deeper appreciation for the positive influence of tattoos on people during her research. By being permanent reminders of their relationship with the deceased, she found tattoos helped bereaved individuals to recover from grief.
"A relationship doesn't end with death; it changes with death. Tattoos allow the inclusion of the person in life events that came after the death of that person."
As an example, she tells of a couple she interviewed who gave their son "a really hard time" for his new tattoo before he tragically died in a car accident. After his death, the father returned to his son's tattoo artist for the same tattoo. Both parents continued to design and receive multiple tattoos over the years in remembrance of their son.
As a tattoo artist, Alexandra Cornish has had a front-row seat in witnessing the healing power of tattoos. Cornish tells me stories of the people she's tattooed, such as the woman wanting to cover the scars she received from an ex-partner who forcefully tattooed her. Most of these stories reiterate a common theme: tattoos are beyond skin-deep.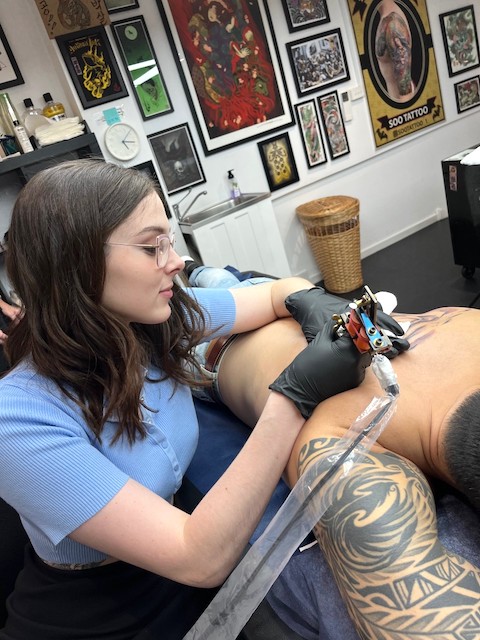 "I can't compare myself to a psychologist," says Cornish, her dark brown eyes twinkling. "But if someone's going to seek help through the form of a tattoo, then I'm more than happy to do it."
The 23-year-old from Perth has become so familiar with the tattoo machine that it's now become a pen.
It was Cornish's dream to become a tattoo artist as a child, but she was only properly introduced to the industry at the age of 20 by a tattoo artist who had asked her on a date over Facebook.
They're not together anymore, but now she's in search of bigger opportunities here in Sydney.
Cornish holds one side of the Noren, the traditional Japanese fabric dividers hung on the wall at the bottom of the staircase, for me before gliding up the stairs, passing through the Japanese hand fan taped to the wall on our right.
"Konichiwa! Annyeong-haseyo! Sawadeekap!" Cornish greets her colleagues cheerfully in her accent – sometimes English, sometimes Australian.
She works full-time with 15 other artists of different nationalities at Authentink, a Japanese tattoo studio nestled in an office building in Surry Hills. Basked in the morning sunlight that seeps through the blinds, clients are greeted by potted plants, lanterns and framed pictures of the owner Kian Horisumi's work on all corners as they walk in.
Cornish shows me her wall. It's filled with paper cut-outs of the tattoos she's done. Most of them are fine-line drawings of plump frogs with squinted eyes, wide smiles and full sleeves of tattoos doing activities like playing guitar and snowboarding.
She tells me she wouldn't instruct someone to get a certain tattoo, but the tattoos she never gets tired of doing are the frogs. "I don't really know what drew me to frogs in particular," she muses, taking a bite of the chocolate brownie she ordered. "But you can look at the frogs I do and know they're mine."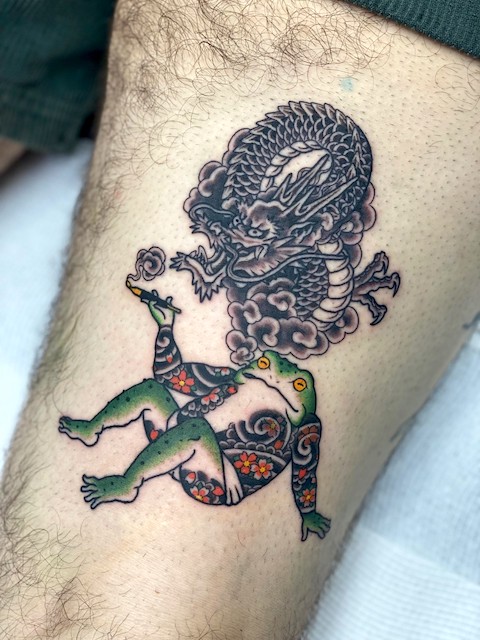 Having earned a rabid following for her unique style, she credits Japanese woodblock prints as her inspiration. Since she studied the Japanese language in school, Cornish says her art, even as a young girl, has always been "Japanese-inspired". She had her first tattoo done in Japan by an artist named Nami, who she booked months in advance.
Alex wears her love for Japanese culture on her back: her black bodycon dress reveals parts of the tattoo that stretches across her entire spine. Cornish wanted a woman tattooed on her, so Nami suggested a Japanese woman in a kimono.
"That's a beautiful tattoo!" a stranger exclaims as she walks up to us, scanning Cornish's back. Cornish thanks her and smiles. After the woman leaves, Cornish turns to me and says with a shrug: "It happens a lot."
But the interactions she has with people aren't always positive. Since her tattoo is uncommon, Cornish "definitely gets looks" but she's not fazed by it.
"I have quite a lot of confidence in my tattoo," she says firmly. "If I told a tattooer who did my tattoo, they would know the artist. They can look at my tattoo and know it's fantastic."
But not every person with tattoos has her confidence. McCrindle's research in 2019 showed that 33 per cent of tattooed women feel the need to hide their tattoos compared to 29 per cent of men.
This was similar to the findings of Professor Viren Swami from Anglia Ruskin University in 2011: though both men and women had higher self-esteem after obtaining a tattoo, women experienced more anxiety about how they were perceived by others than men three weeks after receiving the tattoo.
Professor Emily Poelina-Hunter, Lecturer in Indigenous Studies at RMIT University, has chosen to put all 11 of her tattoos in hidden places. "Women out in public…just become public property and people can comment on it [the tattoos]," she says.
The professor says there's an idea that some tattoo motifs suit females more than others: butterflies and cursive letters are in this category. "I've read quite a bit about women who want to get big tattoos or full sleeves, but people judge them for it like they've done a masculine thing."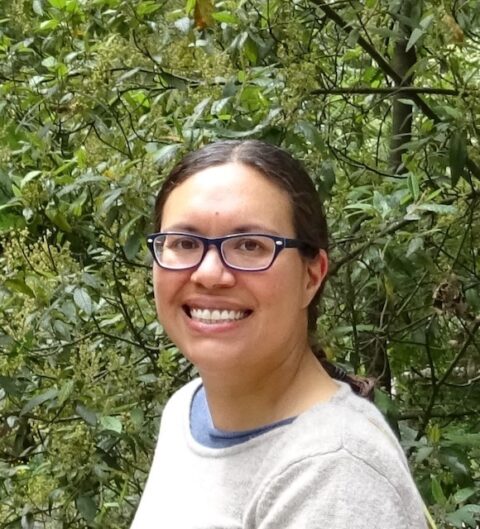 Having done her PhD on the global archaeology of prehistoric tattooing at the University of Melbourne, she found that though it was common for women to get tattoos in societies as early as 3000 BC, they mostly had no choice over the type and placement of their tattoos. Instead, these factors were determined by their genealogy.
Nowadays, women have more control over their bodies and the tattoos they want. Professor Poelina-Hunter believes tattooing resonates with them as a way to make "powerful statements about who you are, what you think is beautiful, and what you think is art".
Cornish has high hopes for the tattoo industry, convinced that the stigma around tattoos will disappear with the older generations. She foresees the majority of young adults having at least one tattoo in the future.
Cooper shares the same sentiment. According to him, the tattoo industry has yet to reach its peak. At some point in the next 20 years, Cooper says everyone will have tattoos of "the most random shit you can imagine".
"And their kids will look at the tattoos and go, 'I'm not going to do that'. And that's it…it'd be over for another 50 years," he says, erupting in laughter.