Will Barling sits in his home recording studio surrounded by audio equipment. One half of the studio is taken up by three enormous clothing racks filled with opulent and grungy garments, an extensive wardrobe of costumes.
As he speaks, he brushes his long dark hair back from his eyes; his tattoos are numerous and eye catching. Despite his effortless charm and wit, a sense of exhaustion seems to emanate from him.
"I rage-quit my pub job, because I was like 'I fucking hate people'," he says. "I found something that suits me a bit better, lots of changes but… it still doesn't feel right, you know? Something's off kilter."
Barling, who performs under the moniker WCB, like so many other independent artists in the music industry has been significantly impacted by lockdowns and border closures over the past two years. An open letter to the Australian government signed by more than 3500 music industry artists, workers, venues and businesses in February 2021 showed that the live music industry was operating at under 4 per cent of pre-Covid levels.
For both independent and established artists, this has been a major blow to their livelihoods. With the live music industry now slowly coming back to life opportunities are opening for artists to play shows again. However, for Will and others in similar positions it isn't as simple as just picking up where they left off.
"Eight months' worth of bookings, just like back-to-back. I think I only ever had a two week break in between shows," Barling says.
"When you're an artist, especially an independent artist, and you're that booked that trajectory is invaluable to your success. The only way you can convert fans is by having them in the room.
"Everything got cancelled, and I'm left feeling absolutely hollow. It just wasn't real. It was a shock, like emotively and you know everybody's going through it, so you can't be like, 'it's just me' but in that moment, it really feels like… the universe has just been like 'fuck you and your career, you're a joke, it's not happening'."
A report published by Live Performance Australia in October 2021 found the live music industry had lost $ 1.4 billion in 2020 alone, a 70 per cent decline in revenue from 2019. Barling is now struggling to muster up the energy to do it all again.
Speaking from London, Nathaniel Sjarif, is a freelance music producer and co-owner of independent Sydney recording studio Parliament Studios. As both a business owner and an independent artist he has a unique view of the situation.
"I think it was all freelance creative industries, but it's widely known how decimated we got," Sjarif says. "It's almost like a social experiment. These guys are the most resilient group of individuals who do a thing because they have to do it. I know a lot of them do it because they have mental health issues, like ADHD or depression.
"Now let's put them in… squid game and let's just decimate their industry and just give them this amount of money and see what the fuck happens. It's madness."
The federal government's introduction of Jobkeeper in 2020 provided a lifeline for those already gainfully employed, like Sjarif, in the music industry.
"Without JobKeeper I have no idea what we would have done. I don't think you'd have a music industry to tell you the truth."
But JobKeeper was little help to independent artists like Barling. Being from New Zealand he had to wait until the government changed the wording around the law to apply for the JobSeeker benefit.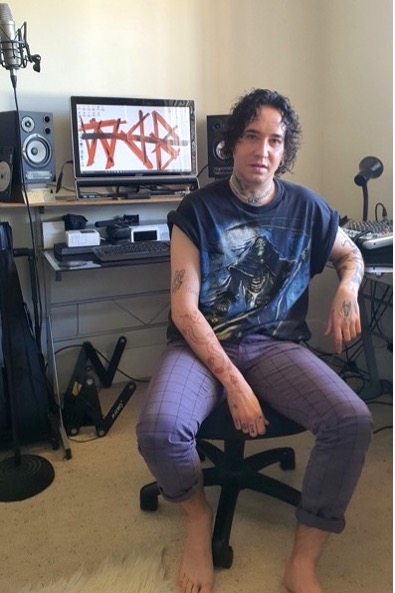 In 2016, Entertainment Assist, in conjunction with College of Arts, Victoria University, published research into entertainment workers and mental health. It found that when compared with the general population entertainment workers experience, double the rates of suicide attempts, ten times the rate of moderate-to-severe anxiety symptoms and five times the rate of depression symptoms. This data was collected well before the industry was entirely shut down for the better part of two years.
"Some were more resilient, some… chilled… these people [artists] are used to being poor," Sjarif said.
While the opportunity costs and loss of momentum have been significant, there are others who had to give it all up. Even bands and artists fortunate enough to be signed to labels weren't able make it through the pandemic. Jesse Lawrence, former guitarist of Sydney rock band Gaspar Sanz,  attributes the fall of his band directly to the pandemic.
"There's no denying it. Had we been able to travel, even if I had moved over to Perth and the borders were still open and I could go to Sydney every month or two… it could have absolutely worked," Lawrence said. "We were absolutely just trying to push shit uphill with the pandemic and the borders closing, so there's no doubt."
The music industry remains one of the most heavily affected by the pandemic in Australia. The community is still processing the devastation of the industry, which has come at a high cost to individuals already at risk of mental health concerns.
Barling is playing live shows again and is booked to play at upcoming festivals. But given that he's yet to have caught Covid, these could be cancelled if he's forced to isolate for five days. He says he is finding it increasingly difficult to get motivated.
"It's an ongoing battle to keep positive, more than it ever has been before," he says. "I'm really loving being on stage again, but it just feels different. It feels like Stella hasn't got her groove back, you know? That's what I'm kind of hunting for, I guess."
Australia is now learning to live with Covid, and musicians and artists are finally getting back to doing what they do best with live venues filling out again. While that is a good thing for all involved, it doesn't mean the industry has its "groove back". At least not yet.