Australian lawyer and Indigenous land rights activist Noel Pearson joined former Australian Prime Minister Paul Keating last month in a discussion on reconciliation and Labor Party action in the upcoming election, among other contemporary issues.
Held at the Judith Neilson Institute of Journalism and Ideas, journalists and students gathered for the launch of Pearson's new book, Mission: Essays, Speeches and Ideas.
Pearson said the Labor party was at risk of "repeating the same mistake" in this election as they did in 2007-8, in dealing with the issue of Indigenous recognition in the Australian Constitution.
"When it was clear that Rudd was going to prevail at the election, he said, 'We will deal with this in the second term'," Pearson said. "All of a sudden, the thing was adjourned for a second term of Labor. He never got a second term, and I fear that the Opposition now is in danger of repeating the same mistake."
In the upcoming election on May 21, the Labor party has announced its commitments to First Nations people, but Pearson said he was still concerned the party will not follow through.
"Blackfellas are at the base of the Labor party," he said. "There's probably no other group in Australia that more faithfully votes for Labor than Aboriginal and Torres Strait Islanders.
"And yet, the Labor party's respect for that base is often found wanting. They would abandon us- well, they have abandoned us in the past."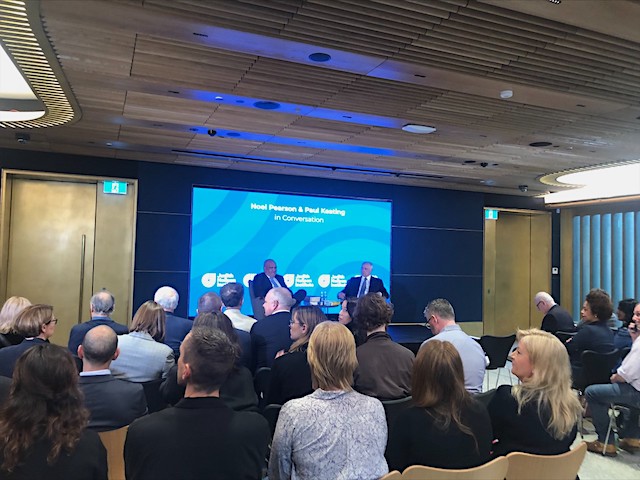 Keating discussed Australia's limitations in moving forward as a nation, particularly in reference to reconciliation for First Nations people.
"We still have the Queen of Great Britain as our Head of State, for God's sake," he said.
The former Prime Minister associated these limitations with the "wickedness" of the Howard government from 1996-2007, affecting succeeding governments and their policies for the upcoming election.
"I mean, people forget this, but when I proposed at the 1996 election that the Labor government would put a national question to the community, 'Do you believe that Australia should become a Republic?' we had 73 per cent consistent support for that in the polls," Keating said.
"We have not succeeded in reconciliation. We don't have a treaty, we don't have a voice, 200 years on."
On the question of leadership as an Indigenous Australian, Pearson admitted that his lack of self-belief stopped him becoming a key leader in the Labor party, despite Keating's    persistence during his government between 1991-1996.
"You said publicly that you doubted whether Indigenous leaders could reach a point where we took responsibility for a position," Pearson said to Keating. "That we had always been in a position of saying 'no', rather than grasping the 'yes'.
"That cut me to the quick, because it was true. That was the hesitation, I think. At what point could I take responsibility for leadership?"
Keating reflected on his own leadership, as well as former Prime Minister Bob Hawke in the 1980s, to highlight the importance of self-belief in becoming a leader.
"We had a superior framework," he said. "And of course, this allowed me to push the reforms through… and get onto the big ones like the Republic, Native Title, APEC, Indonesia, China, superannuation.
"Belief has got to be rooted in an idea of goodness. You do things in public life for what is good and what is true."