One in three LGBTI people describe New South Wales and Queensland Police as homophobic or transphobic, according to recently published research.
The survey of LGBTI people who had sought support from LGBTI police liaison officers in NSW and Qld found that 36 per cent of respondents agreed with the statement "police are still homophobic and transphobic". Only 14 per cent agreed with the statement that "Police are respectful of LGBTI people".
The results, published in the Police Quarterly in March 2022, were based on a survey and interviews, and included a claim of harassment after reporting a domestic violence incident.
The Criminology Research Advisory Council (CRAC) funded the research and survey, with researchers first publishing the results in July 2017. The survey, developed in consultation with LGBTIQ community organisations, the QPS and NSWPF, was open for four months, then distributed on Facebook and sent to LGBTIQ organisations and social groups. The researchers wrote the article based on the CRAC report published in the Police Quarterly following peer review.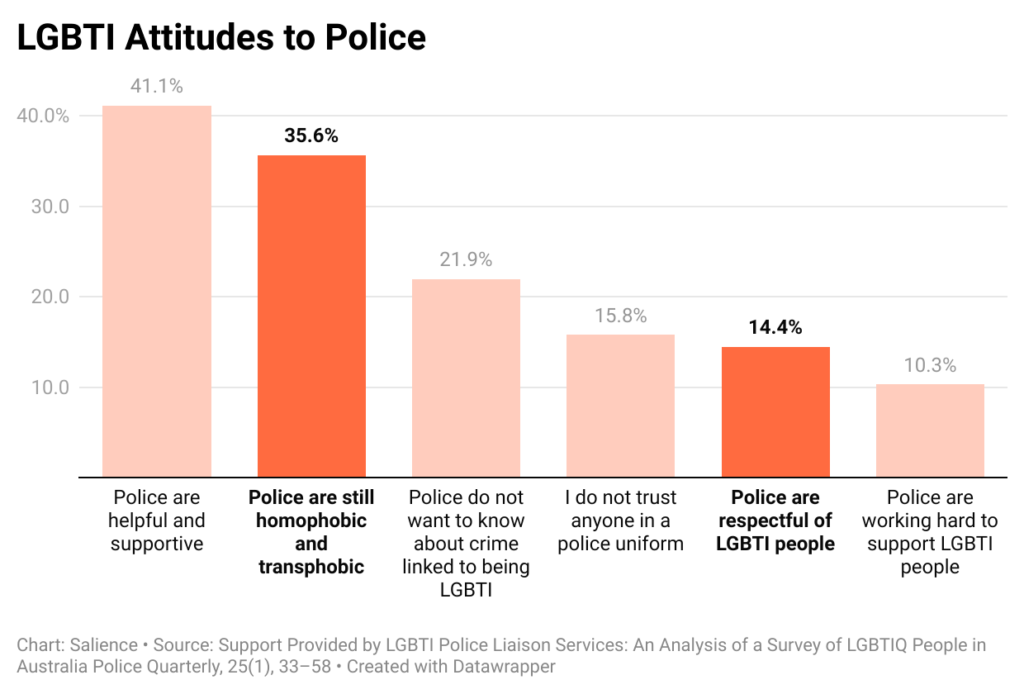 One of its authors, Murray Lee, Professor of Criminology at the University of Sydney Law School, said there was anecdotal evidence that many LGBTI people still had problems with their interactions with police.
"So we wanted to find out more about that. It's unfortunate but the findings don't really surprise me," he said. "Police officers turn up and start going through their things and find some sex toys, and they're having a laugh at their expense. That's not just juvenile, but completely unacceptable, particularly given circumstances that violence has occurred, and someone has been victimised."
LGBTI people who have been victims of sexual harassment and violence become reluctant to contact police after repeated experiences of homophobia and transphobia.
"You've got a community that needs access to justice, and the police to understand the particular issues they face," said Lee. "On the other hand, they are less likely than the general community to feel they can approach police … without [experiencing] further harassment or without being talked down to. That's a major problem."
Despite extensive police efforts to improve the relationship with the LGBTI community, more change is needed.
"While it's clear that some of the interactions with the specialised LGBTI liaison officers are very positive, what that really indicates is the need for much more specialised training and to change the broader police culture," said Lee. "I think what our work suggests is there's still a lot of work to do."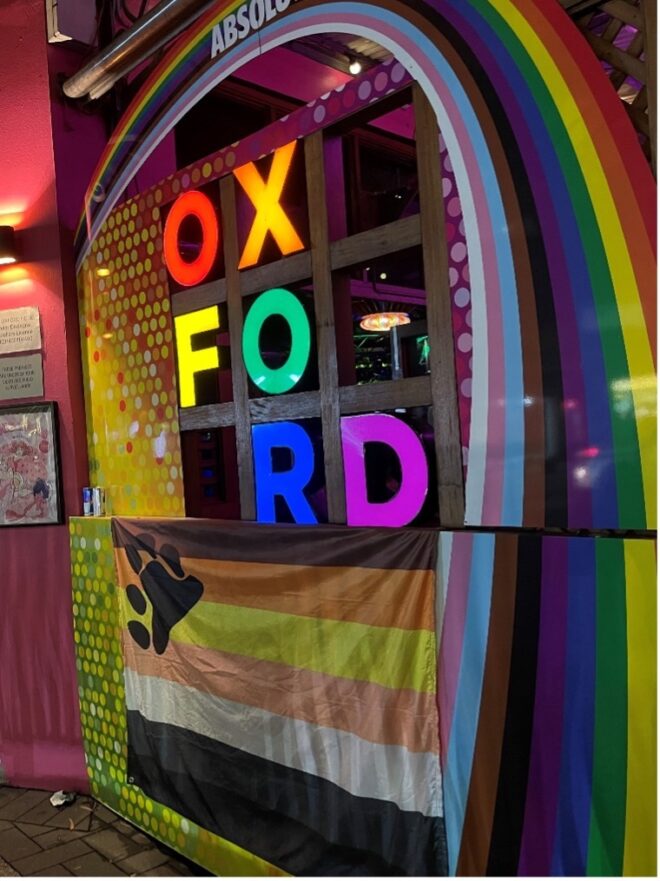 Evan Van Zijl from LGBTI activist group Pride in Protest agrees that the study's findings are representative of the LGBTI community experience of policing.
"Trans people, and in particular Trans people of colour, rarely have positive or even neutral things to say about their experience of police," he said. "Cisgender queers also have negative experiences, but not to the same degree."
While Van Zijl has seen improvements in police interaction with the LGBTI in recent years, he said these are only superficial changes.
"Over the long term there's been some surface changes as police behaviour has been put more into the spotlight," he said. "But it's not necessarily as a result of an improvement within the police, and more because of a change in society."
The Qld Police Service (QPS) reports it is pursuing measures to improve relations with the LGBTI community. Senior Constable Ben Bjarnesen, Regional Coordinator for the LGBTI Liaison Officer Program for QPS acknowledges the relationship with LGBTIQ+ people has not always been consistent with professional practice and community expectations.
"This can be addressed through an improved understanding and appreciation of diversity, supported by targeted policy and education that shapes expectations, occupational attitudes and values," he said. "In addressing this the QPS has adopted a number of initiatives, projects and community consultations to build relationships and enhance service delivery to LGBTIQ+ communities."
Krissy Johnson of the Australian Transgender Support Association of Queensland said the  transgender community had experienced transphobia in interactions with the state's police, and the findings "are in the realm of general experience".
"The quality of interactions with the police over the past two years has dropped mainly due to their redeployment to assist the Health Department in their COVID response," she said. "Things are improving and on the upward trend again."
The NSW Police Force, while not directly addressing the report's findings,  confirmed its commitment to the LGBTI community. "The NSW Police Force is proud to support the LGBTIQA+ community and remains committed to building and strengthening relationships through continuous engagement," its statement reads.
NSW set up its LGBTIQ Liaison Officer program in 1990, with the aim to build trust and confidence in police within LGBTIQ communities, and providing frontline police with advice, support and training on sexuality and gender diversity issues.
Meredith Knight, a Sydney resident and a '78er (one of the participants in the first Mardi Gras parade in 1978) NSW Police support for the LGBTI community has improved significantly thanks to police training initiatives.
"Probably within the police force there are police officers who are still unfortunately homophobic and transphobic," said Knight. "But I would say because of the training they've had, including the general training of police officers, they're now in the minority."
NSW Police apologised for ejecting '78er Barbara Karpinsky from this year's Mardi Gras parade held at the Sydney Cricket Ground in March.
In February NSW Police proposed to train 315 additional Gay and Lesbian Liaison Officers for the Sydney WorldPride event to be held in 2023, a move described by One Nation MP Mark Latham as "disproportionate" and "identity politics in policing."