Labor has taken a gamble in its attempt to move Labor deputy leader of the Upper House Kristina Keneally to the House of Representatives parachuting her into the electorate of Fowler. But will this gamble pay off?
Independents have cut through this Federal election in a way they rarely do. Nearly a quarter of Australians say they are planning to vote for a third party or independent candidate this election. So-called "teal independents" running in safe Liberal seats have received widespread publicity, while the national media has barely noticed Independent candidate for Fowler, Dai Le.
But Western Sydney politics rarely rate a mention in the national news; more so in this election as the cameras focus squarely on better-funded independent campaigns in Wentworth, North Sydney and Goldstein. So why are the bookies listing Fowler as a key battleground this election?
With momentum from a recent landslide victory, Le may emerge as a major threat to Labor, who she accuses of "taking the electorate for granted". Other candidates think Keneally is running scared. Fowler is considered a safe Labor seat but Labor have lost "unlosable" elections before and Le has a knack for securing strong swings.
*************************************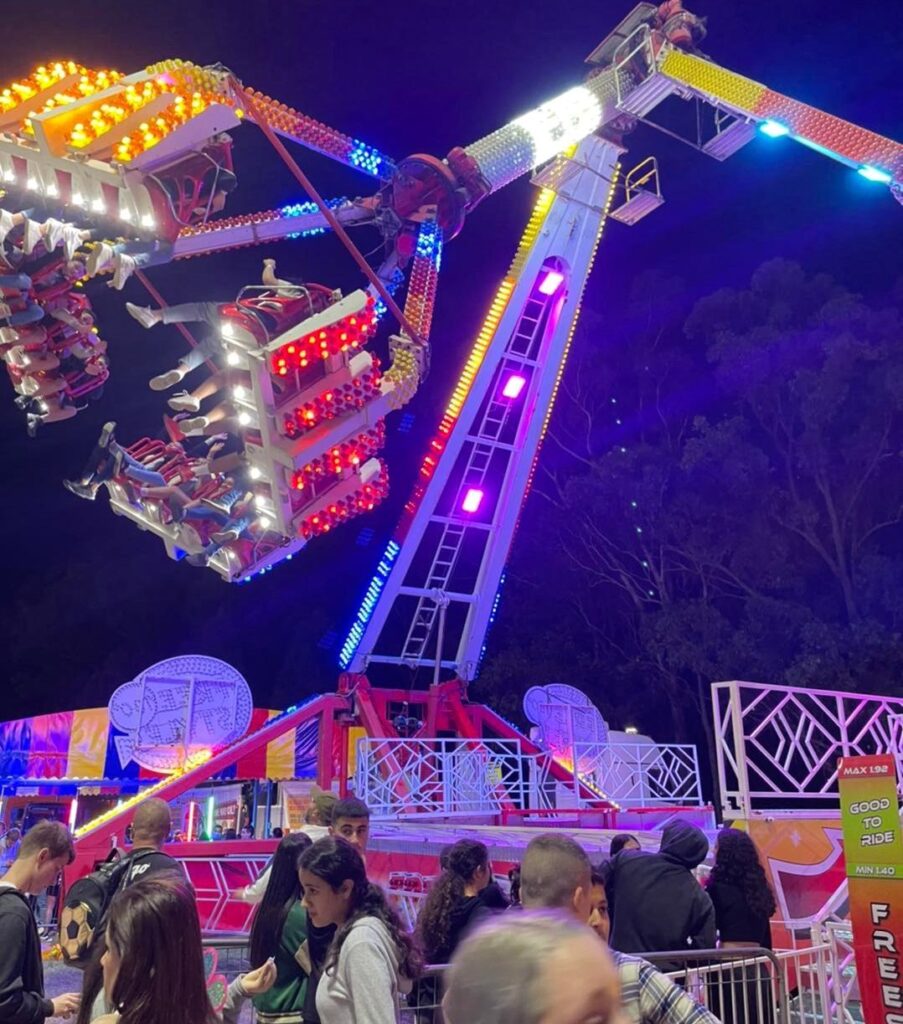 I arrive early at the Fairfield Easter Fair, where I'm scheduled to meet Le's campaign in a few hours. Fairfield locals have embraced their local Easter Fair, with hundreds of people in line to enter, even this early on Saturday morning. I note the gold coin entry, friendly gate staff and fast-moving line is a refreshing contrast to the Royal Easter Show.
After two years of avoiding social contact, the fair is an overwhelming assault on the senses. Lights flash. Salty snacks sizzle. Humans shout, scream and laugh. Most people walk together in pairs or large family groups, but the odd lone walker strolls by, looking as dazed as I feel. The only hint of the impending election is Dai Le's campaign stall, in prime position between the food court and children's rides.
This is strong home turf for Le. In 2018, as deputy mayor of Fairfield, she and Mayor Frank Carbone presided over the re-development of the Showground and the creation of the Fairfield Easter Fair.
"The Easter show is too expensive. We, Dai and I, wanted something affordable for Fairfield families, where they could have a good day out close to home," says Mayor Carbone.
Chatting with Fairfield locals, it becomes clear most people haven't tuned into the election yet. Asked who they plan to vote for, several make faces like they've just smelled something unpleasant.
One local, Chris, captured the mood: "Well, it's obviously a safe Labor seat. Let's see how safe it really is." He later tells me he's planning on either "deciding on the day," or handing in a donkey vote.
Keneally, who has been "campaigning since September", is notable for her absence at the Easter fair.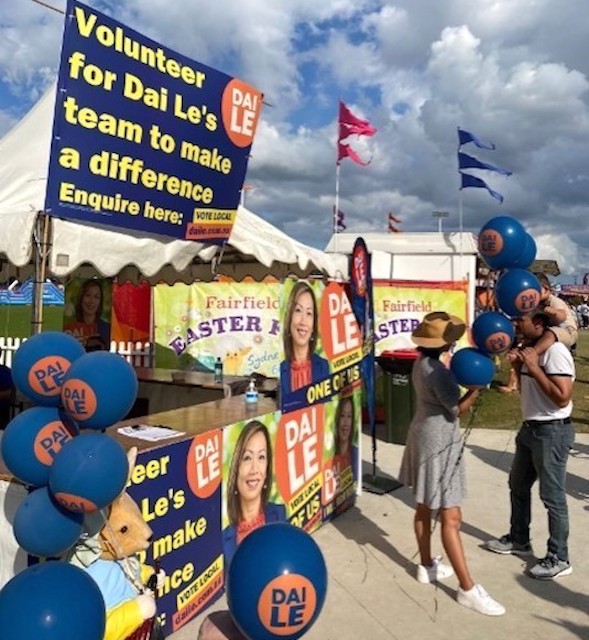 While this may be a speed bump for Dai Le's campaign, which has defined itself in opposition to Keneally, it could mean, as campaign volunteers cheerily sing throughout the day, "a one way ticket to the Northern Beaches," for Keneally.
Labor's Shadow Immigration Minister and former NSW Premier was selected as the candidate for Fowler against the wishes of the local branch. Its preferred candidate, Tu Le, told ABC Radio National locals were "furious" about NSW Labor's decision to back Keneally. "We know it happens a lot of the time on both sides of politics, but I think now people who couldn't care less about politics are more engaged. They're furious, in fact. The public commentary about this clearly shows their rage," she said.
Outgoing Labor member Chris Hayes had also indicated he wanted the local lawyer to replace him in the safe Labor seat before the party selected Keneally.
Dai Le's campaign is making a strong appeal to disaffected major party voters, particularly Labor voters alienated by the selection of Kristina Keneally as the local candidate.
"We want someone local, not someone parachuted in from the Northern Beaches," says Monica, one of Le's campaign volunteers. "We want someone who cares about us; Keneally only cares about the job."
Dai Le says she has nothing against Keneally personally but doesn't think she should be running for the seat of Fowler.
"It's not just that she's not from here, she's from the privileged part of Sydney. And if you know this part of Sydney, we have a lot of migrants and refugees from low socio-economic backgrounds. The idea of bringing in someone from such a privileged background just boggles the mind.
"Labor and the Liberals have taken [our] community for granted for too long. I want to make sure they never take advantage of us again."
Asked whether she would like to form a voting block with other independents, Le said: "I'd love to work as a [voting] block, but they're all from really affluent suburbs – our interests are totally different. I want to protect the environment for future generations, but I'm more interested in whether our local schools, aged care homes and roads are up to scratch."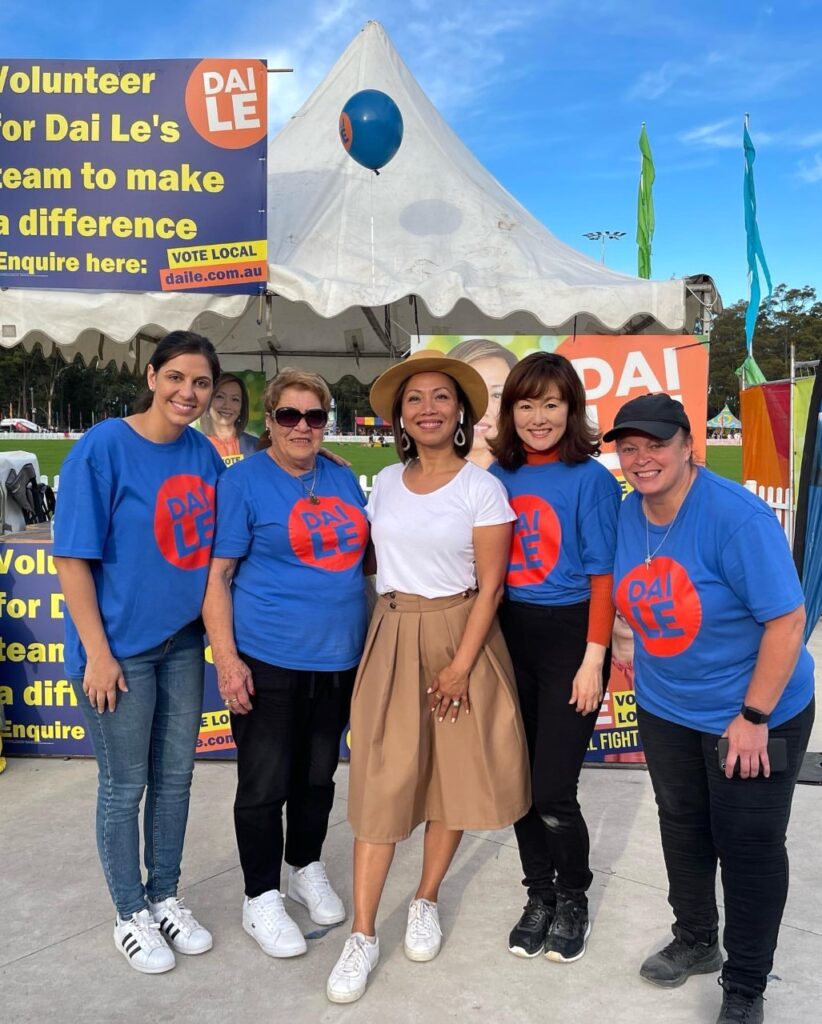 Fowler and its surrounding electorates are Labor heartland; a training ground for NSW Labor's most important power brokers like Joe Tripodi and Sam Dastyari. Labor won Fowler by 14 per cent in the last federal election, and the Liberal party hasn't run candidates in Fairfield local elections for the better part of a decade.
While Le's fiscal conservative views, journalist background and the fact she is a woman will inevitably draw comparisons to independents like Zoe Daniel and Kylie Tink, her campaign is an extension of the Independent campaign she and Mayor Frank Carbone have run in council elections for years.
Mayor Carbone says: "I'm already mayor and Dai's already the deputy. We're already exhausted from the last election we had [in December]. It's just that we've been approached by so many people saying 'we want to have a choice of a local representative'.
"So that's what we're doing. We're standing up for our local community because we believe in it, and, you know, we were here when the lockdowns happened and we were here when the lockdowns finished and we will always be here before and after this election – win, lose or draw."
While Carbone is a former Labor mayor, and Le entered politics as a Liberal, they've found common ground working on local issues, without the interference of party politics. Over the course of two Fairfield local government elections, Le and Carbone performed an effective coup against a council long considered safe Labor.
In the December 2021 council elections, Carbone was returned as mayor with 73.5 per cent of the vote (+23.3 per cent), and Le's personal vote was higher than the entire Labor ticket in her ward. After the dust had settled, Independents controlled 10 of the 13 seats on Fairfield Council, with a total swing of 52.4 per cent against the major parties.
Le also has form in state politics, having never secured less than a 20 per cent swing in her favour. As the Liberal Candidate in the 2008 Cabramatta by-election, she secured almost triple the vote of the previous Liberal candidate for Cabramatta, Victor Smith.
In the 2011 state election, Le secured an additional 26.1 per cent swing for the Liberal party, bringing them within 2.1 per cent of gaining a state seat that has been safe for Labor since its creation in 1981.
Even without the name recognition of the Liberal Party, Le was able to secure 25.9 per cent of the primary vote in Cabramatta as an independent in 2019 – significantly more than Liberal candidate Austin Le. While Labor still won the election comfortably, they can't have failed to notice the 10 per cent drop in primary vote that accompanied Dai Le's independent run for the seat. While state and local results never translate directly into federal politics, Dai Le's average swing of over 20 per cent against major parties would obliterate Labor's "safe" 14 per cent margin.
One Nation candidate Tony Margos and United Australia Party candidate Lela Panich are running their own 'vote local' campaigns. Both project a strong sense of local pride, and will preference Le over Keneally. "I respect her [Kristina Keneally], she's got great qualities, but she's not a local. She doesn't understand the community. They backstabbed that young Vietnamese lawyer, Tu Le. Chris Hayes wanted her to be his successor. That's really disheartening," says Panich.
Tony Margos sees Keneally's candidacy as another sign of disrespect for Western Sydney. "I'm sick of being treated like we don't matter because we're from Western Sydney. As far as I'm concerned, we're all equal. They [politicians] should start acting like it."
Liberal candidate Courtney Nguyen will also preference Le higher than Keneally. While Liberal Democrat candidate Peter Runge did not respond to enquiries about his preferences, his explicitly anti-Labor platform suggests he will preference Le over Keneally. Greens candidate Avery Howard is the sole candidate committed to support Keneally over Le.
Based on the 2019 federal election and 2019 NSW State Election, Le could reasonably expect to see at least 8 per cent – 12 per cent of first round preferences if Keneally is unable to win a majority of primary votes.
Le may be the dark horse in this race, but her campaign is playing to win. With Carbone in tow, Dai Le's local profile may capture the attention of disengaged voters, tired of Western Sydney being the last thing on everyone's mind. With undecided voters currently around 7 per cent nationwide, the area's traditionally high informal vote, and demonstrated willingness to throw the major parties out on their ears in the recent past, Fowler is anything but safe for Labor this election.
Mayor Carbone seems undaunted by the task of taking a safe Labor seat: "You know what? We're always the underdogs out here in Fairfield and Liverpool so we're always fighters. We're people with great passion and great pride, and we will always stand up for our community, just like they stand up for themselves. Bring it on."
Kristina Keneally's campaign did not respond to requests for comment.