"I'm 85 years old, but I think my life is still wonderful and full now, and that's what calligraphy gives me."
When Jingbo Ho talks about calligraphy, his joy is palpable and his eyes glisten with excitement. "It's like my life is starting over. I'm still young."
Ho has been interested in calligraphy since he was a child. He was influenced by his father who was very good at calligraphy, but to earn a living Ho became an elementary school teacher, and later, a principal.
In primary school he did not have the opportunity to teach calligraphy, which was not a subject within the educational framework. So for the 40 years Ho taught primary school, calligraphy was only his hobby.
In 2004, he retired, but found life in retirement boring. His love of calligraphy offered a perfect solution so he rented a small room to teach a calligraphy class. This room became his little world.
"I set up this calligraphy class for two purposes," Ho said. "First of all, I want to do something I love with my limited life, and calligraphy is my passion.
"The second goal is to make more people love this traditional Chinese culture. I welcome all students who are interested in calligraphy to come and study. I don't refuse anyone who loves calligraphy."
Ho makes it clear that he is not running the classes for profit.
"Before I became a teacher, I was a farmer, and life was very hard. I am very willing to help people in need. The sanitation worker in the street where this classroom is located is also my student. He is very interested in calligraphy, and I teach him for free. "
Jun Liu is the sanitation worker responsible for a section of the street near Ho's calligraphy class. As he cleaned the streets on his first day at work, he was attracted to the  "excellent calligraphy works" Ho posted outside the classroom.
"I did a double-take every time I passed the classroom, and I began to feel the charm of calligraphy," Liu said.
But the sanitation worker did not immediately ask Ho if he could teach him. Liu saw that all Ho's students were mostly primary school children and young people. He worried that at his age, 42, Ho would not accept him.
His main concern, however, was that his working hours were long and every time he got off work, the class was over.
Ho was unaware of Liu or his dilemma until he found him stopped outside the classroom admiring the calligraphy one day. In the conversation that followed Liu summoned the courage to ask Ho if he could teach him calligraphy, and explained his difficulties.
Much to his surprise, Ho agreed.
"He was also willing to come late at night and teach me alone when I finished my work. He taught me for free. I think of him like he's my brother," Liu said.
But the arrangement brought joy to them both, and Ho spoke of his pleasure in teaching the sanitation worker.
"I taught him calligraphy and I enjoyed myself and he enjoyed it too," Ho said. "It's worth it. Calligraphy is just something that makes me happy and full of power in my life."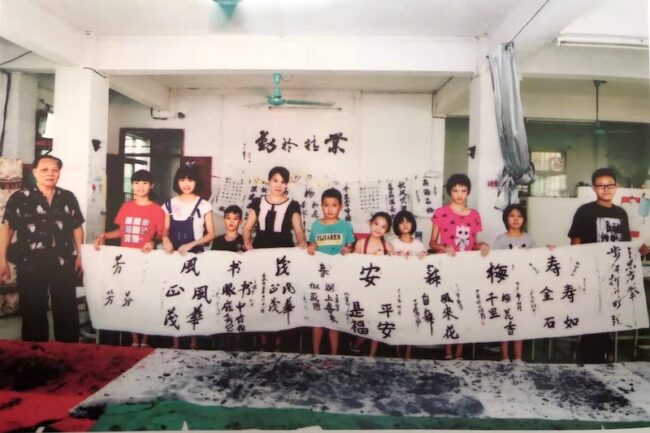 Ho has also taught many "naughty children" and is very proud he could inspire love of calligraphy in children who initially resisted the lessons.  As a result, many parents began to send their "naughty children" to him for educational reasons. In addition to teaching calligraphy, Ho believes it is also important to teach children morality.
"For the love of calligraphy, no matter how difficult they may be, I am not afraid of especially naughty students. As an old primary school teacher, I still retain my duties as a teacher. If possible, I certainly hope that more children will love calligraphy," he said.
One of his "naughty" students, Jackson, was sent by his parents to learn calligraphy at the age of 13.
"At first, I would not listen to Ho's lessons, and I would play tricks on my classmates with ink," he said. "But Ho was very patient and reasoned with me. I still remember when he taught us strokes. He said each character was composed of different strokes, and each stroke needed to have its own position to make the characters beautiful. Just like we need to find our own position in society to have a good life."
Jackson began to understand the meaning of calligraphy and when he received recognition and awards, the applause gave him a great sense of accomplishment. He gradually began to love calligraphy and was no longer a "naughty" boy.
Ho teaches with a passion for penmanship, but his love of the art doesn't stop there. After becoming a calligraphy teacher, he continued to be a dedicated student.
"Because I learned calligraphy from my father, I never studied it systematically. Also, I was born in the countryside and I didn't have many opportunities to learn more knowledge when I was young. Therefore, I seize every chance to learn now that there are many educational opportunities."
In 2010, Ho went to the Art Institute and the University for the Elderly to study calligraphy and the classics. "I cherish these learning opportunities and I think I will never get tired of learning calligraphy," he said.
Ho is now 85 years old, but he still looks 60. With his eyesight failing him two years ago, Ho made the decision not to teach a large class but kept his classroom open for students who needed it. And he still studies calligraphy every day.
At 85, Ho feels extremely happy in his retirement because calligraphy has opened a wonderful second chapter in his life, his time for doing what he loves: teaching and studying calligraphy. But what is most rewarding for this octogenarian is the student satisfaction he has played a part in.
Yingshi Deng is studying for a Master of Media Practice at the University of Sydney. She has loved traditional Chinese culture since childhood, such as calligraphy and Chinese painting. In the future, she wants to use media to spread traditional culture and rejuvenate it. Contact her at yden4581@uni.sydney.edu.au.