World-first, cutting-edge technology will be trialled on Manly beaches next season in a bid to improve beach safety and reduce drownings.
The trial will see a network of cameras, sensors and other "smart infrastructure" installed and used to monitor ocean conditions – such as wave and swell movement – and visitor activity on the beach.
Smart Beaches project director, Brad Sutton, said the trial will experiment with new technologies to better manage resources and ultimately save lives.
"We're hoping to move the needle forward in terms of water safety," he said. "With the number of coastal drownings we've had in the past few years, this is a very important topic for anyone who goes to the beach."
The initiative is part of the Smart Beaches project, a $2 million partnership between the Northern Beaches Council, Lake Macquarie Council, the Federal Government, the University of Technology Sydney, and 14 other technology providers.
The data collected will be analysed with tailor-made software that uses machine learning, a form of artificial intelligence, to predict conditions and identify hazards before they arise, said Mr Sutton. This information will then be transmitted in real-time to lifeguards, council and beachgoers – the latter via an easy to use smartphone application.
"This technology will allow us to complete more detailed, real-time analysis and forecasting to ensure we can to the best of our ability understand where to place our resources," he said.
Mr Sutton's comments follow the release of the Northern Beaches Council's Draft 2019/20 Budget, released in early June, which secured council's commitment to the project.
The trial will take place during the 2019/20 summer season on Manly Beach and Shelly Beach, which with a combined 2.6 million visitors last year were two of the busiest beaches in Australia.
But the new technology will not reduce the need for lifeguards.
"We're certainly not replacing lifeguards. We're helping them gain efficiency. They have a very difficult task and they do it very well. It's more around the resources," Mr Sutton said. "With this we can make sure we have a lifeguard in the right spot at the right time."
He said the council will use the data collected to justify expenditure on beach safety: "It will allow us to make a really strong case in terms of other competing budget items within local government, which is quite diverse, and provide evidence for those policy decisions."
With some of the technology still to be developed – in particular the smartphone application – it was a race against time to have everything ready Mr Sutton said.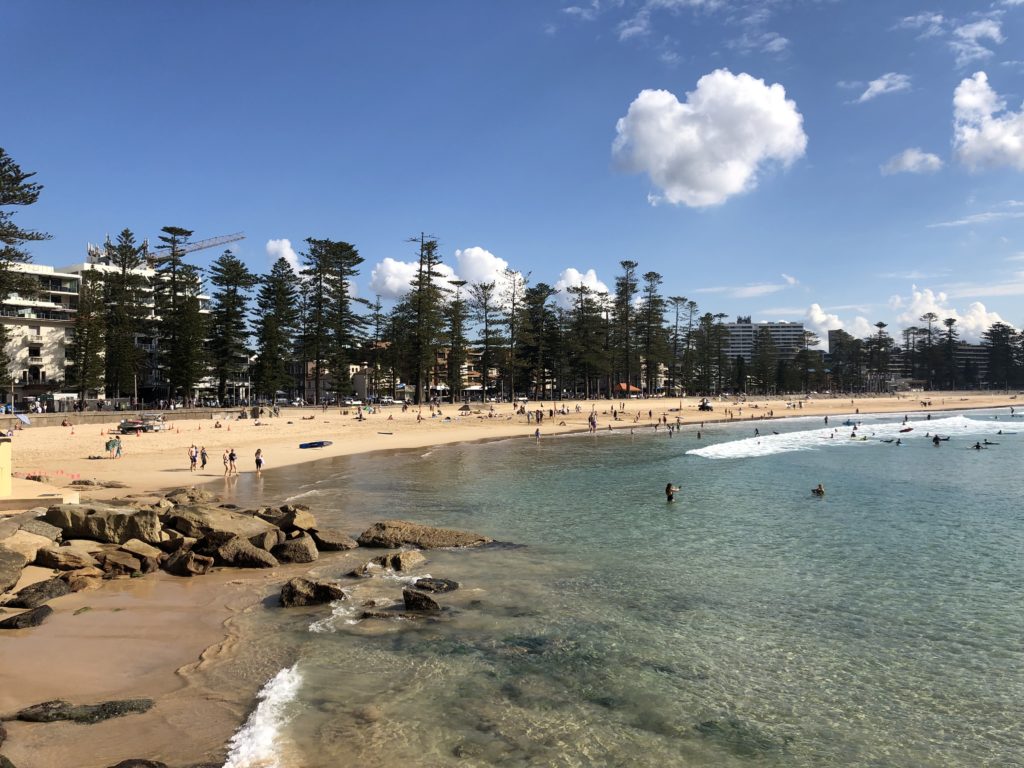 Surf Life Saving NSW Manager of Life Saving, Matt DuPlessis, said the Smart Beaches concept shows promise but with the trial start date only four months away there was still much work to do if it was to be a success.
"You have to remember that we haven't got the technology on the beaches at the moment," he said. "The key challenge with any new technology is trial and research. We have to test the functionality because we've never used this technology before. We're also learning with the technology. We need to test and update through many versions before we launch the trial."
But Mr DuPlessis supports the initiative and said smart technology would continue to change the way beaches are patrolled. The technology will automate some tasks completed by lifeguards – such as rip detection, people counts and weather monitoring – to allow them to focus on the core task of protecting people.
"With smart technology, we're now in the data game. I think it's brilliant. It's just critical to what we do nowadays," he said. "For example, if we know the beach will be busy, and the conditions require, we can let the local lifeguards know to complete more regular patrols. So we can now target the risk hot spots."
Looking beyond the trial, the Smart Beaches technology should be used throughout the state and country, Mr DuPlessis said.
Industry Associate Professor at the University of Technology Sydney, Frank Zeichner, agreed and said the most promising application of the technology was on unpatrolled beaches.
"Most deaths happen when and where there are no patrols," he said. "What happens on a lot of beaches is that they close but people stay there because it's hot and it's a nice place to be. The beauty of this is that it's automated, it's occurring continuously and it will provide us with way more coverage of the beach."
Locals have also welcomed the trial. Drew Archer, 46, has lived in Manly for 30 years and is a regular beachgoer along with his partner and two young children.
"Lifeguards are the top line of defence. I think they do a really good job and I support any measure that will help them to keep people safe," he said.
Avid surfer Kate Selig, 22, who moved to Manly six months ago, shares his sentiments.
"Anything to increase beach safety is a good thing," she said. "I'm not sure how much it will help me, but it will definitely be valuable for tourists who don't understand our beaches and aren't strong swimmers.
"It's probably needed in Bondi more than it is here," she said laughing.
Lifesavers performed 700 rescues, 1,200 fist aids and 40,000 preventative actions on Sydney's Northern Beaches during the 2018/19 season, according to official statistics released by Surf Life Saving NSW. There was also one fatality. NSW surf lifesavers will return to the beaches for patrol Sunday September 28.