Bill Shorten updates his WeChat account in Mandarin every day and has live-streamed question and answer sessions with Chinese-Australians while Scott Morrison has posted 22 'articles' since signing up three months ago.
The Labor opposition leader and Liberal Prime Minister are battling it out on the popular social media platform hoping to win over Chinese voters in tomorrow's election. On April 17 Mr Morrison announced temporary visas for parents of migrants. Five days later Mr Shorten announced the Labor party would support long-stay visas for those parents.
Wanning Sun, Professor of Media and Communication Studies at UTS, described WeChat as "a key battleground in the federal election". According to Professor Sun' research, 60.31 per cent of Mandarin-speaking participants living in Australia reported WeChat as their most used news platform, followed by news organisation websites (20.79 per cent). Only 9.79 per cent of Mandarin-speaking Australian participants chose Facebook or Twitter as their most-used platforms to obtain news.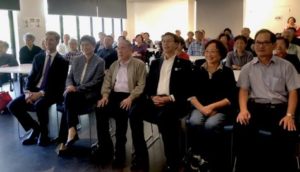 Labor Senator Penny Wong visited Chinese Australian Services Society in Burwood on April 23. "It is true that I think WeChat has become much more popular in the community than it was at the last election," Ms Wong said. "So it'll probably take some time to make sure we catch up to how the communities are communicating with each other."
The battle began in the 2016 federal election when the Liberal Party used WeChat to publish information about LGBT and the safe schools program for the seat of Chisholm in Victoria. The Labor Party has learned from the lesson and opened an official WeChat account 'Bill Shorten and Labor' in 2017.
Federal Immigration Minister David Coleman said WeChat was as common a platform as any other where politicians can communicate to the public.
"Obviously, in government we are always communicating on lots of different media platforms," he said. "It's really important that government reaches the broad community."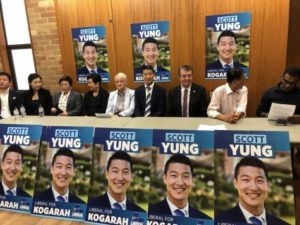 A WeChat post from Scott Yung, the Chinese-Australian Liberal candidate for the seat of Kogarah in the NSW election, attracted more than 13,000 views. WeChat helped Mr Yung secure an 8.4 per cent swing in the primary vote in the seat of Kogarah held by Labor candidate Chris Minns.
He explained why WeChat is so prevalent in the federal election.
"WeChat has over one million [users] of Chinese background in Australia… So if you want to communicate to them, like Facebook, like Instagram, you have to hit them through that platform."
Mr Yung said federal candidates use WeChat to create "personalised context" and publish policies to the Chinese community. "I think ultimately the reason why we vote for someone is that we can trust them," he said.
WeChat enables a candidate or a party to win, or lose, trust. Fake news on WeChat is infiltrating the federal election. A campaign falsely claiming Labor plans to support a death and inheritance tax was circulated on Chinese social media.
Mr Yung said the reason fake news exists on WeChat is that people have freedom of speech and can share anything on WeChat, just like Facebook and Instagram. "If the Liberal Party shares anything or the Labor party shares anything, in my understanding it needs to be authorised… by the director of the Liberal Party or the Labor Party," he said.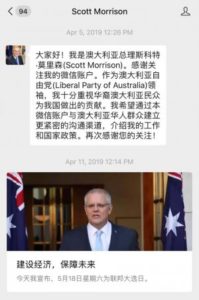 Labor candidate for Reid, Sam Crosby, and former prime minister Kevin Rudd dismissed the "death tax" rumours on WeChat when they visited Hurstville and Burwood on April 30.
Mr Crosby said: "I never thought in my lifetime, I would be standing here and talking about a Treasurer engaging in such an undermining of trust in the institutions of politics.
"It is disgusting that one of the most senior office holders in the Australian government would engage in fake news like that."
Mr Crosby has his own WeChat account where he battles fake news. "We need to get better at engaging on all forms of social media including WeChat to rebuff these slights."
PM Morrison has denied that the Liberal Party uses fake news to attack the Labor Party on WeChat.
The online campaigns will influence Chinese-Australian voters in this federal election. The 2016 Census revealed there are 1.2 million people of Chinese ancestry in Australia. Around 510,000 of these voters were born in China, and 597,000 speak Mandarin in the home. Chinese Australians constitute significant minorities in swing seats like Bennelong (21 per cent), Reid (13 per cent) and Banks (16 per cent).