Climate change, Adani and renewables dominated debate at Saturday's candidate forum at Glebe Town Hall, hosted by the Glebe Society. At several points the debate saw duelling candidates perform for the enthusiastic audience.
In attendance were Labor MP Tanya Plibersek, Science Party candidate Aaron Hammond, Greens candidate Matthew Thompson and Liberal candidate Jacqui Munro. Missing were United Australia Party's Adam Holt and Christian Democratic Party's (Fred Nile Group) Rebecca Reddin.
Sydney's large youth population was well-represented at the forum. The latest Lowy Institute poll shows that 81 per cent of 18 to 29-year-olds believe the country should take immediate action on climate change, and many questions from the audience were on Adani and renewables.
Not surprisingly, the first duel to erupt was between Labor and the Greens over climate policy.
Matthew Thompson's plan for "100 per cent renewable energy by 2030, stopping Adani and allowing no new coal mines" was popular with the crowd; many donned in 'Stop Adani' t-shirts.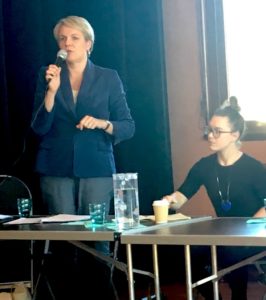 Plibersek said she is 'no supporter' of Adani and is 'sceptical' it will go ahead but understands Queenslanders' fears of losing their jobs.
She said Labor was aiming for a "realistic" 50 per cent renewable target by 2030 which Thompson labelled "not good enough"."If we build the renewable energy industry of the future we're providing more jobs than Adani ever will," he said.
Plibersek cited the Greens "teaming up" with the Liberals to block Labor's Carbon Pollution Reduction Scheme (CPRS) for Australia's current lack of climate policy and years of inaction. "The Liberals are in denial about climate change and the Greens teamed up with them to stop real action." Thompson replied that the Greens had voted the CPRS down because it was "bad policy".
Asked why Bill Shorten had categorically ruled out a Labor/Greens coalition Plibersek said it had not worked "so well last time".
"There are too many gaps in what we want to achieve and the sort of country they envisage," she said.
In his rebuttal Thompson highlighted Green's policy, saying that the Greens aim to raise Newstart, stop Adani, and provide free childcare, dental and mental health services. "If that's not the kind of country Labor want to see that's really disappointing."
The next duel began in a collegial manner. Plibersek said it was "refreshing' to have a Liberal candidate in attendance in the very safe Labor seat, and Munro agreed it had "been a very long time".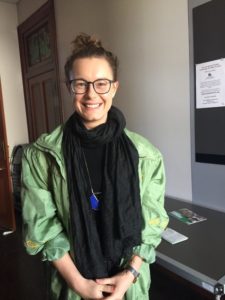 But the conversation heated up over the issue of franking credits, igniting a back and forth on the economy. Plibersek denied Labor's changes would cause hardship to low income retirees. She said the credits cost $6 billion a year, received more funding than all public schools and pointed out that only 4 per cent of Australians receive them.
Describing the credits as a cheque from the government refunding tax that was never paid, Plibersek told the audience: "All you working people, you're paying your taxes so we can send those cheques out."
In response Munro labelled the proposed changes "quite unfair and pretty disingenuous", arguing women would be the most affected. She said she was afraid of the Labor party's "class rhetoric" comparing the "haves and the have-nots" rather than working together. Plibersek denied it was class warfare but described it instead as "basic fairness". Citing stagnant wages coinciding with growing company profits Plibersek asked: "Who is the economy being managed for?"
Reports during the campaign cite the Australia Institute's geographical analysis that shows Sydney voters are set to receive the biggest tax-cut in the nation in 2024/25 under the Coalition's income tax plan.
The two candidates also disagreed on public school funding. Plibersek promised Sydney Secondary College $740,000 in additional funding within the first three years of a Labor government; Munro highlight the Liberal's promise to increase public school funding by 52 per cent. She was cut off by an audience member calling out, "what about private schools?" When Munro said she didn't know the figures, Plibersek answered: "$4.9 billion – I've got the figures."