Construction of the Pemulwuy Project began on March 26 on the former site of 'The Block' in Redfern, the first free held land owned by the Aboriginal community.
Housing affordability is on voter's minds coming into the federal election. A recent poll found that 68 per cent of voters supported government investment in social and affordable housing over negative gearing tax breaks for property investors.
On Wednesday, Labor leader Bill Shorten announced a 10-year $1.5 billion investment to reduce overcrowding in remote Indigenous communities if Labor wins the election. Indigenous Australians are six times more likely to live in overcrowded conditions, with overcrowding a leading cause of Indigenous homelessness.
The Pemulwuy Project and the debate it has highlighted around the need for affordable housing for Indigenous Australians is indicative of a larger trend. Only 29 per cent of Indigenous Australians own their own home, compared to 72 per cent of non-Indigenous Australians. New households in public housing are more likely to be Indigenous.
The 2016 census showed that 1 in 5 of Australia's homeless population is Indigenous. Indigenous Australians can also suffer from 'spiritual homelessness' which describes dispossession and forced removal from homelands and family.
Tenancy decay is also an issue when it comes to Indigenous social housing. A recent RMIT report found that Indigenous households leave social housing at a rate 11 times higher than other households. The report reveals that 69 per cent of households leaving social housing were for negative reasons such as rent arrears or issues with neighbours, and  recommends that "greater examination of the push and pull effects on tenancies for Aboriginal people that is attentive to colonising practices and intergenerational trauma would assist in better understanding why exit rates are so high and how this can be ameliorated".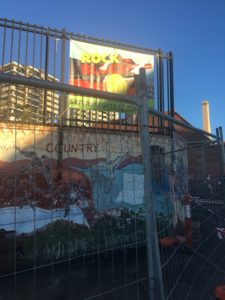 The Block's place in Indigenous land rights history has angered some in the Indigenous community. The land, now being redeveloped, was given to the Aboriginal Housing Company by the Whitlam government in 1973.
In 2014 it became the site of the Redfern Tent Embassy, a protest of the development that called for a guarantee of affordable housing within it. Speaking to VICE at the time Wiradjuri woman and Indigenous activist Jenny Munro said "This place is another example of our dispossession. This time it is our own people doing the dispossessing". Recently Munro told NITV News that the approval of the development was the "final nail in the coffin" and the "final blow in the process of social exclusion" for Redfern's Indigenous community.
The Pemulwuy Project includes retail space, a gym, art gallery and a 60-child capacity childcare centre. Asked how many childcare spots will be reserved for Indigenous children the Aboriginal Housing Company declined to comment.
The development will feature affordable housing for 62 Indigenous families and 110 Indigenous students. Precinct 3 of the development will house a 24-storey student accommodation tower, housing 600 students. Asked what the discounted rate for Indigenous students will be, the Aboriginal Housing Company declined to comment.
Like many inner-city suburbs gentrification is a major issue in Redfern. Geoff Turnbull, spokesperson for REDWatch and Redfern resident since 1980, said: "What was by and large an Aboriginal area now has a relatively small Aboriginal population." Mr Turnbull stressed the need for affordable housing in the area "if you want a viable ongoing Aboriginal community".
With rising rent prices in Redfern, the gap between Indigenous and non-Indigenous incomes isn't closing fast enough. According to a 2018 University of Sydney report the median gross weekly household income for Indigenous families in NSW is $550 compared to non-Indigenous households $850.
Mr Turnbull said that without affordable housing in the area Redfern would become like Fitzroy in Melbourne which used to be the heart of the Aboriginal community there but now the only commemoration of Indigenous history in the area are plaques.
"Kids that grew up in the area and played for the Redfern All Blacks end up having to go out west because it's the only place they can afford but they still associate themselves with Redfern," he said.
Much of the controversy surrounding the Pemulwuy Project is borne out of The Block's history. Mr Turnbull said it was "iconic" and "everybody has a view and a relationship to it in one form or another". It has been described as the "black heart of Sydney" and a symbol of the Indigenous Land Right's movement.
For some in the community the relationship is one of fear. Founding member of the Redfern Station Community Group and 39-year Redfern resident Lyn Turnbull remembers what The Block was like in the '90s: "People cheek to jowl with syringes hanging out of their arms."
Mrs Turnbull said some in the community were concerned with how to stop what happened previously.  "They fear that, they didn't want the Aboriginal community back on The Block because they didn't believe it would be a workable community."
Construction on the Pemulwuy Project is expected to be completed by 2021, with the student accommodation expected to be opened in 2022.