"What the Hell is an Australian Story?" was an insightful talk show punctuated by humour.
It opened with the creative director of Word Travels, Miles Merrill, asking Nazeem Hussain, a Sri Lankan-Muslim comedian, the question many non-White Australians hear: "Where are you from, mate?", setting the tone for a deeper exploration of identity.
When Miles asked "Are you an Australian?" Nazeem's response was an uncertain "Well, I guess I am", followed by an account of his Melbourne upbringing, where he often encounters the 'where are you from?' question. He also spoke about his ironic detachment to local Sri Lankans and his hilarious trip back to Sri Lanka as a "tourist". The stories highlighted the identity crisis among many second-generation migrants like Nazeem. Notably, the contrast between Nazeem's seemingly devil-may-care persona and his inner struggles also revealed a different side of the comedian.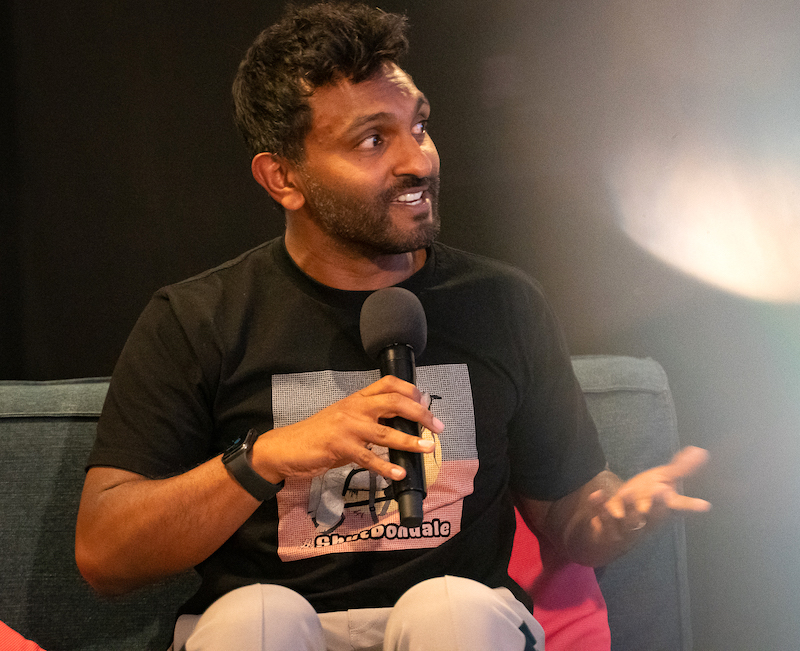 Like many of Nazeem's stand ups, Nazeem talked about his anecdote of being contacted by Australian Security Intelligence Organisation (ASIO) under their suspicion that he had the "propensity to become radical [Muslim]" and "radicalise others around".
"They thought that Muslims just all had a WhatsApp group with every Muslim today, how's the terrorist stuff going? They just need to ask us. We'll tell them."
The laughs increase when Nazeem tells the audience the ASIO officer only suspected him to be capable of radicalising people because he was too "charismatic".
Nazeem then tells how family friends and their relatives were driving from the US to Canada and the Canadian border officers told them: "Oh, sorry, you guys can't come in, one of you has come up on a list. A terrorist list."
"Turns out it's their five-year-old son and his name just happened to match a terrorist name," Nazeem quips. "What is he? Cutest terrorist in the world?"
With his keen comedic acumen and years of experience as a stand-up comedian, Nazeem's cut-to-the-chase delivery, witty punchlines and dramatic recounting of past conversations were the highlight of the show. His humor turned many supposedly disheartening experiences into satirical, hilarious tales that remind people of the absurdity of systemic racism and stereotyping.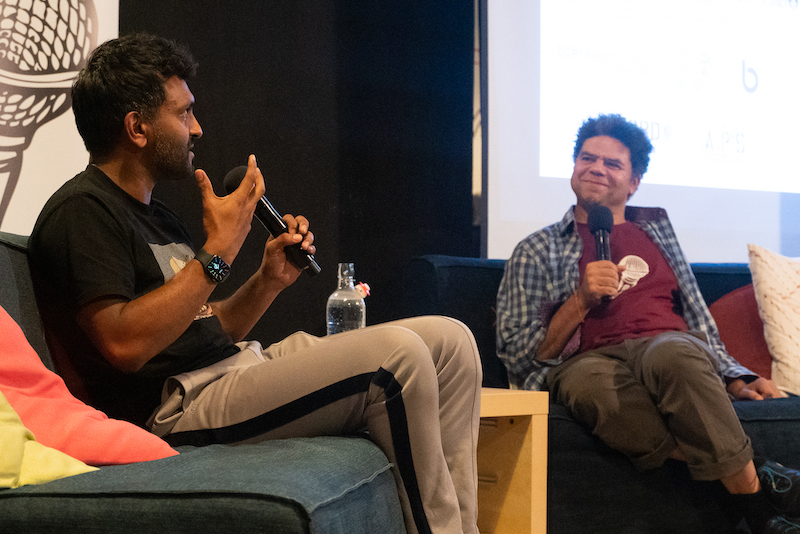 The session wrapped up with a Q&A, and reflections from both Miles and Nazeem on their struggles to explain racism to their children. I could not help but feel a little bittersweet. As a father and person of colour with experiences akin to Nazeem, Miles brought empathy and insight into the lives of people of colour in contemporary Australia.
Ultimately, "What the Hell is an Australian Story?" was a comedic yet meaningful talk that resembled a podcast. It was a talk show that does not define the "Australian Story"; it is one that propels audiences to think about what the term entails.

Chat Battle
The night's entertainment also included the Chat Battle with poets Andrew Cox, Madison Godfrey, Leila Mansour, Sarah Temporal, and Jo Yang competing for the best poems based on themes that included heritage, racism and sexism.
In the first round of competition, each poet read out a poem after which the host would invite the audience to shout out words associated with that poem. Performer Ariyan Sharma would then feed these words to Chat GPT to create a poetic response. Audiences would then rate both poems. Not saying the audience was biased but the human poets won every time.
The small, cozy venue gave the event a tight-knit, "high school camp" feel, where audiences actively contributed in the scoring, suggestion of words and cheering.
As a first-time poetry slam audience member, the experience made me realise poetry's potency when presented theatrically. My personal favorite was Sarah Temporal's poem on motherhood, mischievously set to the tune of "My Favorite Things" with a motif of "farts and poo" (a peculiarly cheeky choice).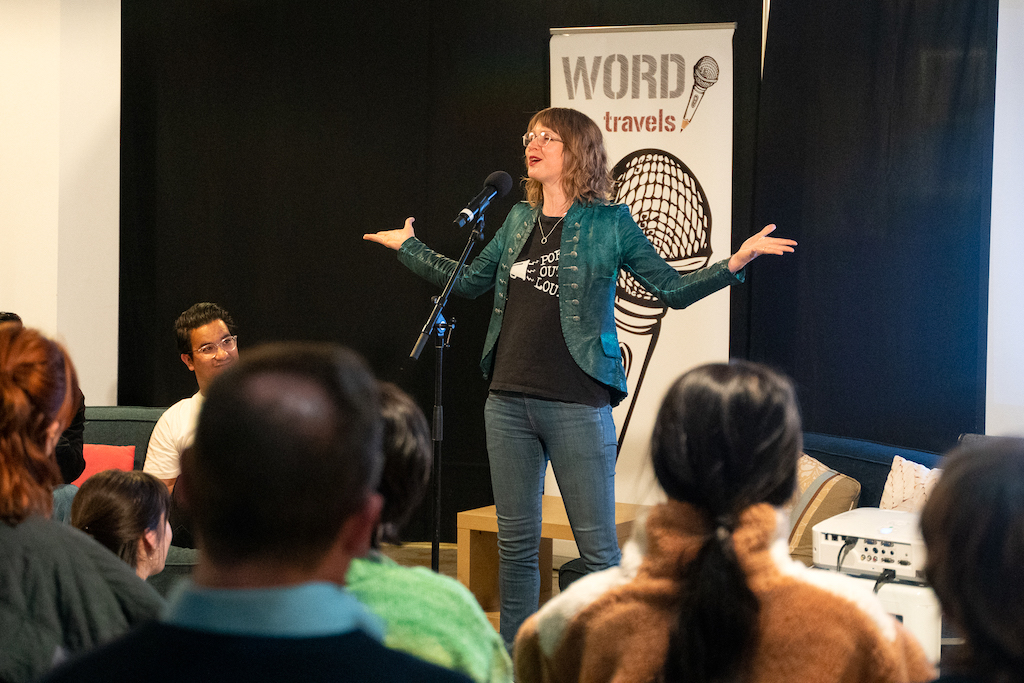 The idea of having a performer recite Chat GPT's poem was brilliant. Compared to the poets' works, Chat GPT's poems sounded awkwardly comical and a mere flexing of vocabulary. The performer's dramatic recital enhanced the comedy to bursts of laughter and cheers. It was also interesting to find out that the word "tapestry" was used in every Chat GPT poem.
In the second round, the order was reversed with the audiences shouting out random words for Chat GPT. Using the same prompt, poets would have to respond with an impromptu poem on the spot.
Turns out improvising a poem, especially with random prompts such as "watermelon" and "magic", is no easy task. Predictably, there was a notable drop in the poetry quality. But the imperfections of the poems proved that AI technology has yet to replace artists, writers and poets. Good art, just like good tea, requires tea leaves of epiphanies, time for growth to brew, and a soul into every sip of emotion.
Word Travels' Story Week was an eye-opening event of innovative concepts, a feast of creativity that gathered fellow storytellers to celebrate "Australian stories".