A raucous mosh of about 150 people dance along to a captivatingly electric rendition of "Gimme! Gimme! Gimme! (A Man After Midnight)", being played on the small, recessed stage upstairs at the Lansdowne Hotel, under smoke machines and vibrant lights.
Except it's not ABBA. It's dynamic, it's funky, it's disco.
It's Astral Juice.
And commanding it all, with a powerfully bubbly, yet sultry stage presence, and a rich, soulful voice to match, is 20-year-old frontwoman Justina Blaylock.
The septet is only a supporting act tonight, but it would be difficult to imagine anyone leaving the venue not an Astral Juice fan if they weren't already. It feels inadequate to describe them as a cover band—every song they performed became their own. And with her sparkly white disco suit detailed with feather cuffs, Justina is a star, in every sense of the word.
"She loves Astral Juice!" Justina croons, a flirtatious tease during their opener—a cover of Boney M's "Daddy Cool"—that's met with delighted cheers from the audience.
Right away, what strikes me watching her perform, is Justina's authenticity. It's the same Justina who immediately grinned when she spotted me during the bustling mid-morning coffee hour on Glebe Point Road, minus the sequins. As she dances around the stage, laughing with her bandmates, I'm reminded of how her smile widened during our interview, enamoured by the playlist filtering through the speakers: "We've got some f**king tunes in this café today!"
It seems like there's a constant soundtrack to Justina's life. From being raised on 1990s RnB, and singing around her bedroom as an eight-year-old, to fronting an Inner West band, music has always been a key feature of her day. Two years ago, Justina was still only uploading self-recorded covers to her Instagram account.
"I think the first time I sat down at my iPad on my stupid little electric keyboard was when I was 13," she laughs, tucking her crimson curls behind an ear. "I played "Someone Like You" by Adele."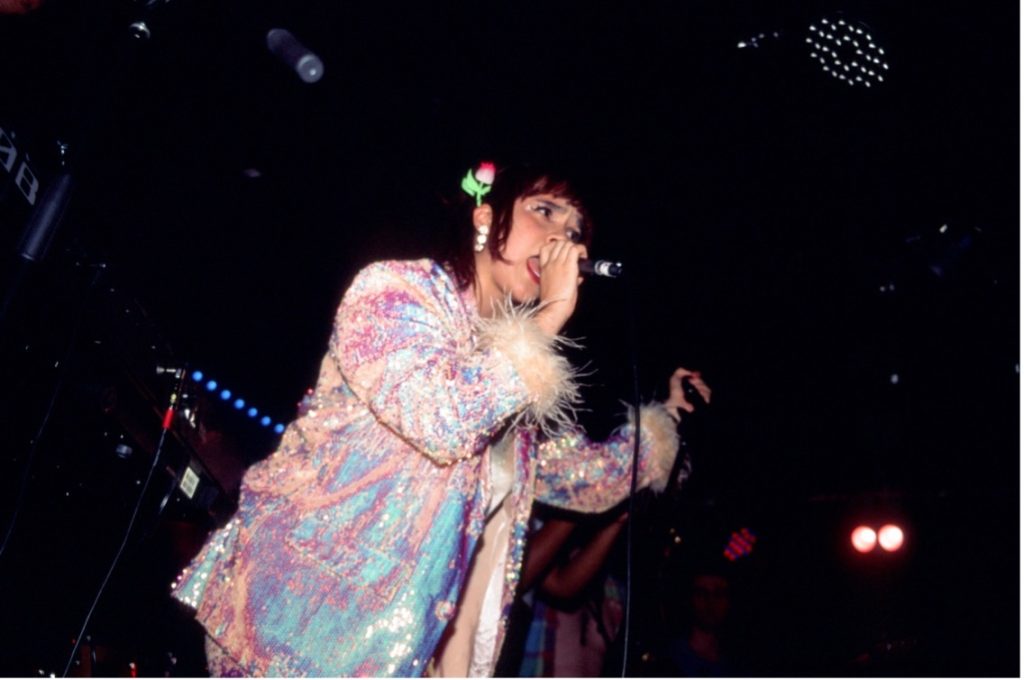 It all started at a jam Justina was invited to in 2021. The all-elusive Inner West jams occur when someone has a space to share (a garage, a studio) with the necessary equipment—mixing desks, amplifiers, microphones—where enthusiastic musicians are invited along to plug in their instruments and essentially, jam.
"This was my first 'jam'," Justina tells me, miming quotation marks with her fingers. She's endearingly, very expressive with her hands. On this fateful day, Justina went to "this guy's house" in Hurstville, covering songs, and there she met Sebastian Kruisheer and Alex Tallon, who would later become Astral Juice's keyboard player and bassist respectively.
"I just remember so vividly, the feeling. The magic in the room," Justina muses. "I was like, 'Wow! This is what it feels like to have a band.'"
As her first time singing in front of people since her Year 6 recital, Justina remembers how intimidated she felt, as "this silly little singer in the corner".
Silly, is something she's definitely not. Whilst everyone in Astral Juice has their space to shine—Callan Andrews-Arabi's sax solos, and Sebastian's duet with Justina during KAMAUU's 'Mango' were clear highlights of the gig—it's clear that she's the band's beating heart. Her charisma oozes throughout each song, energising both audience and the band alike.
"I have a fully formed idea of what Astral Juice is now," she explains, leaning back into her chair with untamed excitement. This vision includes their sound as "chunky, funky, groovin'-moving music," inspired by some of her and Sebastian's favourite artists like Tyler the Creator, Kendrick Lamar, Kali Uchis, SZA, Silk Sonic and Anderson .Paak. Justina likes the term Spotify uses for the genre: Nu Disco.
The pair also suggested the name 'Astral Juice' to the band, in camaraderie with the various food-related band names that colour the Inner West (i.e., Salted Ham, the Jam Sandwiches).
But spoken like a true up-and-coming star, Justina does not want to stay within the geographical boundaries of the Inner West forever.
The "tippy-top dream," she tells me, is to make it in the States. The ultimate wish is to be able to stay here and create an RnB scene that doesn't really exist in Australia. More short-term? She would love for Astral Juice to support the Regimes, the biggest funk fusion Neo Soul band in the country. She also aspires to join a local indie label that would support Astral Juice as they are, and of course:
"Enmore Theatre, and we sell it out!" Justina amusingly slams a fist to the table. "I'm gonna put that into the Universe."
She is contagiously optimistic despite all the change that has happened, from fine-tuning their sound to band members leaving. The gig I attended is Astral Juice's last live performance for six months, while they concentrate on creating an album of original music. On top of band commitments, Justina studies secondary education full-time at the University of Sydney, and tutors high-school students. Her solo EP is also hot in the works, with her first single 'State of Mind' already on Soundcloud under her stage name 'justina.' (an Anderson .Paak reference). Her own music is more "minimalist"—an opportunity to show off her vocal talent that sometimes hides behind the Astral Juice cosmos.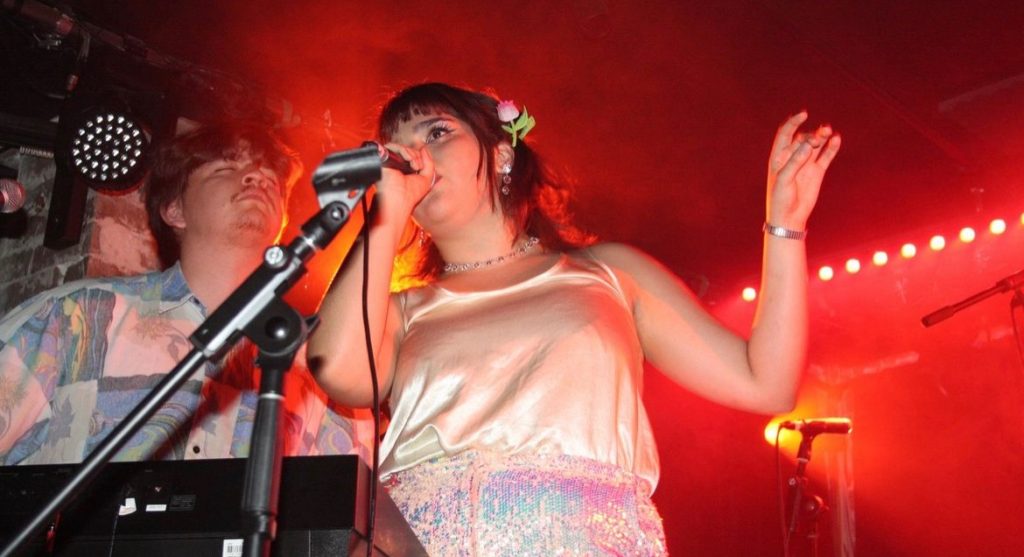 But whatever happens, Justina is excited to be amongst friends she now considers family, doing the thing she loves most in the world.
"This pure, rich, authentic friendship has been so healing for me."
The final performance of their set is Astral Juice's first original song, 'Dinner Party,' a groovy track about a disastrous evening in an Eastern suburbs estate, which had the whole audience cheering along to the call and response. When the last lyric is sung, and the instruments fade out, the seven members glow golden under the neon lights. Justina's smile is blinding, humbled by the fervorous chants for an encore they cannot give.
"The more I'm doing music, the more I feel energised to live. [Astral Juice is] my portable charger, indeed."