On March 25, the people of the Strathfield district braved the rain to vote in the election and celebrated their victory at Club Burwood RSL.
Returned candidate Jason Yat-Sen Li retained the seat with a 7.6 per cent swing to Labor, previously holding it with a margin of 5.2 per cent.
By 8 pm on election day, Burwood was buzzing with excitement at Labor's election night party with volunteers and supporters, dressed in trademark red t-shirts, gathered to await the election results.
Among those present were Burwood Mayor John Faker and Strathfield Deputy Mayor Karen Pensabene.
Cheers broke out as Li arrived and was greeted with handshakes and hugs from  supporters, volunteers and his campaign team, many of them Asian, including a group of Chinese volunteers from the University of Sydney.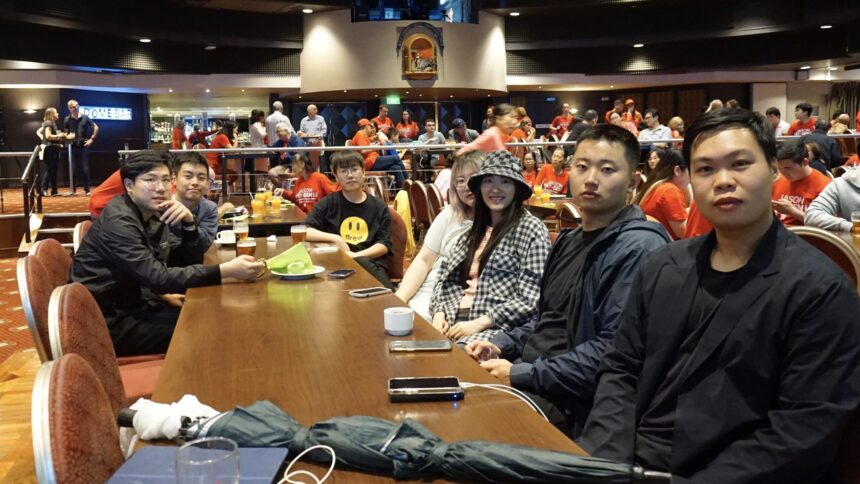 Silvia Wang said she supported Labor because their policies are more friendly to international students. "They have better immigration policies that are good for us to stay in Australia," Wang said.
Tony Liang, another Sydney University international student, said he chose to support Li because as a Chinese immigrant it was necessary to get involved in politics. "Chinese people as a minority need to maintain political influence," Liang, a new Zealand resident, said.
Labor's policies won the support of many Chinese-heritage voters who welcomed plans to improve the education and health systems, and end privatisation of public services.
Strathfield voters also supported Li's commitment to these policies and his focus on promoting economic development and building green and livable communities.
As the night wore on, the excitement continued to rise as the Labor win became certain. Li took to the stage to share this hard-won joy with Labor supporters and the audience, a new beginning for the Labor Party.
"It's a bit surreal. It will probably hit me tomorrow morning. It's really exciting," the re-elected Strathfield MP said.
Strathfield citizens braved the rain to vote
Despite the inclement weather, voters arrived in droves at the Ashfield Civic Centre before it closed at 6pm. Volunteers from various political parties, including Liberal, Labor and Greens, also turned up to distribute voting posters to support their candidates.
On election day, David Kelly and his wife volunteered to campaign for Labor at the polls.
"About 20 people took our leaflets today," he said. "Our  party has a good record in this area. We have very good candidates.
"I first met Jason, the Labor candidate, in Beijing when we worked together for a while, and he is a very responsible person."
Sally Gibson, who ran as an Independent for Brighton in Victoria's November election, travelled to NSW to support the independents.
"I supported the Greens for 20 years," Gibson said. "I had formed some of my own ideas around the climate and government corruption, and [I felt] the Greens were not being strong enough so I decided to stand as an independent."
Gibson also said that, like Victoria, NSW voters are becoming apathetic. "A lot of apathy and a lot of people are turning off because they basically don't trust politicians anymore."
Greens party supporter Sarah Newman said she had mainly voted Labor in the past, but felt the party did not sufficiently support the community.
"My vote is a protest," she said. "The Greens have been very proactive on education and what they would do to improve it."
She said the Greens' policies also tackle the rental crisis and environmental issues. "Labor won't lose, but I want them to know their choices do have consequences."