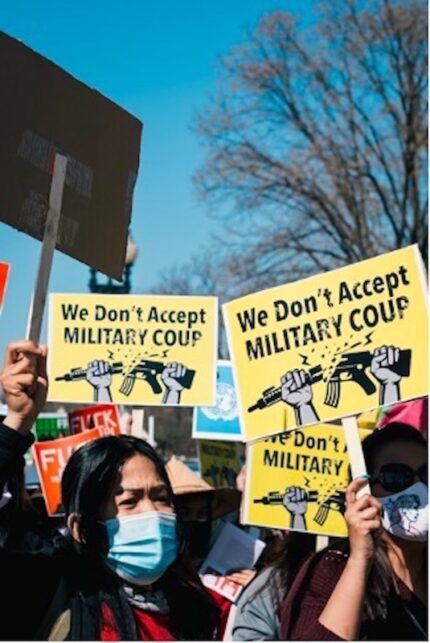 It's safe to say that we were feeling very sorry for ourselves as we pulled out of our driveway and turned onto the main road towards Maccas for the third night that week – one of the only things that sparked any joy within the confines of our 5km bubble.
The car clock read 12:36 am as I gazed sleepily out the window at the quiet world. It was August, a month nestled in the depths of the four-month Sydney lockdown – a seemingly never-ending period riddled with uncertainty and a sense that we were living Groundhog day. Masks, sanitiser, distancing, lockdown.
The daily highlight came from attending the online press conferences to see if we'd correctly guessed the colour of Gladys Berejiklian's outfit. I had not.
Uneasiness began to fester in my gut as we continued through the vacant streets. There wasn't another car in sight. I thought of everyone sleeping in their beds, and the inevitability of waking up to another morning of the same. Could it get any worse?
Across the world from us in Myanmar, our young friend Dampa watched as his mother's coffin was pushed into a slot in the wall. Her death, at only 49 years of age, came after the Myanmar government refused to provide her with an oxygen tank at the height of the Myanmar coup.
It was the same virus, but two very different realities.
In 2006, political scientist Mary Kaldor coined the term 'New War Theory' to characterise warfare in the post-Cold war era. She defined New War as conflicts that occur between state and non-state actors, typically in places where authoritarian states have been greatly weakened. These conflicts involve state actors such as the military, and non-state actors such as civilians, and often result in crimes against humanity. In 2013 Kaldor explained that differing from old wars, fought for geopolitical interests or ideology, New War conflicts are fought in the name of identity over religious and ethnic beliefs. A Pew Research Centre study confirms this, with results showing that countries with a high level of social hostility involving religion reached a six-year peak in 2012.
As a student of politics and international relations at the University of Sydney, I recently became aware of current conflicts that fit this terrifying theory.
After ordering food, my sister and I sat sprawled in the parked car at the empty Maccas parking lot, feeling the temporary joy that only a Happy Meal cheeseburger with extra pickles can bring. My sister shifted uncomfortably in her seat.
"Have you seen the video that Dampa sent?" she asked hesitantly.
I noticed the glimmer of tears she was blinking back and turned away, determined not to let it show as tears began to form in my own eyes. "I don't think I could handle watching it," I replied.
My thoughts drifted to Dampa's spiky black hair and shiny brown eyes.
We had befriended Dampa during a family trip to Myanmar in 2012 – only one year after the country opened its borders for the first time since 1962. Only 9 years old, I didn't fully grasp the significance of the visit, or understand the political past of the country. But I did remember Dampa and his lovely family, and how they fed us a feast for Sunday lunch, constantly topping up our plates as we tried to politely explain that we were "actually quite full but it's delicious, thank you!".
I also remembered my sense of wonder as we visited the house where the trailblazer for Myanmar democracy, Aung San Suu Kyi, was living under house arrest.
"You kids have no idea how historic this is," my dad told us as we peered at the guards lining the spiky gates outside of Suu Kyi's house. She was the beacon of light, the symbol of change. Everyone was full of hope about Myanmar's future.
Unfortunately, in line with Kaldor's theory, the tension that had been brewing under the surface of Myanmar politics erupted on February 1, 2021. Myanmar descended into political chaos following a military coup that seized power from the National League for Democracy Party (NLD). Aung San Suu Kyi had failed to transform the country, restricted by a power-sharing arrangement where the military was allocated 25 per cent of parliamentary seats, ensuring the military never fell under civilian control.
The coup, led by Min Aung Hlaing, was unanimously agreed upon by the junta's National Defence and Security Council in the wake of the landslide general election in which the NLD were positioned to be in power for 5 years. This was a significant setback to democracy in Myanmar, undermining all the improvements secured since the end of the 50-year military rule in 2011.
The conflict worsened as opposition militias formed as 2021 unfolded, and widespread fighting between state actors and non-state actors began. The coup opened the floodgates for violence and crimes against humanity, exploding tensions that had been building for generations. Torture, deportation, persecution, the targeting of civilians and imprisonment, were all rampant. From February to November 2021, the military killed approximately 1200 protesters and detained 8700 government officials.
This all occurred during the pandemic when only 13 per cent of Myanmar citizens were fully vaccinated, medical professionals were harassed and arrested when they treated protesters, and people did not receive the medical attention they needed.
Dampa sent heartbreaking updates through Messenger, informing us that his family had become infected with Covid. He became desperate as his mother fell increasingly ill.
"Cannot go to any hospital privately or government. No doctors. Just asked us to go back home. Military cuts the oxygen and people are breathless, including us. They are all drowning because we lack O2."
These chilling words revealed that the military was controlling every aspect of civilians' lives, including the decision to weaponise Covid.
My sister turned to look at me. "You can't just ignore it because it makes you uncomfortable," she said solemnly.
She was right. I opened her phone and clicked on the video.
Dampa's mum lay delicately in the open casket, clothed in a white lace top, a bouquet of red and white roses resting on her chest, as if they were blooming out of her. A thin white veil was draped above her, decorated with long-stemmed red roses. Her eyes were shut, in a relaxed expression. If I didn't know better I would swear she was asleep.
The video would present a peaceful scene if it weren't for the chorus of guttural wails that shattered the silence. The anguished cries mimicked those of a wounded animal, coming from the depths of human souls. Cries that could only accompany a loss that could've been prevented. A beautiful woman who should have lived past the age of 49.
As I watched the video I felt something shift inside me. We drove back down the vacant streets, past the rows of houses and towards home.
The next morning I awoke to another day in lockdown – and for the first time in months, I was grateful for a new day.