Fifteen critically endangered plains-wanderer birds have been equipped with tiny solar-powered backpacks to track their movements following their recent release in the Oolambeyan National Park, NSW.
Sitting uniquely on its own branch of the evolutionary tree, approximately 250–1000 birds are left in existence. The nondescript ground bird is endemic only to a small number of disconnected grassland ecosystems in Australia.
With its own specialised recovery plan, it is part of a $175 million dollar NSW Government's Saving our Species program.
The tiny solar-powered backpack-wearing bird weighs 80–100 grams and has attracted the attention of the NSW Environment Minister James Griffin. In a statement released in September he said: "They're a critical part of the ecosystem because their presence or absence is an indicator of the health of their native habitat."
Speaking of the solar-powered backpacks, a first for the plains-wanderer, Griffin said: "[They] are paving the way for us to gather important data, which will ultimately help us improve our conservation efforts for wild populations into the future."
Australia has the dismal honour of having one of the world's worst extinction records, with 10 per cent of mammals and 100 unique species extinct since colonisation, according to a damning government report this year.
Yet Australia is a highly unique ecological island. A significant proportion of Australia's native species, including plants, marsupials and birds such as the plains-wanderer, are found nowhere else in the world.
Climate change, colonisation, habitat loss and predators are the major causes of decline in the plains-wanderer. In addition to solar-powered backpacks, conservationists are diversifying their approaches and means to protect the notoriously shy bird, such as captive breeding programs for the wild.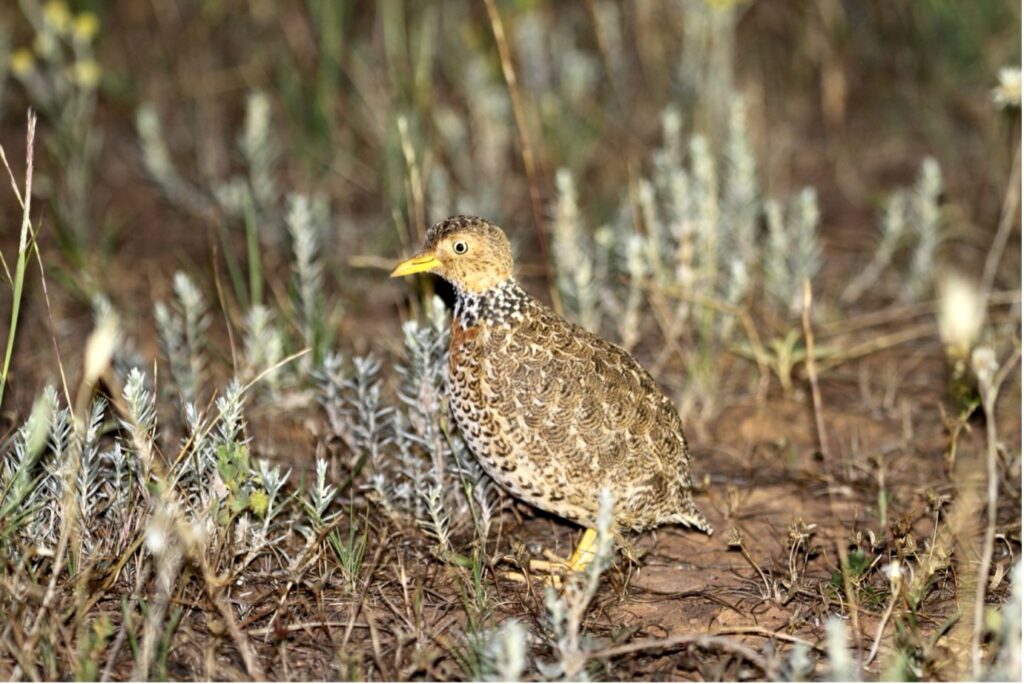 Captive breeding program restores the population
Animal rights activists have long criticised zoos internationally for their approach to captivity and culling practices. Now, five zoos in Australia have banded together to replenish the wild population of plains-wanderers, breathing new life into conservation efforts.
The population of plains-wanderers experienced a dramatic drop of 84 per cent between 2010–2014, bringing its numbers to the low hundreds. In an effort to develop a viable wild-breeding population, the zoos constructed purpose-built conservation aviaries.
Mark O'Riordan is a dedicated plains-wanderer keeper at Taronga Western Plains Zoo which is the largest complex for the national breeding program. "To date, we have collectively bred and successfully raised over 80 birds," he said. "It takes 1.5 keepers a day to look after the Plains-wanderer at Taronga Western Plains Zoo."
Of the 15 solar backpack–wearing birds released that day, 11 birds were from his own brood. "Only birds with the strongest genetic chance of survival are chosen for wild-release," said O'Riordon. "We have now released four cohorts since April 2021 – two in Victoria and two in NSW."
Bringing the plains-wanderer back from the brink of extinction needs a complex effort. The tiny bird has a large team of conservationists, landowners and local government staff working together to prevent its decline in special extinction oases.
"If they were to be lost, there will be nothing like them left on Earth," O'Riordon said.
Murray-Riverina ecological refuge
The Murray-Riverina region in NSW is a plains-wanderer stronghold and ecological refuge. An estimated 50 per cent of the entire plains-wanderer species are in the NSW Murray-Riverina Region.
Stealthy and unexpected predators
According to Samuel Steel, Natural Resources Officer at the Murray-Riverina Local Land Council, this unusual oasis has many factors that support the plains-wanderer populations. There are also many challenges.
While predators were thought to most commonly be foxes and cats, a surprise hunter has been discovered, according to Steel. Magpies and crows have been stealing rare eggs, a fact not fully understood before.
Like penguins, plains-wanderer eggs are incubated by the male, while the larger female defends the territory and seeks food. Steel estimates there are now approximately 500 birds in the region.
Local farmers have also rolled up their sleeves for the plains-wanderers. The Murray Local Land Council has been working with 15 landowners to preserve 15,000 hectares of habitat, which is the "last refuge" for the plains-wander" said Steel.
Working with local landowners throughout challenging circumstances to provide protected habitats has proved vital to success he added.
The Oolambeyan National Park, located in the NSW Riverina, is permanently protected due to its specialised conservation value in protecting the plains-wanderer.
The NSW Plains-wanderer recovery program is led by the "NSW Government's Saving our Species program", with a $175 million commitment over 10 years dedicated to a range of critically endangered and priority species.