Should government step in to protect us from Big Social Media?
Leading communications expert Ed Coper joined former Prime Minister Malcolm Turnbull last Sunday to discuss the dangerous consequences of disinformation prevalence and algorithm bubbles.
Hosted by Karen Middleton, the conversation "Unfriend the Algorithm", was held at the Sydney Opera House as part of the annual Antidote Festival.
Coper compared the worldwide popularity of Tik-Tok to the spreading of tick disease.
"Teenage girls who normally were suffering from anxiety and depression and mental health episodes around the pandemic that we knew we know increased, started developing the same tick-like symptoms and quite debilitating."
Turnbull also expressed concern about the algorithms of this social media platform, and particularly implied the potential threat due to the political stand of Tik_Tok's owner.
"Users content is not just designed to keep them on the platform for as long as possible, which is the objective generally of these algorithms, but they can serve them content based on their age and the demographics where they live," he said.
"And it's owned by a company that is ultimately answerable to the communist party of China. So, that may or may not be a matter of concern. I think it should be."
The former Prime Minister referred to the January 6 attack on the US Capitol and discussed the problems of "information silos" as the result of narrow casting that could profoundly shake the foundations of democracy.
"The problem is that we are no longer sharing the same media or the same facts and that's where society starts to fray," Turnbull said. "That's what leads to a model of people going to try to overthrow the government of the United States on January 6, 2021, because more than a small minority believe that Donald Trump won the election."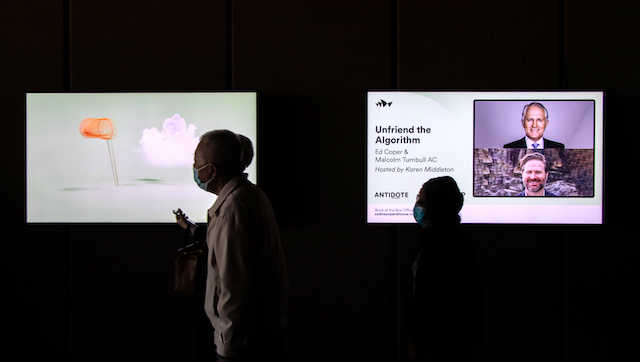 Coper explained that outrage information would always win over fact-based science and research according to the mechanism of platform algorithms. He pointed to social media platforms' dereliction of duty to handle extremism.
"An internal Facebook report found that two thirds of all the people who belong to fringe neo-Nazi, violent, right-wing extremist groups on Facebook were there because the Facebook algorithm had recommended that group as something they should join."
On the question of legislation and prevention, Coper said existing regulations at the endpoint could not address the intrinsic problem.
"The problem that we're talking about is not always just about a specific piece of disinformation that has emerged and needs to be corrected," he said. "As society breaks down in the ways we receive information and opinions, engage with each other and engage with issues around us like the pandemic, when a challenge like that arises, we find that everything has been eroded."
Interviewed before the event, Coper mentioned the importance of public trust in the government.
"The government's role is not to be unbiased or impartial, but to restore our trust in the institutions they represent. We expect political ideology, but we need to layer it on a level of trust that democratic conventions will be able to prevent political extremism."
Turnbull emphasised the need for transparency and the social obligation of both publishers and platforms to ensure the public is well-informed.
"When people are looking for information on a particular topic, make sure trusted sources of information are also being presented," he said. "When they start believing in things that are false and in a manner that has real consequences, we've got to make sure we do everything we can to ensure they have the information that enables them, hopefully, to be disabused of those false sources."
Digital literacy education is necessary regarding the rapid development of technology, Coper said.
"The fundamental risk to our democracy that is posed by these technologies can only be cured if the people who are inhabiting these ecosystems can navigate them healthily," he said. "Healthy participation in the digital world is a core curriculum that is much more important in the long-term than teaching them how to measure the angles of a triangle."
Yi Xu is a third-year undergraduate student at the University of Sydney, majoring in Digital Culture and Sociology. He is committed to exploring the future of journalism and documenting the social change with his camera and words. He can be reached at LinkedIn and Twitter.  Email: yixu8902@uni.sydney.edu.au Moblie: +61 432356845 or +86 15925674949.