Chris Pratt hangs out in the 'Fun Room' unnoticed. Andrew Stockdale sings the same song twice on karaoke. Three girls talk about their deepest feelings on the bathroom floor. Pink hair girl becomes a singer. Everyone just feels like a rock star.
Yes. There is an underground place where Hollywood stars, rock stars, politicians, corporate executives, your punk neighbour from the 8th floor and the hippie girl you met in high school all come together. This is Frankie's pizza at Martin Place.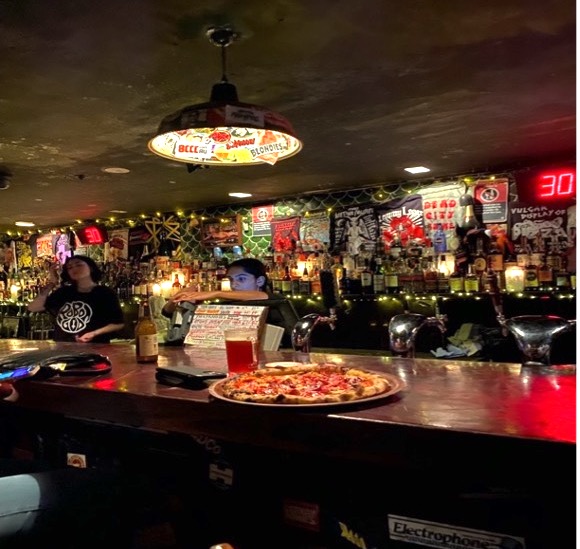 Frankie's will be demolished in early 2023 to make way for a metro station on the Metro West line. Sad news for some, but especially me. I feel a connection with the place. The pizzeria was the first venue I visited when I moved to Sydney. I was looking for an Italian restaurant and there it was: a luminous sign with the design of a slice of pizza shining in the night of Hunter Street, heart of the city. A green, white and red pillar and a door covered in posters leads underground to what, at first, seems an ordinary pizzeria. But take one step down and you'll realise normal isn't the right word to describe it.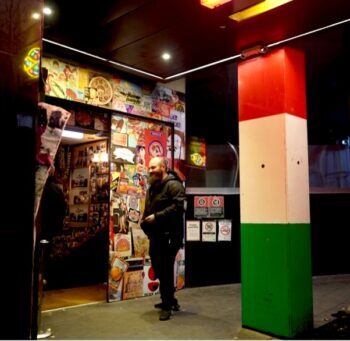 Family photos smiling from the walls and an atmosphere that resembles a typical Italian cantina greeted me. But just one look at the staff and I noted they were nothing like the big Italian family from the photographs. A bearded tattooed man and a girl with purple hair came to take my order. A dollar slice and a $4.50 gin at happy hour. "Where is the toilet?" I asked. I walked through a door and to my surprise, the music was now live. A rock concert with a band I had never heard of. I was stepping into a secret world.
Written messages scribbled on the walls; pinball tables gleam in the back of the room. The crowd, an eclectic and atypical mix, made me feel comfortable in that tension. I now felt part of Frankie's universe; it was like being in cosmopolitan New York but captured within four walls in the middle of Sydney's corporate and political centre.
Emma Rothwell, Frankie's general manager, explains the unusual mix of its patrons. "Look, its geography is part of the concept that appeals to creatives, to metal heads, to students, to people who want to party," she says.
"But we are in Martin place, so there's corporate types around here. Inevitably they come to the bar, and these people like rock music the same as anyone else.
"When you got people in suits standing next to some punk with giant hair, you know you are doing it right. It's a mix of people that would never interact with each other in different circumstances."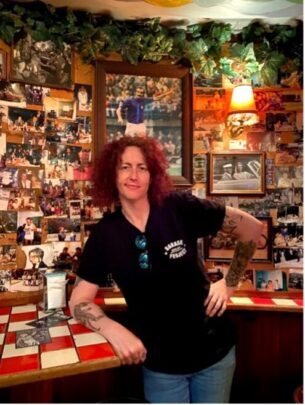 Emma resembles a TV character, with her rocker-style red curly hair. She grabs a glass of beer and leads me to a quieter corner of the bar, the music still playing in the background, setting the atmosphere. I asked her what makes the place so popular.
"It's humble, the place has no graces about it. We sell drinks in plastic cups, so it's kind of accessible for everyone."
And when she says everyone, she means everyone. Remember the three girls on the bathroom floor? Emma says their story represents the essence of Frankie's Pizza.
"I'm doing the check and I find these young girls just sitting in the bathroom. I was like, 'that is odd. I would really prefer if you didn't sit on the bathroom floor'."
It didn't take long for Emma to learn they just wanted a short quiet moment to chat during a busy loud night. She led them out of the bathroom and told them to follow her. After opening the door near the exit sign, she walked down a spiral staircase where there was only an ATM and told them to open the door facing them.
"I took them down and they didn't know that the 'Fun Room' existed. And then they said, 'Ah, we are gonna get kicked out'," Emma mimics a crying voice. "I'm surprised they kept going along with me because they really thought they were going through this door and out on the street. But what they found was the 'Fun Room', this beautiful, intimate little country western thing. It's a bit quieter, a bit more relaxed."

This third layer of Frankie's, according to Emma, is "Sydney's worst best kept secret". The hidden bar serves as a green room for bands when it's closed and a VIP bar for anyone who walks down those stairs.
Emma had received a tip that Hollywood star, Chris Pratt, was coming to the venue that night. The American star was taken straight to the 'Fun Room' where the girls were, and believe it or not, they didn't even notice he was there.
"They were so into their conversation, having their own little awesome time together, just solving the world's problems. And he was doing the same thing with his friends."
When Emma took me to the 'Fun Room', I was surprised. It's a very small space. Risky move to guarantee privacy to a star elsewhere, but not at Frankie's.
In the parallel universe that is Frankie's any night can be remarkable. It was a Tuesday when the lead singer of Wolfmother, Andrew Stockdale, turned up to karaoke. Megan Elphinstone, a grant writer for artists and a nine-year regular at Frankie's karaoke nights, was not a Wolfmother's fan, but would soon become one.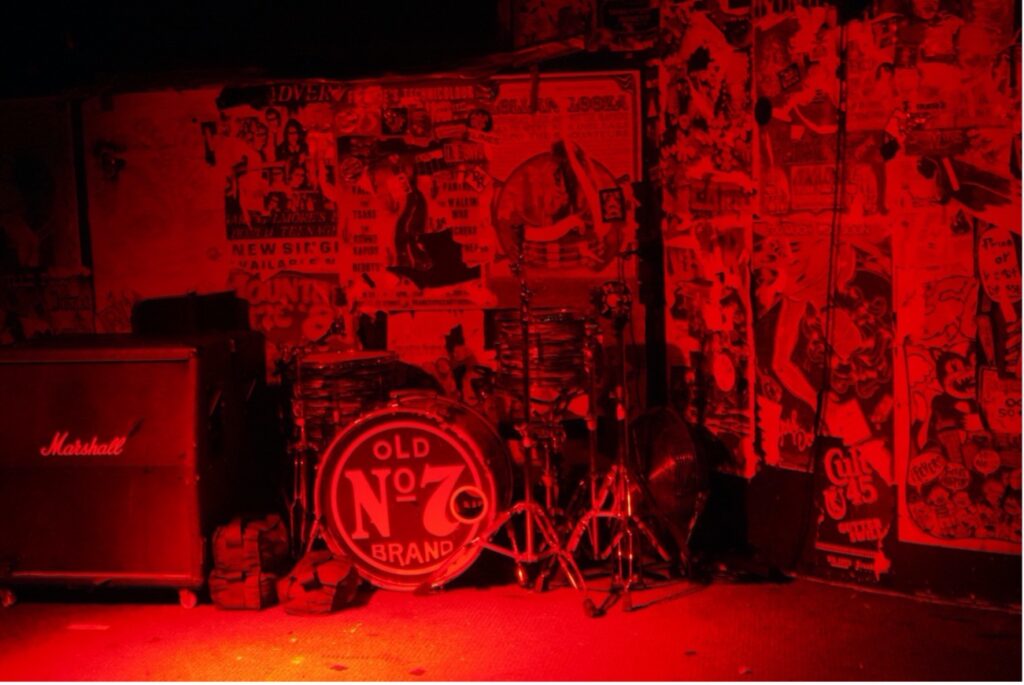 "My friend at the time worked at his record label and she messaged me saying, 'Hey, look, can you just keep an eye on him and make sure he doesn't get too wild?' And I said, 'Oh, I don't really want to do that'."
Her friend's response was adamant. "Well, too bad. I told him what you look like."
"I looked up and he is walking straight towards me, and I thought, you can't hide when you've got pink hair," says Megan.
With no way out of the situation, Megan was there to save him from himself and his urge to jump on stage and belt out "Joker and the Thief" for the third time within an hour.
"He was going to go out there a third time. So, I was like, 'give me the microphone!' I thought he was a bit of a prick before, but he's actually a really nice guy."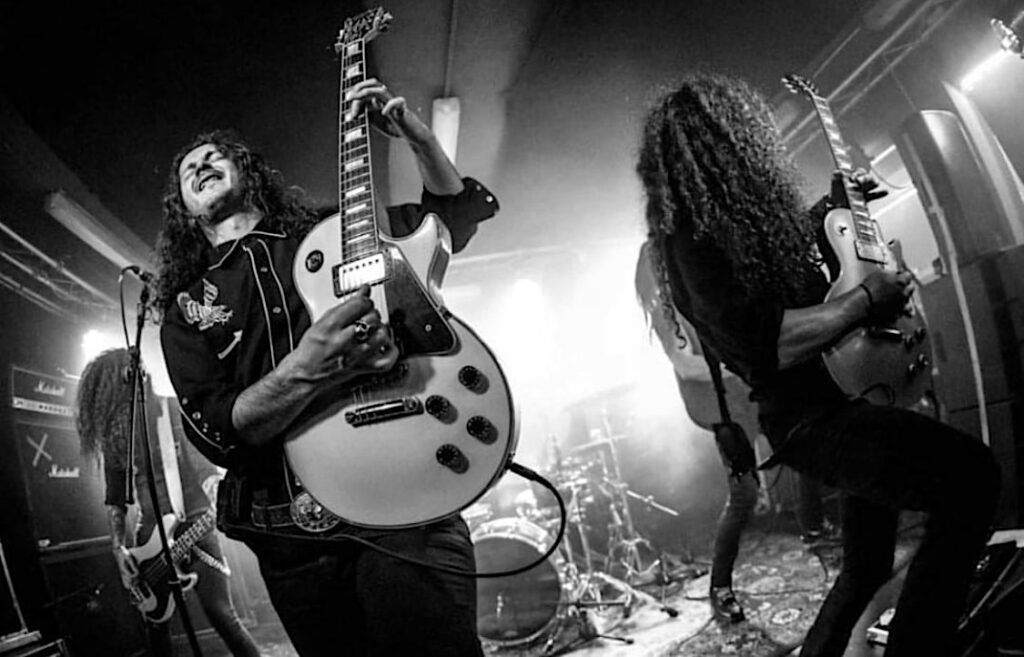 But Stockdale is not the only star to grace Frankie's with his presence. Ned Mcphie, The Bottlers' guitarist, a recurrent band that plays at Frankie's, is proof that at this pizzeria every night a star is born. He highlights the importance of the venue to Sydney's music scene as all good musicians can display their talent. Emma had warned me that Frankie's receives demos all the time and if the bands are good, they get to play.
"There's so little support from the government in the entertainment and arts in general," Ned says. "And to have this one bastion of nightlife and live music in the CBD, where there's so much, I guess, lifelessness with all the corporate stuff, is special."
Ned's favourite stories happen on the stage.
"We'd played a few songs and I'd said 'I finished my beer. I'm thirsty,' just kind of talking shit to the crowd. And halfway through the next song, this girl just comes up with a full case of beer and puts it on the stage. There's no other time that I've really experienced that kind of feeling. I felt like a rock star."
Like every great story, Frankie's' will end next year, but grief does not suit its people.
"I joke about people going through the stages of grief when they know they are going to die," says Emma. "We got to acceptance really fast. We are determined to make it the best year ever in the venue's history."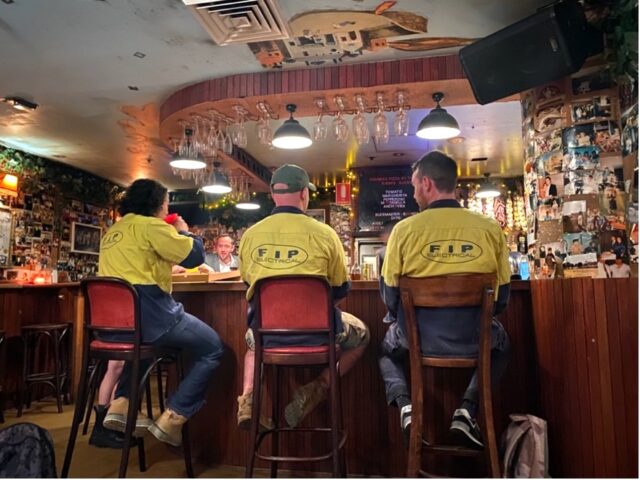 The unspecified closing date adds a nice mystery to Frankie's' story that encourages people to make the most of every second it remains open. At least, that's how I've been dealing with the loss.
There is one thing for sure among regulars: Frankie's can only be Frankie's on Hunter St.
"Another place might open somewhere else, and it might be great, but it will be different. Beyond just being a bar, Frankie's has its own personality," Ned says.