Learning English as a subject in an exam-focused environment for years, many Chinese students struggle to handle English conversations
There are still a few minutes left before the class ends. As usual, Catherine Tour wants to make some small talk with her students. The topic today is animals around the world. Presupposing that the children have learnt some country names, she asks: "Do you want to travel abroad one day?"
Some students lower their heads, fixing their gaze on the desks. A few mumble: "No."
Out of surprise and not wanting to close the conversation so quickly, Tour ventures again: "Really? You don't want to go outside of China?"
"No, we don't want to," the murmur continues. "We are not interested." The students don't give her another chance to probe into their minds.
Okay, sad to know, Tour thinks to herself. The 25-year-old teacher is teaching a class of 50 seventh-graders the most widely spoken language in the world, hoping to inspire some future globe-trotters. Yet, like every other day, in her other 11 classes, she struggles to strike up a conversation with them.
English has been a subject in China's public school curriculum for almost 20 years. From grade three onwards, schoolkids would sit upright in English classes, their arms folded on the desks, their beady eyes fastened on the teacher. However, after nine years of learning English in a traditional classroom setting, where the emphasis is on literacy and grammar instead of speaking and communication, many students find themselves eventually mute in the foreign language.
"Mute English" (also "Dumb English", translated literally from "哑巴英语/ yǎbā yīngyǔ"), a term coined in China, describes the phenomenon whereby people are unable to communicate in English despite having learned this language at school. Efforts have been put into mitigating this problem. In the private sector, a myriad of English language schools has sprung up all over the country. On a personal level, eager learners would approach foreign visitors for casual language practice. Some public schools also have started employing foreign teachers, fluent in speaking English, to teach English lessons in recent years. This new initiative kindles great passion in Tour but little interest among students.
Two years ago, after she had completed the CELTA courses in her home country, Mauritius, an education consultant group recruited her and placed her at a public middle school in the Chinese city of Hangzhou.
This is her first job and Tour takes it very seriously – at least she did in the beginning. She knows she is there to improve students' speaking skills – they practice reading and writing with Chinese teachers. She teaches 12 classes, totalling 600 students, and sees each of them once a week.
Building a rapport with the children would be hard, yet it would be manageable, she thought. "If I [was] really friendly, they'd be more willing to speak and practice more," Tour says.
With this in mind, on the weekends she spent hours preparing her classes for the following weeks, making PowerPoints from scratch. In class, she tried to put the students into small groups where they could practice with each other.
But it turns out getting the children to speak English is no easy feat.
The group activities were "a complete mess", Tour recalls. "The kids ended up using Chinese. They didn't want to use English with each other so it's really difficult to monitor."
Students turned around to face other uncomfortable-looking faces. They are a boisterous crowd after class, talking to each other so freely and endlessly in Chinese, but could only let out some indistinct droning noises at that moment.
Recently, Tour did a review lesson with a few classes on telling the time as well as different forms of transport. On the projector screen, there were images of clocks indicating the time, beside which were three options to choose from.
"I taught them this before, and they also did it with a Chinese teacher," she says.
"But they still couldn't tell me what the time [was] or all of their answers were wrong." Her words land heavy on the last word, voice rising with disbelief.
Later, adding to the frustration, she was "shocked" to learn from the students that her class was labelled on their timetables as "英语游" ("yīng yǔ yóu", translated as "English Tour"). The Chinese word "游" (yóu) means to travel or tour. Tour now feels like an English-speaking tour guide who shows up once a week to showcase the English language.
No homework. No exams. Hence no effort returned. She starts to think she is being "taken for granted" and her classes are "just a waste of time".
Despite feeling disappointed, Tour has also come to realise the root of the problem.
Once she passed through a corridor and saw a student mouthing something to a book. She asked what he was doing, and he said he was memorising the text.
"Do you know how many times per day there are kids who comment they are reciting things in English from the book because they have to know it by heart?" she asks rhetorically.
She sees stacks of workbooks carried in and out of the teachers' office every day. She hears about students inundated with assignments studying until midnight. She also learns that many students have to go to training centres during the weekends. A child once asked her how much homework an average "American kid" had. She wanted to say the problem was not about comparing the homework.
"The problem is that people here don't value quality," she says. "They value quantity."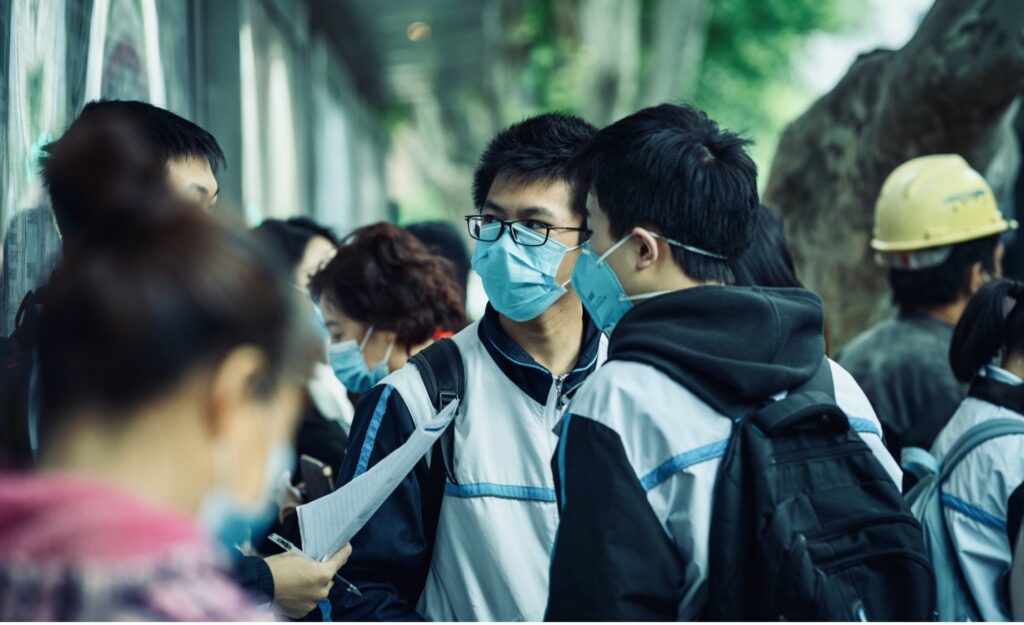 By the time I spoke to Wang Zhiyan, 18, on her one day off in a fortnight, it was only two weeks before Gaokao, China's National College Entrance Examination.
Every year on June 7 and 8 (in some provinces exams extend to June 9), around 10 million candidates attend the examination. Under the current reforms aiming to unify exam systems across the country, Gaokao tests students three core subjects – Chinese, mathematics and a foreign language – and three elective subjects.
In theory, students can choose one of six foreign languages – English, Japanese, Russian, German, French and Spanish – to sit the exam. However, the reality favours English, seeing it is the only language taught in most public schools. The result is the vast majority regard the "foreign language" as "English".
Wang, the soon-to-be high school graduate, is studying around the clock to give the exams her best shot. As an arts student, she spends two hours a day on English: doing exam papers, reciting essay exemplars, memorising the 3500 words required for Gaokao.
The next day, written homework will be collected, corrected, returned to the students and analysed in class. Memorisation tasks will be assessed by means of dictation; the teacher dictates words or phrases in Chinese, and the students write them down in English. The workbooks become battlefields of pen tips, the pages scarred by red ticks and crosses.
"If you don't memorise the words, you won't do well in the reading comprehension," Wang tells me in Chinese.
Gaokao's English vocabulary has increased from 3200 to 3500 words since 2016. These vocabulary items can be consolidated into a 300-page pocket-size book, and students taking Gaokao are expected to devour it.
However, it is still ten times less than a native speaker's vocabulary arsenal. Ploughing through an English essay is feasible, but freely talking about a wide range of topics is a lot harder.
Asked whether she can have a simple conversation with a foreigner, Wang offers a 'no' after a long pause. She also has never had a foreign teacher at school.
She says she likes the language but not the tasks of memorisation. She recalls having to memorise dozens of short texts from a book to pass an oral English test at middle school. This year, she is exempt from taking another test as a result of the 2021 Gaokao reform in her province. A burden has been lifted from her shoulders.
Day after day, the students regurgitate English for the final exam due on June 8.
If only this was the last encounter they would have with English.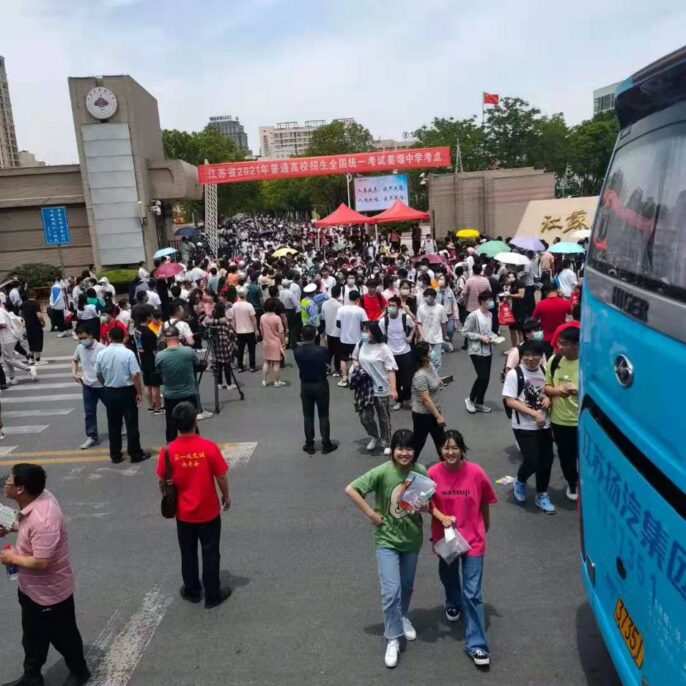 With a few exceptions of students from Taiwan, all Chinese students at Duke Kunshan University (DKU) graduate from public high schools. "They will be typical of the high end of Gaokao track students," says Dr Donald Snow, professor and director of the Language and Culture Centre. DKU is one of nine joint-venture universities that adopt English as the medium of instruction in China.
Today, public universities are not the only options for Chinese high school graduates. According to the Ministry of Education 2020 statistics, there are more than 2000 joint-venture learning institutions and programs in mainland China with over half offering a higher education syllabus. Globally, Project Atlas has announced that China is still the largest source of international students, and English-speaking countries such as the US, UK, Canada and Australia are still the preferred destinations for higher education in the year of the pandemic. Even the threat from the coronavirus does not appear to have disrupted this educational pilgrimage.
But are those who have just taken part in an intense national competition fully prepared for the high demands? As someone who has witnessed this unstoppable trend, Snow thinks not.
He also started out as an English teacher back in the 1980s, teaching English to a class of young workers and the occasional retiree. Typically, within a few weeks after semester began, his class would dwindle from its full capacity of 30 or so to just a few eager learners.
In the decades of his teaching career "Mute English" has always existed, at first a result of learners' half-hearted attitudes. Only later, when English education was imposed on all students, did people begin to realise young learners were not fully to blame.
"Almost everybody can handle a basic conversation, but some are still quite uncomfortable speaking English," says Snow. "Some are very good but an awful lot, they never practice. If you haven't practised much, it feels awkward."
No matter how English is taught at school, after studying it for nine consecutive years all students can speak this language, "even the bottom end", Snow stresses. But it is the comfort, fluency and ability to switch back and forth between Chinese and English that many students haven't mastered.
"It's an effort," he says. "If you look at the English training students have been through, there's good news as well as bad. The good news is quite a few can actually do a degree in a foreign language and that's pretty impressive.
"But they've mostly been in situations where they didn't practice speaking very much. Most of the time they learn that English is something you do for tests."
After Gaokao ends in June, all the English vocabulary and chunks of texts – no matter how deeply-etched in memory – will be automatically erased from those exhausted minds. Years come and go and one day, some of those seventh graders Catherine Tour teaches will become high school graduates. Perhaps they will realise they do want to go out and see the world. They may look back and see they missed a great opportunity to speak their minds in a foreign language.
Bio:
Chloe (Jiawei) Du is a postgraduate student studying Media Practice at the University of Sydney. She has a love for language and longs to travel the world, experience new cultures, and meet beautiful souls.