How travel restrictions and hotel quarantine are imposing the real tax on mental health for returning Australians.
The phone lights up beside the bed. A blaze slicing through the stillness of the night. Reaching over, the sense of unease is already beginning to grow. Instinct flares with the suspicion that the news cannot be good. It's worse. You need to book a flight and the clock is already ticking.
Accidents happen. People get sick. The world doesn't stop, not even for coronavirus. When the call comes, the race against time begins. Except now, for many Australians, the rush is far more than a dash to the airport.
Since travel restrictions were introduced in March last year, strict limits on movement in and out of the country have been in place, adding a new layer of suffering for those whose lives have already been turned upside down.
Megan Richards could never have prepared for the call to say that her six-year-old niece was fighting for her life in hospital. She had been struck by a falling branch at school in Newcastle, England. Nor could anybody imagine the day when a child's death certificate would be required to exit the country.
"We were able to get an exemption really quickly. So, on the one hand, [the system] works," Richards said. "But on the other, it's stripping away any humanity from really horrendous life events."
Sadly, this is a situation being played out all over Australia every day.
In Bondi, Kerry Field was having a similar conversation with the Department of Home Affairs after receiving news that her father had become unexpectedly unwell at his home in the UK.
"I had to call the hospital that my dad was staying at, and I got them to write me a letter to say he's in intensive care," she said. The inappropriateness of the request was not lost on her. "I know you're saving lives. But could you just write a letter to my government?" she mocked, her voice strained and heavy with sarcasm. Despite the unease surrounding the request, the letter worked, and Field was granted permission to leave for the UK. Sadly though, she was too late, missing her father's passing by a day.
Worse still, it turns out that leaving is not even the hardest part. Between the cap on international arrivals, exorbitant flight costs, and mandatory, self-funded hotel quarantine, the risk of being locked out of the country is very real, and one that all exempted travellers have to take. For Field, the emotional cost following her father's untimely death left an indelible mark.
"That situation was taking up headspace when there were so many other things that I should have been thinking about. I should have been helping my mum and supporting her, but those last few days were spent on the phone, trying to find flights and worrying about whether or not I was going to get back."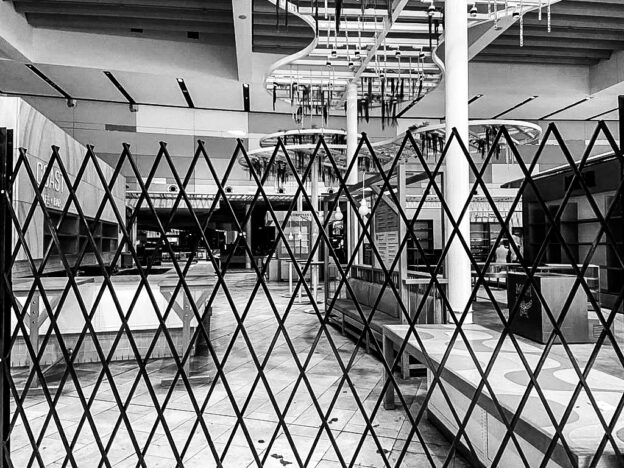 Even for those lucky enough to bag tickets back to Australia, the fortunate few who managed to meet the COVID testing criteria and play the system to discover which flights would be able to travel unimpeded to Sydney, the battle was far from over.
Arriving in Sydney to an abandoned airport in the dead of night, world-weary mourners were faced with a scene straight out of a dystopian horror film. Empty bar fridges abandoned where excited holidaymakers once sat. The glamorous rows of designer stores ransacked and left in semi-darkness. A path, carved through the terminal building with barricade tape, corralling everyone into line. Constant reminders were called to maintain social distance and cameras monitored the sad stream at every turn.
"It was just strange," Field said. "I felt like I was in some kind of weird social experiment, from the moment I got off the plane.
"If I had any ounce of mental health challenge or illness, it would have been horrific."
According to Field, the processing at Sydney airport was upsetting even for the most resilient passengers. Gone were the 'welcome home' banners. No more open arms waiting at the end of the corridor. Just silent queues and drawn faces.
No information was provided, aside from a sad print-out confirming what everyone already knew: that they would be going straight into mandatory quarantine. No reassuring words or advice were offered. No explanation about the process that was already underway. Field remembered how, "They're more focused on 'have you got symptoms?' rather than 'how are you?'". She noticed how close everyone was to each other as the filtering process got underway, that even though you couldn't hear what other people were saying, the health screening desk was visible to everybody. "If you didn't want people to know that you were suffering mental illness, then you probably wouldn't say anything," she said.
But staying silent, or fearing what others might think, as with all mental health concerns, is often the fast track to the bottom.
By the time Janice Clarke arrived back in Sydney after visiting her terminally ill mother in the UK for two months, the mask of bravery she had been wearing for so long finally began to shatter.
After missing her three young children and watching hopelessly as her mother's life began to slip away, returning home to Australia offered no immediate solace. "Mentally, I didn't even want to wake up," Clarke said. "It was the worst I have ever been."
Clarke was suffering from anxiety, overwhelmed and exhausted. Her condition, which could have been easily managed from the comfort and security of home, quickly unravelled into something far more sinister within the confines of the police-managed quarantine hotel.
"I've had some rough times in my life, but I've always had my own coping mechanisms to get me through," said Clarke. "They involve my children, my family, my friends, going to the beach; just being able to breathe. But all those things were taken away."
Luckily Field and Clarke had met on their outbound flight; two paths joined together through the horror of their shared experience.
Field returned home first and was able to offer tips and insight into the quarantine experience to help her new friend through. But not before witnessing some of the darkness first herself.
One of Field's coping strategies had been reliance on social media for connection to the outside world. Sadly, this is also where she heard news of a suicide attempt within another hotel. The post was quickly removed, but the damage was done. "I wasn't feeling bad at the time but that shook me quite significantly," Field remembered. She called the nurse to beg for two minutes in the fresh air, but was refused.
Overall, there is an acceptance among returning travellers of the need to quarantine.
Asked for comment, Minister for Health Brad Hazzard said: "I appreciate that the Order has caused distress to some people. However, the Order is necessary in order to protect the public."
Protecting public health is high on everyone's agenda, but shouldn't this also include concern for mental health as well? From the outside looking in, or the inside looking out, it is easy to see why our returning Aussies feel like they are carrying the greatest burden. For some, the darkness still lingers.