The coronavirus crisis will have significant economic consequences for Papua New Guinea, says CARE International.
Justine McMahon, CARE's country director for PNG, said the lockdowns caused by the global outbreak will have "a huge flow-on effect" on the Pacific nation.
"Just a small example here, is for the last four weeks the markets have been closed," she said from the CARE office in Goroka. "And the vast majority of people who run these small stalls and sell their produce are women. So, for that four weeks, they've not had any income because people are not moving around."
PNG is currently halfway through a two-month state of emergency, resulting in the introduction of restrictions on inter-provincial travel and the scaling back of the workforce.
McMahon said the government, companies and hotels have started to "put people off".
Reduced wages mean a further reduction to the already small pool of tax revenue for the developing nation. This will be further offset by a "substantial" drop in resource sector revenue, according to a report from the World Bank.
Falling oil and liquified natural gas prices will also impact a GDP that grew roughly 5 per cent in 2019 on the back of improvements in energy and mineral production.
"The [drop in] commodity prices will have a really profound impact. So, this will be quite significant," McMahon said.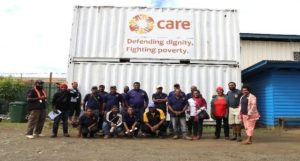 So far, PNG has seen just eight confirmed cases of Covid-19, and all have now recovered. This low number is credited to early moves to seal the country off from outside travel.
"PNG did react a long time ago… they did start checking people's temperatures when they arrived at the airport, probably back in January," she said. "They did close some of the ports. They did impose a few border restrictions, particularly along the border with West Papua."
Despite these low numbers, the risk of widespread community transmission has the potential to overwhelm the country's already struggling health system. PNG has high instances of tuberculosis and malaria, and is also responding to an outbreak of polio. But it is not just preventable disease that is straining the health system.
"Unfortunately, there are different forms of violence that keep the emergency rooms pretty busy," McMahon said. "The lack of infrastructure to support rural and remote areas makes it really hard to get health workers in those clinics."
A potential outbreak of Covid-19 could then be "the ingredients for a bit of a perfect storm", she said.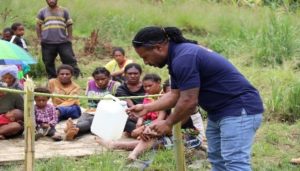 The health response is also made harder by general shortages of personal protective equipment and limited access to clean water.
"They're saying washing your hands is actually one of the most effective ways you've got for preventing the spread," McMahon said. "And now we're coming into the dry season where every year there's a shortage of water, so, it is going to be a real issue.
"We're running out water here in the office. So, when that happens, we'll have to close, I guess."
Testing has been limited so far, although there are plans to conduct up to 900 per day. Last week, Australia's Foreign Minister Marise Payne announced that the government will be sending new diagnostic testing kits to PNG, which can provide "reliable results in less than an hour". Previously, tests were sent to Brisbane.
McMahon said the Australian government generally provides good support to PNG, funding 80 per cent of CARE's operations in the country. Australia is also providing support to PNG's Department of Health and, alongside New Zealand, is jointly funding the WHO's Pacific regional coronavirus response plan.
DFAT said in a statement: "Australia is working in partnership with neighbouring countries to keep our region safe from coronavirus. We have responded quickly to a range of early requests for assistance from our Pacific partners for laboratory diagnosis, personal protective equipment for healthcare workers, risk communication strategies, and national response planning and budgeting."