Rates of juvenile domestic violence have surged in the Riverina, and parents are bearing the brunt of the abuse, a new report has found.
The report, released by the NSW Bureau of Crime Statistics and Research (BOCSAR), revealed a statewide increase in rates of juvenile domestic family violence with regional and rural NSW the worst-offending areas.
"Domestic family violence assaults account for a substantial and growing proportion of overall assaults by juveniles reported to NSW Police," the report states.
In the past decade, reports of young offenders committing domestic assault have risen to account for just over 7 per cent of all domestic assaults in NSW.
While only a small proportion, experts claim these numbers are hugely significant and, due to the "complicated nature" of these assaults, are likely to be under-reported.
Almost two-thirds of offenders were young men, and 7 in every 10 victims were immediate family members who experienced 80 per cent of their abuse in the family home. Parents face the most – especially mothers, who accounted for almost half of all assault victims.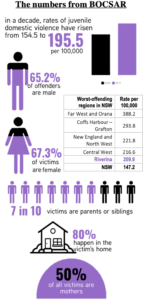 "With a history of abuse, women may not feel confident expressing or standing up against violence," says Julie Mechan, a crisis and support worker at the Wagga Women's Health Centre (WWHC).
Women's Health is the leading support service in the Riverina for women and families experiencing domestic violence. Leah Anderson, the Centre's trauma specialist counsellor, says they understand the "difficult situation" parents are caught in.
"There's a fear of judgement, a fear of 'I'm a bad mother', fear of 'I've done something wrong," she says.
"They love their children, they don't want anything bad to happen to them, they put their [children's] needs above their own. Reporting to police is certainly only
the last resort."
Parents' reluctance to report their child's abuse exposes a number of problems in the current system. First, that the rates of recorded assaults are, almost certainly, under-representing the full extent of the problem.
Second, that parents dread the traditional criminal justice sanctions and their consequences for juvenile offenders. Do they follow their instinct to protect their abusive child or the need to protect their own safety?
Experts suggest that to fix this dangerous problem of under-reporting and reduce incidents of juvenile domestic violence, more tailored approaches to prevention and intervention are essential.
Chief Executive of Domestic Violence NSW, Moo Baulch, says there is very little "coordinated prevention" in the space to target juvenile offenders before they enter the justice system, which is already overstretched.
"There are gaps all over the place," she says.
"If we were to invest more in early interventions and preventions, we would probably save an awful lot of money as young people enter the juvenile justice system and inevitably go on to reoffend, but also an awful lot of heartache for families."
Baulch says she is impressed by the early collaborations police and community organisations are making, particularly in regional communities, to benefit adolescents.
"Some of the most successful things are when police and local communities are working really closely to empower young people and engage them, rather than putting money into locking them up, which is costing us a fortune."
High schools play a huge role in the prevention process. Last month, senior high school students in Wagga Wagga were visited by the Tomorrow Man team, an organisation aiming to "reinvent masculinity" by equipping young men (and women) with skills to better express their emotions before it is too late.
Tom Bell, one of the workshop facilitators who worked with the students, says the "archaic version of masculinity" boys (especially in regional NSW) are taught plays a role in their behaviour. He says he believes that breaking down these barriers will improve the wellbeing of the whole community.
"Living in regional Australia, they're exposed to the tough guy, to 'being hard', but that's just not reality," he says.
BOCSAR has revealed that most juvenile assaults arise from commonplace interactions – a parent disciplining the child, or refusing to comply with the offender's demands – that escalate into a violent confrontation.
Bell says that violence happens "when men are not equipped to deal with when things don't go their way".
"If we don't provide them with the skills [to cope], they're going to have no idea how to deal with the tough stuff – if they don't have the skills they're going to freak out."
If you or someone you know is impacted by sexual assault, domestic, or family violence contact the following support services:
1800RESPECT National helpline: 1800 737 732
Women's Crisis Line: 1800 811 811
Men's Referral Service: 1300 766 491
Lifeline (24-hour crisis line): 13 11 14
Relationships Australia: 1300 364 277
In an emergency: 000
For more information about a service in your state or local area download the DAISY App (App Store or Google Play).