The NSW State Parliament's Inquiry into The Music and Arts Economy in New South Wales held its final hearing on September 27 in the Macquarie Room at Parliament House, Sydney.
In the lead-up to that hearing a panel of key political stakeholders slammed Sydney's lockout laws when they gathered at the Australian Council for the Arts on August 27. The panel reflected on the four years since the introduction of the laws and agreed that Sydney's nightlife had been damaged beyond repair.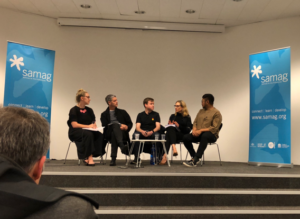 Panel member John Graham MP is also a member of the NSW State Parliament's Inquiry.
"in Sydney especially there is an entertainment venue crisis," he said, adding that repealing these laws would not be enough to reduce their harmful effect on Sydney's nightlife. "The damage has already been done."
Mr Graham said there had been an overregulation of the music industry. "A ukulele lesson for over-65s was shut down following a single noise complaint at 5:30 pm on a Monday afternoon."
Members of the panel agreed the lockout laws had an economic motivation. Paschal Berry, program coordinator of Blacktown Arts, said the lockout laws largely had a "development agenda". He said the decline of Sydney's night-time economy was "not about one law" but part of a larger process of gentrification that hoped to push Sydney's nightlife out of prime real estate in the CBD.
Mr Berry also expressed disdain for the way the laws had pushed venues out of the city into surrounding neighbourhoods. He said local councils had even tougher regulations on noise and the service of alcohol. This meant many venues in suburbs outside the CBD close by midnight. He suggested Sydney was unlikely to again see a vibrant nightlife like he experienced in the 1990s.
Also on the panel was Sydney DJ, Andrew Levins. He said that as a result of these regulations young people who had become adults in the last four years were no longer spending money in bars and nightclubs. "They don't go out late, they save up for festivals," he said.
The laws were introduced in 2014 with the objective of reducing alcohol-fuelled violence in Sydney. NSW Premier Barry O'Farrell announced his plans for the lockout laws in January 2014 just weeks after teenager Daniel Christie died from a coward punch on New Year's Eve. This assault occurred just metres from the location where Thomas Kelly was the victim of a one-hit punch in July 2012.
The regulations defined the "Sydney Entertainment Precinct," an area bounding parts of Surry Hills, Haymarket and Darlinghurst to The Rocks as well as from Kings Cross to Cockle Bay. In this zone, licensed venues are prohibited from accepting patrons after 1:30 am and from serving alcohol after 3:00 am.
Data has shown that the lockout laws have reduced alcohol-fuelled violence in the Sydney Entertainment Precinct. However, recent statistics indicate there has been a spike in alcohol-fuelled violence in surrounding suburbs not regulated by the lockout laws.
One audience member at the panel session said Kings Cross and Oxford Street previously provided a rich cultural nightlife experience in Sydney. He said patrons came to these areas from all over Sydney after their local venues closed to contribute to what he described as a "melting pot" of culture.