For many Mando-pop listeners, May 19 marked the day of indulgence in an auditory feast of "hot chocolate and champagne", a sublime combination of heartwarming melodies and upbeat tunes.
Yes. Eric Chou, Mandopop's 'King of the Lovelorn People' finally set foot in Sydney's Qudos Bank Arena for his Odyssey Journey world tour.
Like his emergence on the grand stage, Chou has forged a name that shines at his own pace. Since his 2014 debut album My Way to Love, the Taiwanese singer-songwriter has released multiple chart-topping albums, attracting an international fan base with his soulful vocals and heartfelt lyrics that expressed themes of love, longing, and personal growth. Each subsequent release showcases Eric Chou's versatility, effortlessly navigating Mandopop, ballads, and R&B genres.
Despite being known for soft love ballads, Chou chose to kick off his concert with a rap-incorporated version of "That's all", as he hopped on the scarlet-illuminated stage.
The concert featured his iconic first single "The Distance Of Love", alongside his other top hits such as "How Have You Been?" and "What's Wrong". He also performed his latest tracks including "Graduation" and "Best friend".
As the sentimental love ballads played, the blazing stage backdrop cooled down to a blue, accompanied by feathery animations that flew, spiralled, and faded. A wave of melancholy enveloped the hall, with crowds waving flashlights and singing along. The warmth and intimacy in the hall were very much palpable, as couples found solace by each other's side. Others hummed in deep thought, as if transported back to bittersweet moments where they loved, lost, cried, and healed.
Intertwined between his popular sentimental ballads the concert included boisterous numbers ranging from the opening "That's all" rap and the lighthearted, summer vacation-vibe "Something about LA" (written after his vacation getaway to LA)  to the party-vibe "That's Why I like You" that had Chou coming down to the audience amid bursting silver confetti. Neon, futuristic graphics in the backdrop complemented the songs. Remarkably, during breaks, Chou's band members and backup singers performed solo verses, with each of their names accredited in dramatic, neon-animated typography.
Throughout Odyssey, Chou shared anecdotes about what inspired his songs, walking the audience through his days as an ordinary teenager to being one of the most renowned Mandarin ballad singers. It was also the moment where fans learned that "The Distance of Love", his debut single, was a result of his high school heartbreak where he was friendzoned after declaring his love.
As an avid karaoke goer,  Chou performed two songs, Jay Chou's "Step Aside" and Ameii's "Full Name," which he introduced as his must-sing in karaoke sessions with friends. The relaxed and casual ambiance resembled his many Instagram live streams,  further enhanced by his witty responses to the randomest and cringiest comments fans shouted.
*some inaudible gibberish a fan shouted across the hall*
"You rapping?" Chou replied.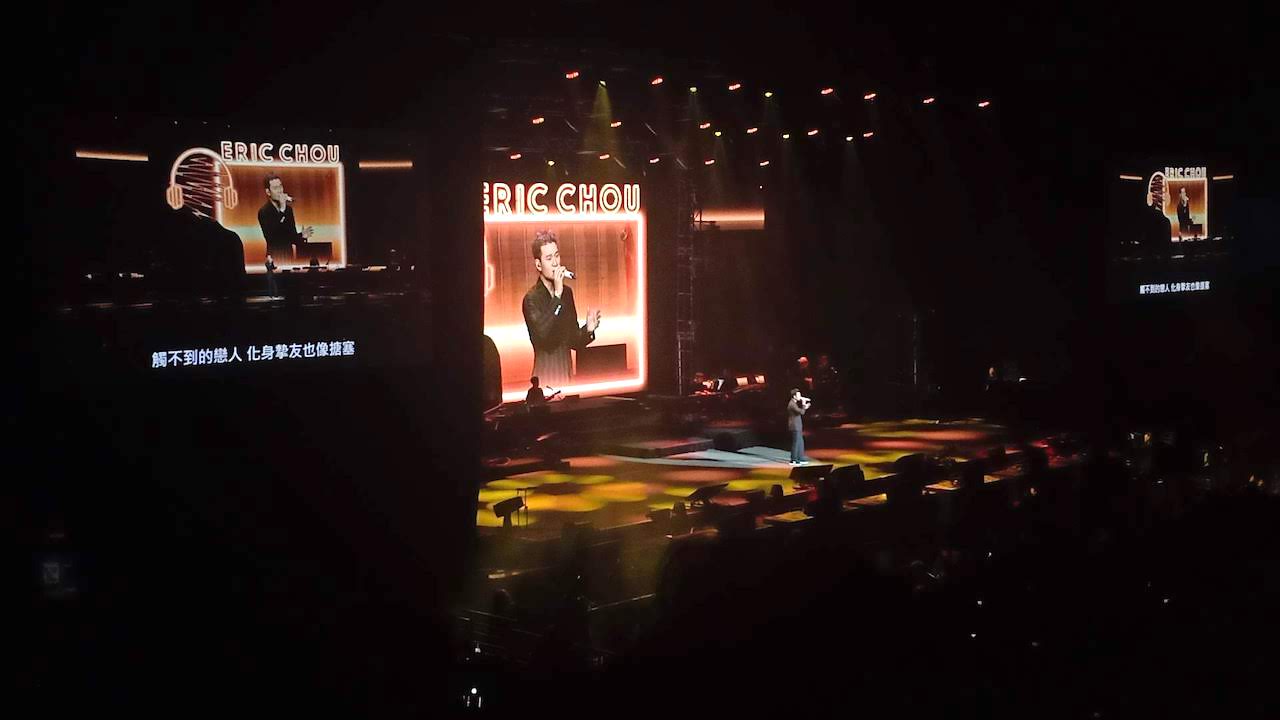 These moments infused the concert with a stand-up comedy vibe. Nearing the end of the concert, Chou invited song requests. He obliged with choruses of some of his other songs, and also covered Crowd Lu's  "Your Name Engraved Herein" and  "The Dark Plum Song" that went viral this year. The requests were solely accompanied by keyboard instead of the full band, which further enhanced the purity of Chou's voice.
As the concert neared its end, Chou wrapped up with "The Chaos After You", released in 2017 in his album of the same name. Right on the last note, confetti marked the end of Eric Chou's Odyssey journey world tour.
Odyssey was undeniably a magnificent auditory experience that built upon Chou's exceptional singing. Backed by his professional band, the concert was a blend of wistful and lighthearted songs. The intimate interactions, personal stories, and relaxed vibe made the concert experience personal and engaging. But as much as I enjoyed the casual storytelling approach, it fell short of my expectations.
Given the tour's name, "Odyssey," I anticipated a more crafted experience and grandiose stage design (there was not even a stage riser nor additional props). In addition,  incorporating choreography into his livelier songs would have enhanced the visual experience and further highlighted the contrast with the sorrowful ballads.
The pacing and arrangement of the songs could be adjusted, particularly in the second half where interactions were less frequent. Songs that suggest an 'end' like "Graduation" could have been reserved for the concert's finale. Or the concert could have ended with the upbeat song "That's Why I Like You", especially as confetti was fired after that song. That would truly allow the concert to "end with a bang".
The concert undeniably left vivid memories in the hearts of fans, as Eric Chou's songs continue to accompany them in their respective odysseys of love, growth, and self-discovery.