In a unanimous vote on March 14, Inner West Council approved the planning proposal for the Enmore Road special entertainment precinct to become permanent.
Since the start of the precinct's trial period in September 2022, venues hosting live entertainment have been allowed to extend their business hours for 30 minutes, footpath dining has been permitted until 11pm, and relaxed rules around noise levels have allowed businesses to host live music performances without an additional permit.
"The first council motion around this was headed: making the Inner West the live performance capital of Australia," said Greens Inner West Councillor Liz Atkins.
"The Inner West has always been a place for live music and other creative arts. So, there is this view from all councillors that it's an important part of our economy and that's why we got unanimous support."
As part of its 24-hour economy strategy, the NSW government ratified the Liquor Amendment (Night-time Economy) Act 2020. It indicated that current consent and licence conditions could "unnecessarily limit" music and performance, and a change in regulations would encourage a "vibrant and diverse nightlife".
The legislation also allowed local councils to establish special entertainment precincts within their local government area.
"We couldn't do it before," said Atkins. "That legislation allowed councils to design their own policies to regulate noise which is obviously important if you're having loud music."
Atkins could not confirm with certainty that the impacts of Covid had prompted the state government's change in regulations, but said she suspected that was the case.
"The papers don't show it, but I suspect there is something there. We've always been concerned with the effects it [Covid] had on nightlife."
While state and local governments have been in lockstep supporting nightlife-boosting projects like the Enmore Road precinct, some residents have yet to be convinced. Community consultation results showed only 25 per cent of respondents living adjacent to Enmore Road supported the project.
"Obviously there are issues," said the Greens councillor. "People are concerned about crowds, noise, litter, parking, and other things.
"In March we asked council staff to work with venues to strengthen what we are calling 'good neighbor policy'. It's about venues being good neighbors to the residents that live around the area."
The precinct's Draft Management Plan has outlined acceptable levels of external sound for venues based on "the desired character and level of vibrancy within the precinct", but has left the containment of their patrons' 'vibrancy' to the venues themselves.
"It has to be a venue responsibility," said Atkins. "Council is managing complaints, but ultimately, it's their [the venues'] responsibility.
"A lot of it is awareness raising, because part of the problem is that drunk people just don't think about the noise they're making. We're getting venues to work with people, getting people aware when they're leaving the venues or queuing, to be considerate of residents."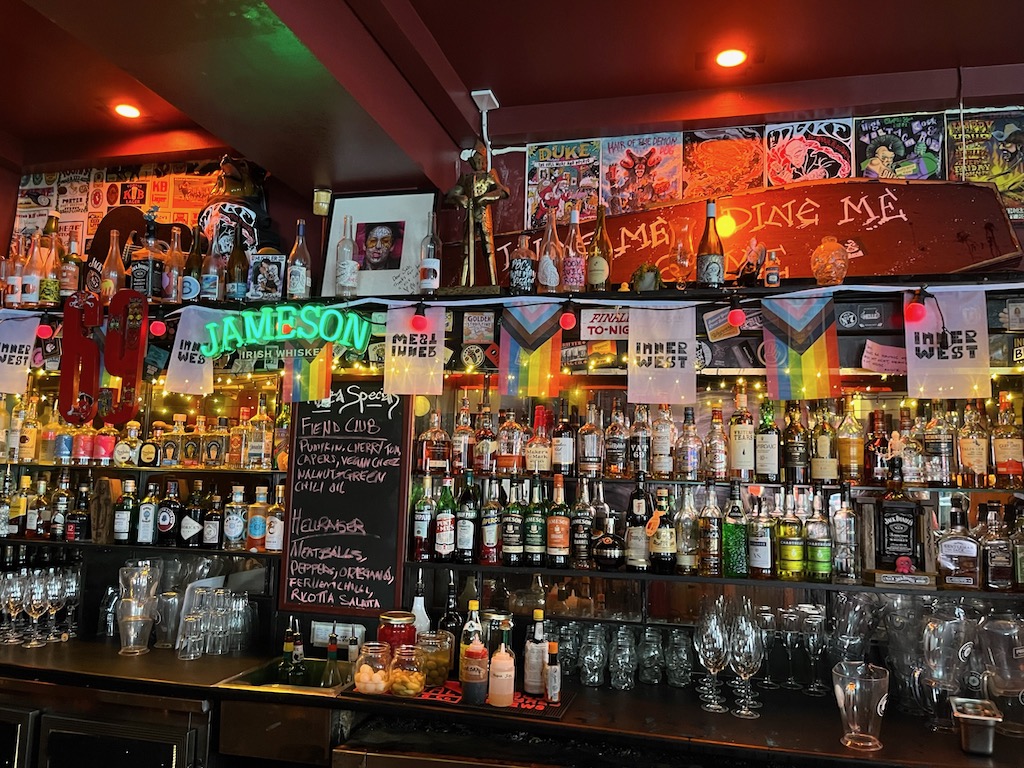 But while some Enmore Road residents are undecided about the benefits of the permanent special entertainment precinct, sound technician and bartender at The Duke of Enmore, Sarah Mitty, has not.
"I was pretty excited about it," she said. "Obviously, I'm into music and it's just nice to have a little hub for everything.
"The music scene in Sydney is dying a bit so I was excited for this to be the hub of music and I thinks it's been going well."
The Duke was one of the last free live-music venues in Enmore after the closure of Frankie's Pizza in 2022, a long-time staple of the Inner West's late-night live music scene.
Mitty said the new nighttime regulations have had a mostly positive impact on the business.
"We've had more gigs and more people as well. News is getting around," she said. "We've had a couple of noise complaints, just a few. We try and keep our doors closed when we're playing live music."
The sound technician of two years suspects complaints have increased but said the council is working with them to resolve the issue.
"Council staff came by yesterday to have a chat with us [about noise complaints], "she said. "I haven't seen them before. I think they were going by all the venues checking the vibe of what's happening on a night they get noise complaints."
She said the council had also reached out to residents, especially one resident who has consistently complained, "but that's about it."
"They [council staff] seem pretty happy with what we were doing," Mitty added.