This year's federal election has seen surf communities mobilise across the country to tackle the threat of climate change
In a beachside pub on Sydney's north-shore, people are jostling into spare corners. The room is a small, awkward space and the air is dry from electric heating. I share a small bar—wet with beer and canapé crumbs—with five other people. It's an unfortunate, late-comer spot, and you have to crane your neck to catch a view.
Freshwater is the birthplace of Australian surfing. During his stay on the Northern Beaches in 1915, Hawaiian surf legend Duke Kahanamoku, famously surfed Australia's first wave on a board made from solid sugar pine.
The area has retained its strong surf culture. In 2012, Kelly Slater dedicated the Manly-Freshwater coastline as the world's third Surfing Reserve, right after Malibu and Portugal.
On any given weekend, thousands pack into breaks along its coast.
This is the third leg of the Carpark Cinema and Climate Convos series presented by Surfers for Climate and Surfrider Foundation Australia.
Launched on April 14 in Torquay, Victoria, the series arrives pre-election and is a clear political move. Each Climate Convos event offers a free public gathering to discuss climate action with a selection of keynote speakers.
At Freshwater, Dr Rebecca Huntley, NSW Environment Minister James Griffin, Surfrider's Damien Cole, and member for Warringah Zali Steggall, lead the panel.
The spectrum of voices is a calculated move. Corporate, political and activist speakers are finely balanced. There is a clear attempt to offer a range of opinions and a new perspective.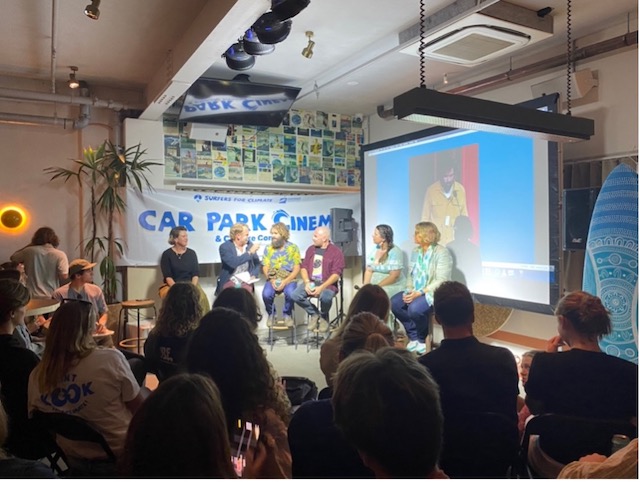 For Surfrider's national campaign director, Damien Cole, the series is an opportunity to engage and inspire local communities to stop and think about what climate change means to them, their future, and the state of the planet.
"There are a lot of issues going on at the moment with our planet, our coastlines, and our oceans, and unfortunately, a lot of people are feeling disenfranchised with the political system," he says. "I think that for us, our role here has been to raise awareness that how you act, whether that be ballot voting or voting with your wallet, does effect change."
Climate convos reflects a growing mobilisation of surfers across the country. In the last two years, activist groups such as Surfrider have shut down major fossil fuel projects along the Australian coast, including the Great Australian Bight and Sydney's northern beaches.
The Fight for the Bight campaign generated mass protest across the country and saw Norwegian mining company, Equinor, withdraw its plans to drill the Bight in February 2020.
As to why the surf community has rallied and politically mobilised, Cole has a theory.
"I think it's a continuous evolution of surfing," he says. "If you look back through the '60s and '70s, there were a lot of surfing activists wanting to protect their beaches, wanting to make sure that what they love stays in their backyard."
He jokes that while surfing can be a "very selfish way of being," it is deeply connected to community. Surfers will often trace their activism to the "golden age" of surfing. In an era that included surfers Bob McTavish, George Greenough, and Nat Young, the 1960s and 1970s earmark a cultural revolution in surfing. The defining moments of that era—the surfers, the counter-culture movement, the intense localism—have helped shape the sport's iconoclastic image.
Communicating information that is difficult and asking people to reflect on their own behaviour has been an important part of the Climate Convos series.
"Surfers are realising more and more that we do have to step up and protect what we love, or it will disappear," says Cole. "I mean, you just need to look at the major flooding, the breaking floods we've just had up in Lismore and the Northern Rivers, and you realise that people can't just keep taking this for granted."
There has been criticism about a lack of Indigenous representation in surf and environmental movements. This draws on the idea that white settlers continue to have the biggest say on what Country is used for and how it is looked after, without the engagement of traditional custodians.
Senior RMIT University Research Fellow, Dr Rebecca Olive, says that surfing has "always been political." Long before the "golden years," Hawaiians used surfing for both cultural and political action.
Despite all the things we claim it does for us, after colonisation Hawaiians used surfing as a form of resistance to maintain a claim of sovereignty over place," she says.
In her view,  the success of surf activist groups like Surfers for Climate and Surfrider Foundation comes down to a meaningful engagement with Indigenous custodians.
"Addressing forms of oppression must be a starting point. We've got to approach climate and environmental issues by starting with the issue of colonisation."
Shae Fleming, coordinator of the Clarence Catchment Alliance [CCA], panelled on the Climate Convos Northern River series in Yamba. The Clarence Catchment Alliance—a non-profit group lobbying for a ban on mineral mining the Clarence Catchment—has been aligned with both Surfrider and Surfers for Climate for several years.
"They contacted us [CCA] last year wanting to open the conversation to our community because of the election," she says. "They really wanted to make this point of educating people, especially surfers, to use [their] vote wisely, and vote for climate and vote for the planet."
"Vote for Climate" has been a federal election catchphrase, used by both The Greens and Teal Independents, as well as non-partisan groups such as Surfers for Climate. The slogan advocates for progressive climate change policy and runs on a general sense of community disenfranchisement.
Surfriders' own "Vote For" campaign was launched with the intention of educating people on how to vote for climate and backyard environmental issues in the lead-up to the election.
"We wanted to get people to think what they care about when they vote, to really vote with their values," says Cole.
Despite the looming threat of climate change, Cole has hope that things will change. He warns that Australians—and surfers—are waking up politically and are ready to take meaningful action. The win for climate this election has proved the power surfers and local communities can have. "Australians are stepping up and enrolling to vote, because they're now seeing a threat to their future."
Let's hope that over the next three years, we really don't 'kook it' on climate.