As Russia expands its troops to Severodonetsk and embarks on another advance in its offensive in eastern Ukraine, hundreds of Australians continue their march every Saturday from Martin Place to the Sydney Opera House. The protesters, Ukrainians and supporters, demand that companies such as Canva, Pepsi and HSBC end their activities in Russia, and call for increased international support to fight "an economic war" as the invasion nears its 100th day.
Since the Russian war on Ukraine began on February 24,  computer science university professor Anton Bogdanovych has led weekly rallies in Sydney's CBD to call for a stronger  response to the invasion.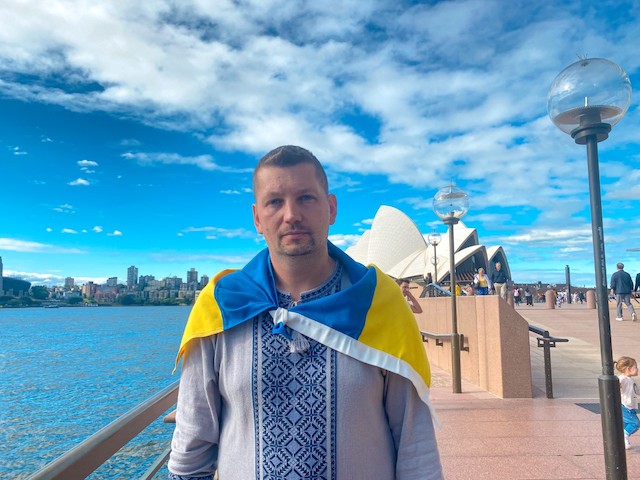 The ongoing protests are lobbying European consulates. After seven protests at the Hungarian consulate calling for an end to the export of oil from Russia, on May 31 the protesters targeted the German consulate. On the same day Ukrainian President Volodymyr Zelensky called for Europe to stand united as Russia announced that its troops are approaching the centre of Severodonetsk.
Bogdanovych, who coincidentally had taken a six-month leave from work shortly before the invasion, has dedicated his free time to build a protest movement and to "fight an economic war".
""It is a big group of volunteers, including lawyers, who are pushing for legislation. Our main mission here is to push for the Russian economy to collapse," he said. "Hopefully, the Russian people, noticing there is suddenly not enough food, not enough drugs, not enough anything that they can buy, will realise there is nothing glorious about this war."
Bogdanovych said the Ukrainian's strategy is to work in horizontal structures around the world, to build "a network where every person, if the idea is good enough, can deliver it anywhere in the world".
The professor was pleased with the video appearance of President Volodymyr Zelensky in the Australian Parliament with MPs welcoming him as the "the lion of democracy", and former Prime Minister Scott Morrison's quick response in sending $25 million in weapons to Ukraine.
Katherine Argyrou, a speaker at the protest and a member of the Australian Federation of Ukrainian Organisations, reminded Ukrainians to tell their personal stories.
"I urge you to continue telling these stories, talk about the uncomfortable facts," she said. "Australians need to know why we stand here every single week."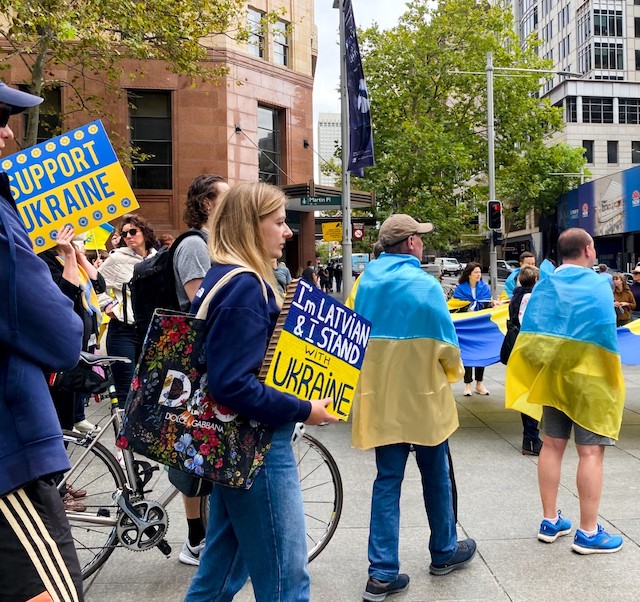 While the protesters included Australians from various nationalities, most were Ukrainians living in constant worry for the family and friends they left behind.
Maryna Zeider, a Ukrainian woman who lives in Sydney, said her parents are still living in terror in Ukraine's capital.
"They do not have the energy to leave Kyiv," she said. "They did nothing, they did not deserve this."
Some cannot afford to leave their homes; others stay to join the fight on the battlefields. Tetiana Pyshna's husband stayed as a volunteer in Ukraine after his wife and 12-year-old daughter, Anastasiia Pyshna, left Kremenchuk three weeks ago. The mother and daughter came to Australia to join Tetiana's sister Yuliia and her Australian brother-in-law, Matthew Girvan, who described the two girls' journey as an arduous mission.
"There were petrol shortages, they did not have a car, they managed through their church group to get on a bus," he said. "It was 28 hours from Kremenchug to the Romanian border. They stayed in Romania for a few days and then got a flight to Australia."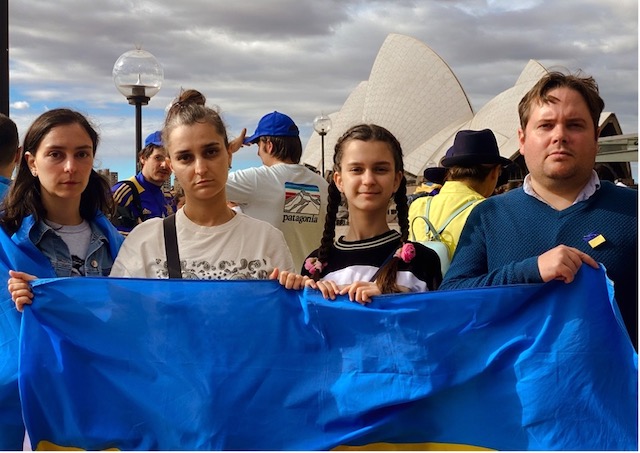 But the four members of the family in Australia agreed on the reasons why the husband stayed in the conflict zone. The willingness to fight for the country is intrinsic to the nation.
Bogdanovych said he has to constantly convince himself he can help his country better from Australia than on the battlefield.
"Everyone wants to be there, I want to be there," he said. "I'm just trying to calm myself down that I am more productive being here putting all my time fighting this economic war."