An Afghani Hazara family reunited in Wagga Wagga on Friday after Fawzia Khedri and her husband Eid Muhammad escaped from Taliban forces in Kabul last month.
Fawzia, who had been separated from her parents and sisters nine years ago, feared she would never see her family again and thanked the Australian soldiers for saving her life.
On arrival at Wagga Airport Fawzia said: "I couldn't believe it. I was so lucky. Everyone was crying. If it wasn't for the Australian soldiers, I wouldn't be here."
Fawzia's sister Khadijeh, who studies Oral Health at CSU, had been checking in on Fawzia every day, but lost communication with her after she arrived at Kabul airport.
Watching scenes of thousands of Afghans trying to escape from the tarmac, Khadijeh said she couldn't eat, sleep or do her university assignments.
"I was paralysed for days. I thought Fawzia was stuck there forever and when she stopped returning our calls, I assumed the very worst."
Belinda Crain, CEO of the Multicultural Council in Wagga Wagga, said Khadijeh had called her, very distressed, so she had invited her to come to her office that night.
"But just before she arrived, she had received a picture of her sister and her husband at Sydney Airport," Ms Crain said.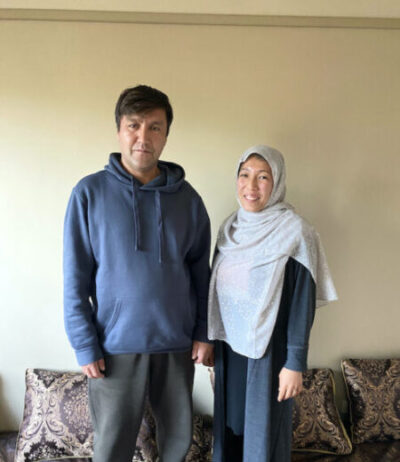 Khadijeh said that receiving the photograph of Fawzia in Australia "was one of the best days of her life".
"I was just so happy," she said.
Since the Taliban seized control of Afghanistan on August 15, members of the Hazara community in Australia expressed fears for their families who have not been granted humanitarian visas by the Australian government.
Hazaras are an ethnic and religious minority group in Afghanistan, heavily persecuted by the Taliban since the 1990s. As a result, tens of thousands of Hazaras have fled the country.
The United Nations Refugee Agency projects that 500,000 Afghans will try to escape Afghanistan before the end of the year.
Azizeh Abbasi a 23-year-old Hazara woman who studies radiography at Charles Sturt University, said her family fled from the Taliban in 1998, when she was just two years old.
"We went to Iran and lived as refugees there. As refugees you don't get the same rights and opportunities as Iranians. My parents had to sacrifice a lot to send me to school."
The Abbasi family arrived in Wagga four years ago, but Azizeh's uncles are still trapped in Kabul.
"The Taliban says that they have changed, that they are different. They're not," she said. "I've got two uncles in Afghanistan. They are young…one is 23. They both got whipped two weeks ago just for being Hazara.
"There was blood everywhere. They tried to flee, but they couldn't."
Wagga mayor Greg Conkey petitioned the federal government at the Wagga Council meeting last month to do "everything in its power" to assist Afghan refugees who are now in Australia, and those still trying to escape Afghanistan.
Among the requests were calls for the government to increase aid support to local refugee communities, to extend permanent residency to the 4300 Afghans on temporary protection visas, and to assist Afghan Australians with urgent family reunion applications for relatives who are at risk from the Taliban.
Janice Summerhayes, director of community for the Wagga Council, said Mr Conkey's public plea for action was a great first step for Wagga in showing its commitment to the Afghanistan resettlement scheme.
While Ms Crain is proud of the compassion and care the community and council have shown Wagga's Hazara community, she said more push was needed for major change.
"We need to keep pressure on the government to expand the humanitarian visa program that is in place," she said. "If we look back on other governments when there's been crises, they've increased intake to nearly 19,000 so why can't we do this now? For Afghanistan?"
The Australian Government announced in August that 3000 humanitarian visas will be allocated to Afghan nationals within Australia's annual program, not in addition to it.
The current allocation is 13, 750 visas. This number was cut from 18, 750 in last year's budget.
Kasun Ubayasiri, a journalism academic at Griffith University, said the Australian government's response to Afghanistan has been "abysmal at best".
"Actions have consequences and they definitely come with responsibilities, so if we eagerly follow the US into war, we need to be responsible enough to deal with the fallout," he said.
"In our haste to scramble out of there, the government has abandoned many Afghan people who put their lives on the line for us."