For Isabella Brown and her partner Liam, an average day during the past 11 months looked something like this: sleeping-in, playing with their kitten, Penguin, and watching as the cancellations rolled in.
As casual musicians with some of Australia's biggest orchestras, there wasn't a lot to do while concert halls across the country collected dust.
"It was usually checking your emails and just getting sad that everything was cancelled," said Isabella, a freelance double bassist with Orchestra Victoria, Opera Australia and Canberra Symphony Orchestra.
"If you looked at our diaries at the beginning of the year, Liam was meant to be going to Auckland four times to do concerts. I had a tour with Opera Australia which was a regional tour…then it just became very much like 'oh we will just sit at home and twiddle our thumbs'.
"That was about $20,000- $30,000 in shows just bye, bye."
The couple from Canberra is paying off a mortgage after purchasing a house last year. Isabella said she was lucky to be offered the JobKeeper subsidy by one of the orchestras she works for. Without it they would have had to survive on a small stream of income from online teaching.
"We would have been eating a lot of rice," she said.
Crucial year for the arts industry
A senior lecturer from the University of Sydney said COVID-19 has been "absolutely devastating" for arts workers across Australia, after shutdowns caused widespread disruptions to the live performing arts industry in 2020.
Dr Paul Dwyer, the Chair of the University's Department of Theatre and Performance Studies, said the effect had been felt at all levels of the sector, from independent artists right through to major performing arts organisations.
"The impact has been seismic," he said. "Some flagship companies needed bailouts.
"Then you've got artists who might have had a year's worth of work booked up but because they're not attached to a company, because they're kind of itinerant…they were thrown into an incredible precarity.
"The financial costs are huge."
Just over one in five payroll jobs in the arts and recreation sector were lost in March and June last year, making it the most heavily impacted industry during the start of lockdown, according to the Australian Bureau of Statistics. Job vacancies in the sector also dropped by more than 95 per cent during these months reflecting the closure of venues and cancellation of events.
Dr Dwyer said the pandemic will have a "really long tail".
"It's been one of the last industries to come out of things and of course it's still very tentative."
Isabella agrees.
"It's hard. I think for a lot of orchestras if it doesn't happen in 2021 then it probably won't," she said. "I know with the Canberra Symphony, if they aren't able to put on their concerts, they won't have enough money to do anything else. That's it. They're on their last legs."
For Willoughby Symphony Orchestra on Sydney's North Shore, COVID-19 restrictions meant the immediate cancellation of all live concerts between March and August 2020.
Annette Brown, the orchestra's operations coordinator, phoned every patron to personally tell them concerts were cancelled.
It was not all bad news though. The orchestra and its musicians had a lifeline: a new Facebook page through which audiences could watch recordings made by the orchestra's musicians.
"Patrons were very generous and they donated a lot of their tickets. From that pool of money we could pay musicians to create content to put onto the orchestra's Facebook page," said Annette.
"For the orchestra to remain current we needed recordings. This was going to be a way for the orchestra to remain in touch with the rest of its community."
Willoughby Symphony is the only community and semi-professional orchestra in Australia entirely funded by its local council, Willoughby City Council. The 100-piece orchestra is based in Chatswood's Concourse and meets to rehearse or perform at least 50 times a year.
Despite patron's support, Annette said the loss in revenue for the orchestra was "huge" and still being calculated as Ticketek continued to process refunds for cancelled concerts.
"I don't think we are going to feel the full impact for many months to come," she said. "We still don't know what the landscape is going to be like."
What does the future of arts in Australia look like?
Dr Dwyer said the pandemic has been a time of development and experimentation for arts practitioners.
"I think there'll be some very interesting experiments in hybrid performance making. People will revisit some of the rushed experiments in terms of digital delivery," he said. "The potentially perverse benefit of it all is that artists suddenly found themselves in a period where the only work they could do was a very patient creative development of works to come."
The importance of the arts has also become apparent as audiences turned to the sector to cope said Dr Dwyer: bingeing on Netflix shows or listening to musicians play concerts on apartment balconies in Italy.
"It's clear that the arts play a role that most artists have always understood implicitly:providing a little bit of social glue to keep communities together. In the drive to reboot the economy, I hope the arts aren't just forgotten."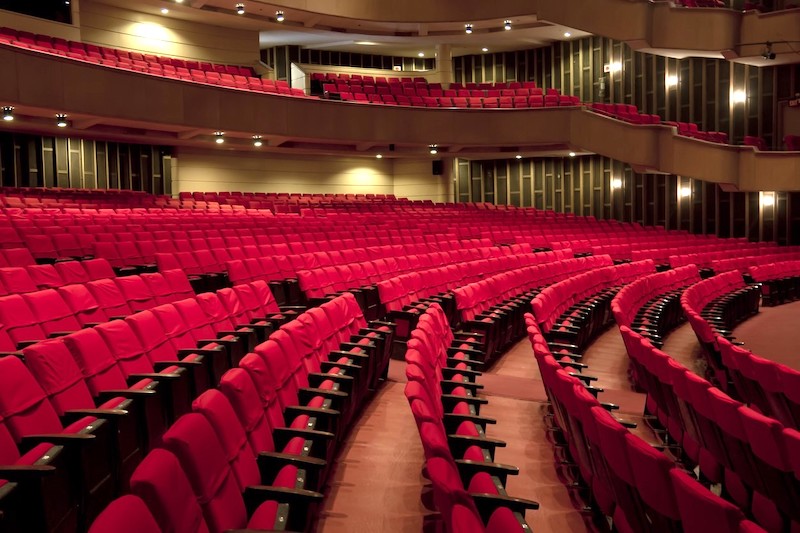 As of May 2021, NSW Health restrictions now allow entertainment venues to be booked to 100 per cent of the fixed seating capacity in Greater Sydney.
With restrictions easing, Willoughby Symphony is re-thinking the nature of its live performances. The orchestra is "desperately" trying to do small, one-hour concerts to keep its players and audience members safe, but Annette said the road forward will look quite different.
"With these little one hour concerts you can keep people distant, but you can't do a whole orchestra so you can't do some of those beautiful big lush programs we all love hearing and being part of," she said.
"You have to be really creative and take the orchestra out of the concert hall and make them aware of what a fabulous asset it is. You have to do more outdoor performances, and you have to make it accessible to different audiences.
"It's going to be many, many months, if not years, until we can go back to what was the traditional model."
An Australian Council for the Arts survey conducted in September last year revealed that audiences are more comfortable attending outdoor performances than indoor ones. Just over 80 per cent of respondents said they felt "at least somewhat comfortable" attending performances in outdoor amphitheatres compared to 67 per cent in large theatres or concert halls.
Both numbers have risen since July suggesting people are feeling more confident about returning to live performances.
Back in Isabella's lounge room, the doorbell rings. Penguin, the cat scurries behind her.
"I think we are on the right track to going back to normal but it will be a rough start," she said.
With a grin, Isabella gives a thumbs-up to the screen. "It's been a weird year but it will get better, right?"