An estimated 80,000 people rallied at Sydney's Domain on Friday as part of a student-organised climate strike.
The rally demanded that the Australian government implement no new coal, oil or gas projects, fund a just transition for fossil fuel industry workers and use 100 per cent renewable energy by 2030.
Among the protesters were union members, church groups, community organisations, teachers, retirees and parents with strollers. Primary school, high school and university students were in the majority and many wore their school uniforms to demonstrate they had walked out of their classrooms to be there.
"Students are the ones who will be directly affected by climate change," said Ophelia Devcic, a HSC student from Bethany College. She attended the strike with two of her friends, also in their final year.
"Getting out there and proving to our government that we will not back down until they implement change is one of the most important things we can do right now."
Miss Devcic said she wanted the government and older generations to take young protesters seriously.
"We are not rebellious youth who know nothing about the world. We are informed and we are scared and we will not stand with being laughed at or ignored," she said.
"We need to vote for a government willing to create change. It is hard when you are young and not allowed to vote yet, but that is why education and activism are important for younger students."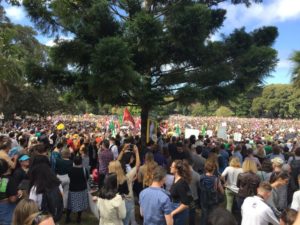 Despite the controversy around whether students would be penalised for missing school, the University of Sydney was one institution that announced there would be no penalties for students and staff attending the strike. Activist group Spreading the Climate Strike organised for University of Sydney students to meet at 10 am outside Fisher Library, join students from UTS and Notre Dame to march to Town Hall, and finally join the main rally at the Domain.
University of Sydney student Isla Scott, 22, described joining with other universities as "a great and unifying moment".
"It is empowering to be among your peers, your friends, your generation, all fighting for your future," Ms Scott said. "It made me realise just how important it is to stand together and not let the government or the media divide us."
School Strike 4 Climate, led by student activists Jean Hinchliffe, 15, and Daisy Jeffrey, 17, organised for climate strikes to take place across Australia as part of Greta Thunberg's Global Climate Strike Movement.
"None of us should have to live in fear of an uncertain future," Miss Jeffrey said to the crowd at the Domain.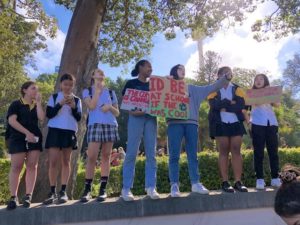 She called out the Australian government for its lack of care and action regarding climate change: "We are in the grips of a massive global crisis and you are leaving it to children to clean up your mess!"
Ms Hinchliffe joined Ms Jeffrey as MC. In her speech, she said: "As the temperatures rise, so will we… We are the people who are going to be in this fight for decades to come."
The Sydney rally featured musical acts from Jack River, Goya and ARIA award-winner Montaigne. It also included speeches from the Secretary of the Electrical Trades Union Allen Hicks, 11-year-old Indigenous student Marlie Thomas, and Salome Matangi from Pacific Climate Warriors.
Addressing the rally Mr Hicks said: "Right now, the single act of coming together is sending ripples across the world."
It is estimated that a recording-breaking 300,000 Australians participated in the climate protests on Friday. Thunberg tweeted her support and said, "Australia is setting the standard."