It is July when I arrive in Wolfsberg, a month of long languid days and piercing sunshine, the smell of pine heavy in the air. On the hour-long bus ride from Graz, Austria's second largest city, we speed along roads and through tunnels framed by small concrete arches; the landscape alternating between deep valleys and towering mountains, dotted with colourful homes. Pine forests flicker past, half reflected in the tinted windows like a landscape in stop motion.
I am one of the few passengers to disembark in Wolfsberg with most travelling on to Klagenfurt, the capital of Carinthia, 40 minutes west. The late afternoon sun casts low shadows over pastel coloured shopfronts—a bookshop, a newsagent—both already closed. Manicured flowerbeds line the street.
A handful of people sit outside a coffeehouse, chatting animatedly on curved steel chairs that clatter against the cobblestones. They are mostly men, with salt and pepper hair and greying moustaches that glint in the sun; one wears a felted alpine cap with a small feather tucked into the hatband. Silver trays of coffee sit in front of them and they breathe clouds of cigarette smoke into the air. They call out Grüß Gott, 'good day', as I walk by towards the taxi rank. I smile at the familiarity that I have come to expect here, and say it back, my slight accent betraying my foreignness.
As always, I stay with my grandmother, my Oma, in a yellow cottage on the gentle slopes that flank the city before rising sharply into mountains: the Koralpe in the southeast, the Saualpe in the west. The taxi takes me over the river and within minutes, the Altstadt, the city centre,  gives way to a single winding street, gravelly and rough, that we shudder over with every bump. The buildings thin out to occasional free-standing homes surrounded by neat gardens and pastures. Pine trees grow suddenly tall behind patches of flat green lawn, and sheep bleat languorously.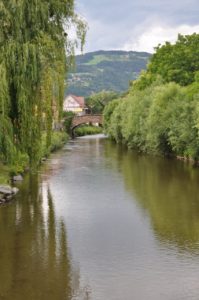 I am here to say goodbye. One last trip before going home after a couple of years living in Europe, making regular visits to this small city possible. Aside from my Oma, my aunt and uncle also live here, and recently my cousin moved back with her husband and young daughter. It is a place she left, like most young people, to study, but after two decades living in Graz, she wants her daughter to grow up in a city where she can safely roam the streets and develop a strong sense of where she is from. My Oma tells me that although she will miss me, she is pleased I am returning to my Heimat, my homeland. Heimweh, or homesickness, according to Oma, is the cause of most maladies.
Wolfsberg lies in the south of Austria, closer to Ljubljana than Vienna, in a valley through which the Lavant river runs. Coursing its way from Lake Lavant in Styria then through Carinthia, it joins with the Drava river before crossing the Slovenian border. The Slavic influence here is tangible, in names and words, and in the heavy use of smoked paprika and sweetened poppy seeds in the local dishes.
Ungenerously referred to as a town with nothing of note in the boondocks of Austria by a travel guide I once consulted, tourism is not high due to lack of access to the lakes for which Carinthia is known. The few tourists that do pass through are mostly hikers from other regions of Austria and Northern Italy. Mostly though, Wolfsberg is a city of locals, of people whose families have existed in this valley for generations.
The Lavant flows through the centre of the city and slices Wolfsberg in two, rushing through the Altstadt, its sound a constant presence. In clear weather, it glistens in the sunlight, a sparkling stream wending its way south. When it's overcast the water transforms from muddy brown to a surprisingly intense pale blue. Where the water is shallow, you can clearly see the stony riverbed underneath.
According to folk tales, a lake once filled the Lavant valley where Wolfsberg now lies. Prone to flooding, it was inhospitable, until a dwarf transformed the lake into a river in a bid for freedom after being held captive for many years. Surrounded by fertile land, the township quickly grew. Now the river is flanked on either side by residential homes and some shops: a light filled café that was once a stable and an ornate-looking guesthouse, both with rust-coloured roofs.
The first time I visited Wolfsberg, I was surprised by the river. This place existed only in stories told by my parents and somehow the river was never mentioned. I imagined Wolfsberg in the sketchy drawings that illustrated books of Austrian tales I read growing up in the suburbs of Sydney. It was a small, colourful town with crooked cobblestone streets and a crumbling castle on the hill, with dwarves in the mountains and monsters in the moss, where people still wore the traditional Tracht and spoke a clipped and melodious German dialect. It was the home of my family, but not my home, existing somewhere between foreign, familiar and fantasy.
My Oma keeps a bible from the 18th century in her attic, listing generations of ancestors who lived in this place. My father's name is in it, my name too, scrawled in her neat sloping hand. Mice have chewed the corners but she will not move it because in the attic it is safe. The river can rise, she tells me, and I tell her it couldn't rise so high as to flood her home, but she just smiles.
On that first visit, I was determined to discover something exceptional. My father told me repeatedly that there was nothing to see, a completely unremarkable town. I have come to begrudgingly accept that he is probably right. I no longer search for anything wondrous but have come to delight in small unexpected details like the crucifix that sits atop a stone bridge flanked by weeping willows, the incongruent but ever-present Anglophone graffiti reading 'we are punks' on a marigold coloured wall next to the paved footpath by the river, and long afternoons spent drinking coffee served on filigree silver trays.
Coffee drinking is serious business in Austria, so much so that coffeehouse culture is recognised in the UNESCO list of intangible cultural heritage. Coffeehouses, or Kaffeehäuser, exist in even the smallest of towns and are places where, according to the UNESCO report, "time and space are consumed, but only coffee is found on the bill". My aunt has embraced this tradition and when I visit we drink coffee together, spending hours chatting in Kaffeehäuser in the Altstadt and surrounds. According to her, this is part of my cultural education.
My favourite place to go is the coffeehouse in Schloss Wolfsberg, Wolfsberg castle, which juts out from a sloping hill next to a steep, winding pedestrian path. The once-crumbling walls are now rendered and painted cream with dark green trims around the Tudor-style turrets. Up close it is smaller than it looks from a distance, barely larger than some of the freestanding homes in the valley. A canopy of trees frames it on either side.
Owned by a German Count, the castle also functions as his private residence. I drink coffee with my aunt on the terrace, served in the typical Austrian way on small silver trays accompanied by slender glasses of water and morsels of sweet plum cake. The air is sticky and warm, infused with the smell of jasmine. From the terrace, we peek over the high stone wall into the Count's private garden. It is surprisingly disordered, with scraggly rosebushes and a vegetable garden with tiny heads of lettuce poking through rows of dark mulch.
On my last evening in Wolfsberg, we drive to the Weissenbach Thermal Baths in the suburb of St Margarethen. My aunt tells me there is an excellent coffeehouse, with velvet chairs and a view over the steaming hot springs. We drive west past the station and along a single lane bitumen road arriving at a low-lying building with stone fences. In the café, we sit in the aforementioned velvet chairs. They are green with gold-studded upholstery and look out of place in such a stark white room.
Before our coffees are served, we learn that our visit coincides with Markus the Schlager musician's weekly gig. Armed with a portable synthesiser and an almost-mullet, he introduces himself and begins his set. The hollow clangy beat and syncopated tambourines—somewhat reminiscent of the Eurovision Song Contest—resonate through the café. A surprising number of enthusiastic patrons sing along and tear it up on the parquetry dancefloor.
Having reached my annual Schlagermusik threshold in the space of thirty minutes, we decide to move on. We arrive at Café Eberhart, a Wolfsberg institution on the edge of the Altstadt, as twilight descends. A slight chill in the air makes it too cold to sit outside, so we go through the swinging glass doors into a room hazy from generations of tobacco smoke. Tonight it feels as though the entire population of Wolfsberg has packed into this café, perched on stools along the speckled laminate countertops and crammed into booths on cushioned vinyl seats.
My aunt orders for us from Frau Eberhart herself, a jolly woman with short strawberry blonde hair who somehow manages to gracefully lurch around the café, greeting customers like old friends. As she returns with our toasted sandwiches, two Eberhart specials, she winks and tells me to say hi to my parents, who haven't been here in 30 years. With my first bite I taste the familiar flavours of smoked ham, cheese and pickled onion, and I am suddenly, unexpectedly, jolted back to my parent's kitchen. For a brief moment, time and distance compress, and I feel both very close and very far from home.